John Newton
Died 23rd October 1849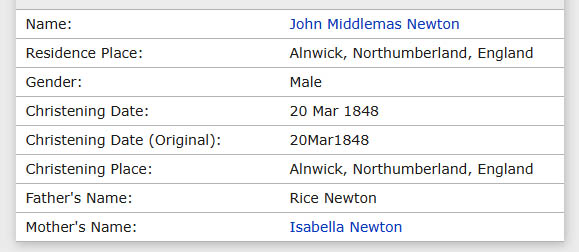 Above and Below: Two documents that tell a sad story. Johns birth and his mothers death
John Newton was baptised John Middlemas Newton on 20th March 1848. He was born to parents with the distinctive names of  Mr Rice Atkinson Newton and wife Isabella. (We were hoping she was Isabella Middlemas  to provide a link to the maternal line, but no such luck!)
Isabella died due to complications in childbirth, we assume, and was buried on 22nd March 1848, age 36. 
The family were living in Green Batt at the time of Isabellas death, and father and son were still there when one year old John suffered from cholera and died on October 23rd 1849. He was one of the last victims of this outbreak in Alnwick, dying along with Thomas Thompson of Clayport. Poor Rice Atkinson Newton had gone from a married man with a wife and son to a man on his own again in 18 months.
We found a Rice Newton mentioned in 1858, when he was fined £2-10s for using snares and taking game in Christon Bank.

By 1871 Rice Newton was 51 and married to a Diana aged 56. They were recorded as both born in Alnwick, but now living in South Shields where he was working as a labourer. This was where he died in 1878, age 59.