Sarah, Robert and Sarah Black
  Three from the same family
Died on the 29th and 30th September 1849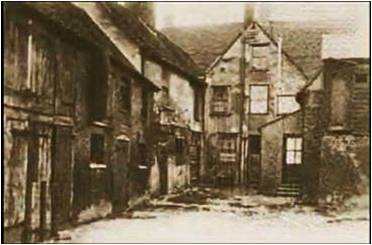 Union Court, one of the worst areas of old Alnwick
In just 2 days, three members of the same family succumbed to the cholera. Sarah Black died on the 29th September, the same day as her three year old son Robert. Her 18 month old daughter, also Sarah, died the following day. Their poor father, Joseph was left with their two older children to bring up. The two children who died were both born in Alnwick.

Joseph Black was born in Cumberland about 1817 and trained as a stone mason. After marrying Sarah their first child, John was born in South Shields and baptised there on 29 October 1843, making him about 6 years old when his mother died. His brother Joseph was born in Wooler 2 years later.
After the tragedy, on the 1851 census Joseph was living in Monkhouse's Square, Alnwick where he had housekeeper to help him look after his boys, while he was working as a stone mason.

By the next census in 1861, father and sons were living in Bondgate Within, Alnwick and all three were working with stone. By 1871 Joseph Jnr was living in lodgings at 6, Hotspur street where he was a woodcutter and unmarried.

By the 1891 census John had married a Susan, and had three children. His brother Jo was living with them in Union Court, in Clayport. This was one of the worst slums in Alnwick. John died in March 1897 aged 53, but his son, another Joseph was, by 1911, still living  in two rooms in Union Court with his wife Sarah, two young children and a 3 day old as yet unnamed baby. Joseph was a boot mender by trade..