William Dick
Died 1st October 1849 
 William Dick was a 54 year old builder  living in Green Batt when he caught cholera and died- from diarrhoea, according to his death certificate above. This is not so different as it sounds, as cholera is ancient Greek for diarrhoea, and this is the principal symptom of the disease.
                           Above: William and Isabellas gravestone, actually first erected for a daughter
                                        Ann who did not appear on the baptism records
William left a wife Isabella and 8 children without an income. His children were all baptised in the nonconformist church, at that time also in Green Batt. William Robertson b 1825, John Robertson b 1826, James Robertson born 9/4/1827, Jane b 1831, George b 8/3/1834, Agnes b14/12/1835, Isabella b 1837 and Adam b 1840 .
His widow, Isabella appears on the 1851 census for Greenbatt, in the corner house  leading onto St Michael's Lane. She was then a 53 year old and retired innkeeper, born in Alnwick in 1798. James was then a 22year old master carpenter, and George a 17year old draper's apprentice. Isabella died at the beginning of 1856, leaving her children to fend for themselves.
The eldest son William Robertson Dick had already left home before 1851 and was a builder like his father, staying with a farm labourer in Derbyshire. He married in 1853 in Derbyshire, to Ellen Bosworth, stating on his marriage entry that his home town was London and implies that his father was still alive!  They had three daughters and one son, also named William Robertson (1870) who all lived their entire life in Derbyshire. Constance his oldest daughter, married a local farmer, and her father's occupation was "architect" at the time of her marriage.
On the 1901 census William Senior was living alone in Westminster. At aged 76 he was still working as a clerk of works, "locally" in London. Ten years later he was back in Ticknall, Derbyshire and a retired architect and surveyor, living with his unmarried daughter, Isabella, in a large house with 8 rooms. He died later that year aged 86, leaving an estate worth £958.
Meanwhile his brother, John Robertson Dick by 1861, was married to Jane, from Shilbottle. They had three children Annie, Jane and "CR "all born in Middlesex . They were living in New Inn Buldings, Saint Clement Danes where he was a house decorator.
By 1871 there was a change of fortunes, as his wife, Jane and "CR" were missing from the record, but in addition there were "JRK"aged 7 and "WQE" aged 4, two sons born in Islington.
By 1881, John still a decorator had at home, Annie J, 27: Jane A 21: Josh J R 16, a gas engineer: and Quintin W J a scholar
In 1891 there were just Annie now Barson, and her children Alfred and Christina, living with John. He died 1893 aged 63.
Quintin lived until 1929, when he died in St Pancras aged 62. He had married for 8 years by the 1911 census but had no children. He and his wife ran a chandlers shop at 192, Arlington Road, and they had a military pension.
James Robertson Dick b1827 also went to London. He left Alnwick as a master carpenter but by 1861, James 31, and his wife Elloner/Eleanor/Ellen 30, who was the daughter of George Gibb from Roxburgh Place, had three daughters born in Alnwick but their youngest daughter, Jane 2 , was born in Islington in 1859, so they must have moved to London between 1857 and 1859. He became a "foreman in piano manufacturing ".
By 1871, they had 3 more children and were living in St. John's Hackney. Their eldest daughter Isabella married William Greenwood, a dyer, in 1873 on 5th January. He was the son of a school master.
James died the following year, registered in Pancras, July 1874 aged just 44. He was survived by a wife and 7 children, like his father before him.
In 1881 Eleanor had become "Ellen" Dick a 49 year old laundress. The family consisted of a widowed mother and her three youngest children, John Henry 20, a printers compositor, Mary Ellen 18 a dressmaker and Adam,15, a jewel case maker. They were living above a tailors shop, at 6, Little Ormond St, Finsbury.
Eleanor died aged 56, in June 1889, in Holborn. Three years later her youngest son, Adam was admitted to Holborn workhouse. He was then 25 and was admitted and discharged three times. Each time he spent a month or so in the institution. This was probably due to ill health, as the building later became a hospital. He died 4/1897 aged 32, recorded in the Strand area.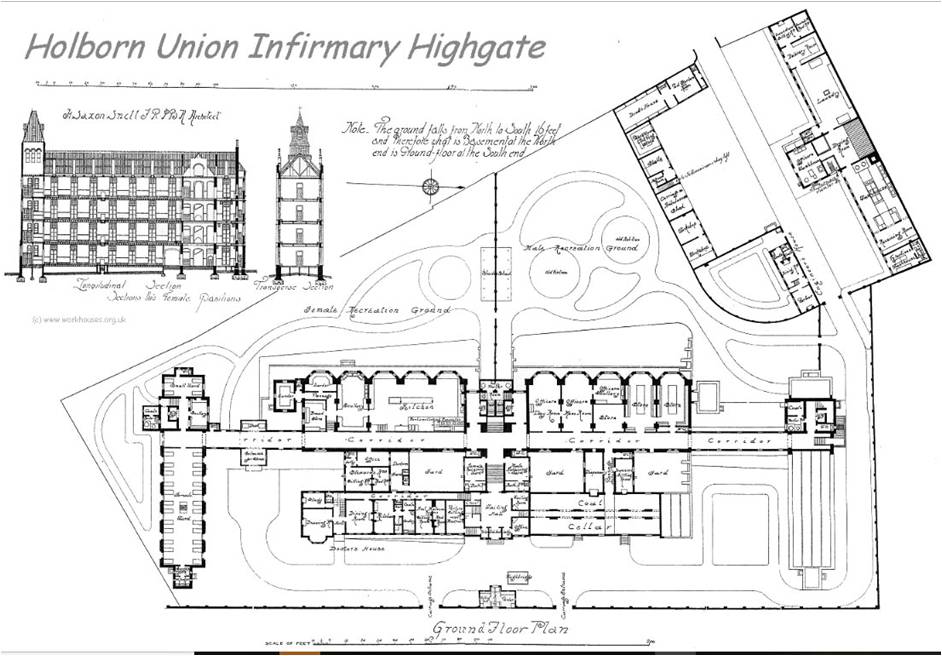 Above: Holborn infirmary where Adam died
William's youngest son, also an Adam was only 9 when his father died, and was left an orphan at 16 when his mother died.
Adam Dick married Anne Turnbull in Hackney, London on Jun 14th, 1868. She was a daughter of William Turnbull, a "paper stainer" from Newcastle. They were back in Newcastle for the 1871 census and they already had 2 daughters, Anne J 2 and Margaret 4 months.
Ten years later the family had moved back to London. In Islington where Adam was found on the voters list and 1881 census, Adam and Anne had two children, Annie, and Harry b 1873 so daughter Margaret was missing.
In 1891 they were living at 123, Thorpedale, Islington. The census form had been so badly completed, that future transcribers couldn't decipher the names. (They were clearer on the next census in 1901)
Adam was 52 and Anne 46 in 1891. Their children were William 16: Minnie (not Marie) 14:Agnes 12: Frederick ( not Frank) 11: Bertie ( not Beatrice) 7: John 5: Charles3: and Dorothy.?
Four of the children were baptised together on May 14th 1884 ( probably to save money!) They lived in Thorpedale until at least1896 according to the voters lists and by 1901 census and in the voters lists for 1904, 07 and 08.
In 1911 Adam was widowed and living with Mabel Dorothy, his youngest daughter at 4, Pountley St., Upper Holloway. They had 4 rooms. He was still a carpenter, aged 71. Adam died 1924 aged 84.