Grace and Jane Taylor
Died September 29th, October 3rd 1849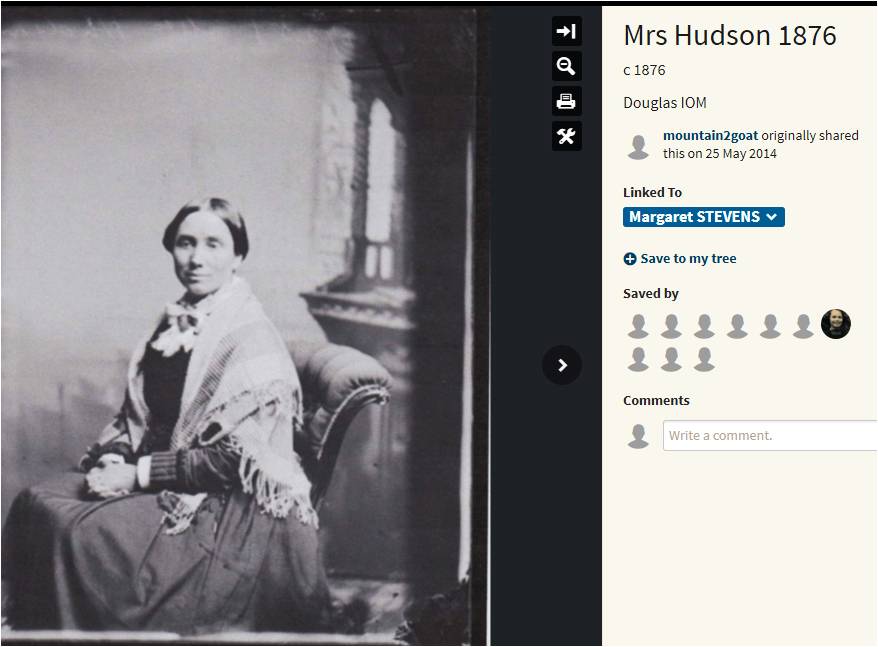 Above : A photo of Mrs Hudson in Douglas, Isle of Man (see below)
Mother and daughter  died on September 29th and October 3rd, 1849 at the peak of the cholera outbreak in Alnwick.
Grace was 39 so born about 1810. Jane was a baby in 1849 but was unlikely to be Grace's first child. The Newcastle Courant for her death informs us that Grace was the wife of Thomas Taylor. On the 1841 census we found Thomas, 25 ( born c. 1816) shoemaker, married to Grace 30 with a son, John at 2 months old.

Grace and her youngest baby died in 1849. Although this baby was Jane, sometimes she is recorded Anne. Life must go on, and by 1851 John was still living in Clayport, now a widower. He was described as a cordwainer, and son John, now 10 was still with him. Also in his family were Mary Taylor 6 (born 1845) and Susannah 4 ( born 1847). Ralph Anderson uncle, a 60 year old butcher, (b 1791) and a niece from another family of Andersons 12 (born 1839) also called Grace were also living with them.

Thomas re-married in December 1854, to Catherine Steven a widow . She was born Catherine /Catharine Gibson, in 1816, in Lesbury and married William Steven in Newcastle on 21/5 /1836. They had four children, Ann (b1837), Margaret (b 1840), Jane ( b1842) and Walter (b 1845/7).  Husband William died in 1848, not from cholera, so she and Thomas had both been bereaved for 5 or 6 years when they married.

Son John and his sister Susannah Tate, were living with their great uncle Ralph Anderson in 1861. He was now a proprietor of houses, John was a cabinet maker's apprentice. John and his sister Mary were living together in 1901, still in Alnwick, where he was a postman.

Thomas and Catherine made their home in Clayport, but only had a few years together. They were living in Dispensary Street with her youngest son Walter, 15, a coach painter, on the 1861 census. Thomas died in 1862. So Catherine was widowed for the second time. She lived with her daughter Annie also a widow and with her grandson William who became a joiner.
Catherine's other daughters left Northumberland. Margaret married John Hudson on the Isle of Man in 1862. (see above ). Margaret and John were then witnesses at sister Jane's wedding in Lancaster in 1866 to George Richardson, a sailor. Walter worked on the railway and married when 38, but ended his days in the Alnwick workhouse in 1911. (see plan below)