The Remarkable History of George Burdon McKean VC MC MM
There has been much talk of heroes in these Covid times. County Durham born George McKean is very definitely a hero, having received three of the highest honours our nation can bestow for unbelievable bravery on three separate occasions.
George's beginnings were mundane. He was born in 1888 in Willington, Bishop Auckland. His father James McKean had been a coal miner, but by the time of George's birth had become a furniture broker. One assumes that was because his health was failing, as James died when George was only three years old. Mother Jane had eight children in all, George being the youngest.
Most significant of these to George's story was his brother John William McKean, who began life as a miner but studied and became a science teacher. John emigrated to Canada in 1904 with his wife Mary Jane (nee Hill). Once there John changed occupation again, becoming a farmer in Medicine Hat, Alberta. George, who also emigrated to Canada to seek a better life, joined John and Mary on their farm. In 1912, however George demonstrated the career flexibility so prevalent in his family and entered the Faculty of Theology at Alberta University. Whilst studying for the Presbyterian ministry George excelled at sports, playing football for the University, and in addition became editor of the University magazine. During summer vacations he was a student missionary at Athabasca Landing Alberta, and also assisted the minister at Robertson Presbyterian church in Edmonton. His future as a successful and dutiful Presbyterian minister seemed assured, until fate took a hand.
The Canadian military authorities were surprisingly reticent to accept a volunteer destined to become one of the highest-awarded soldiers on the Western Front. George was turned down three times before his eventual enlistment in the 51st Canadian Battalion; perhaps because of his height. He was only 5ft 6in tall, which makes some of his later achievements even more unbelievable.
Having married Isobel McKay, like himself an immigrant of Scottish stock, George sailed from Halifax, Nova Scotia on April 18th 1916, arriving safely at Liverpool ten days later. By 9th June he was at Le Havre, bound for the front. By 4th October he was promoted to acting corporal, but was wounded on 27th November. Not one to waste time, George had been declared fit again for service and had rejoined his unit by 17th December 1916. By the following March he had been awarded the Military Medal for bravery when leading patrols into no man's land near Lens, during which he was wounded again. Recognised as outstanding material, he was then recommended for a commission, attending officer training school in Shoreham and joining the 14th Canadian Battalion as a junior officer on 6th November 1917.
March 1918 saw the last great throw of the dice by the German Army, knowing that they had to gain enough ground to agree a negotiated peace before US forces could arrive in strength. Although not in the area of the allied lines that was crumbling, the Canadian corps was still ordered to make a number of raids on German lines to divert attention away from the vulnerable allied sector. For one of the largest of these raids, George and his 15 soldiers were allotted the capture of an enemy bunker whose fall was critical to the success and survival of the 5 other raiding parties. Unfortunately the German garrison realised this, and fought back resolutely. Three times George had to send back for more bombs. Ultimately in seemingly suicidal frustration he single-handedly charged the barbed wire blocking the path under fire. Leaping over the wire straight onto the German garrison, George landed on a German soldier that he quickly despatched, along with eventually seven others. His men followed his example, the position was taken, and as a result the whole action was a great success.
There was no hesitation in recommending George for the Victoria Cross. This was awarded to him by the King in Buckingham Palace on 17th July 1918, and George is pictured clasping it proudly in a box in his left hand. He then went to King's Hall, Bishop Auckland to receive a gold watch presented with pride by the town council. Unfortunately his VC leave soon came to an end, and by 18th August 1918 George was back at the front.
The action on 1st/2nd September 1918 which won George his third medal was in many ways the most amazing of all, and is felt by neutral observers to have probably also merited  a VC. Already wounded by a gunshot in his right leg, George carried on leading a patrol of only three remaining soldiers. Entering the town of Cagnicourt, he spotted around a hundred enemy leaving and about to cut off the attack-probably causing massive British and Canadian casualties. Just like at the time of his VC, George acted without any consideration of the overwhelming odds. Giving an impression that he was leading a far superior force he demanded, and received, the surrender of the entire German section. Once they had been safely led to Canadian lines, he finally collapsed due to loss of blood.
Evacuated to England, George ended up at the infamous No10 Red Cross hospital at 222 Marylebone Road London, known for its poor food and iron discipline, although ironically now one of the most expensive and luxurious hotels in the capital. Nothing seems to have delayed George's recovery, however as by 17th Jan 1919 he was once again found fit for service. After being appointed a temporary captain, he eventually left the Canadian army in July 1919, but joined the British Army. He moved to Brighton, where he would eventually marry his second wife – little is known about the disappearance of first wife Isobel. After serving in Egypt he was finally discharged from service in March 1926. George settled at Cuffley, Hertfordshire where he ran a sawmill. He attended a VC garden party at Buckingham Palace and wrote two books based on his time travelling in Canada called "Scouting Thrills" and "Making Good"-both of which are still available on Amazon.
Just when a life of immense danger seemed well behind him, and at the young age of 37, tragedy struck. A circular saw at his sawmill burst and pieces struck George on the head. Never regaining consciousness, he was buried at Brighton Extra-Mural Cemetery. His amazing life is remembered by, amongst other things:
·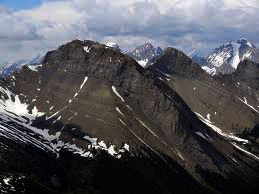 A mountain, Mount McKean in Alberta
·        The Place de George Burdon McKean Cagnicourt, France the scene of surely one of the greatest confidence tricks of WW1
·         A plaque outside the British High Commission in Ottowa
·         A commemorative paving stone at Willington, Bishop Auckland where he was born.                                                                                    
                                                                                                                                           Mount McKean
·         A painting of him at the Canadian War Museum
·         A 49 cents Canadian postage stamp, one of a series celebrating Canadian heroes, and last but not least:
·         Issue 1096 of the Victor comic, where he was featured under the headline "A true Story of Men at War".
The story of George Burdon McKean is just one of 40 such outstanding VC heroes remembered in "Victoria Crosses on the Western Front. 24 March-24 July 1918", one of a series of books by Paul Oldfield  published by Pen and Sword books, 
                     (Photos of George in uniform, courtesy of Pen and Sword books)