Barresdale: "In Living Memory"
Viewers of the popular BBC 2 series "Secret History of our Streets" will be pleased to know that Bailiffgate continues with its own plan to create a record of each area of Alnwick.
After successful projects on Percy Terrace and Howick St and  Swansfield Park area  the museum has now conducted an extensive project  on the Barresdale Estate. This is a fascinating area, with many different styles of houses built across the whole area since the end of the first world war. The estate includes three schools, shops, and a community centre, as well as the Ratten Row allotments. All of these streets and places have a history worth recording. All of the people have a story to tell.
Barresdale in Living Memory was developed through a unique partnership between the residents of Barresdale Estate in Alnwick and volunteers from Bailiffgate and features photographs, film and audio recordings of local people and events from the 1950s to the present day. People were asked to share photographs, memories and stories about life on the estate which Harry Henderson, documentary maker, has used to design the exhibition display panels.
Textile artist Margaret Kenny held sessions in the Alnwick South Community Centre for young people and their families with a series of sessions also taking place in care homes for older residents. The brand new Our Place, Our Streets rag rug wall hanging will take pride of place in this exhibition.
Sheila Starks, a volunteer at the museum, said
"Everyone wants to know more about the things that are closest to them. Who lived in my house before me? What work did people do? Why was my house built? What were the lives of children like on my street before the motor car, TV and computers? How were major events in our national history celebrated or commemorated in Alwnick?
This project will add to our understanding of our town and be a rich resource for future generations."
This exhibition was made possible with support from the Heritage Lottery Fund.
                                                                                                         Local residents at the Barresdale Project Meeting
                                                                  Care Home residents talk to Sheila Starks of the Barresdale Project Group
Photos from a launch of the beautiful completed community rug: 
            Members of Impact Youth Group at Alnwick South community Centre proudly unveiled the  proggy wall  hanging of" Barresdale Our Place".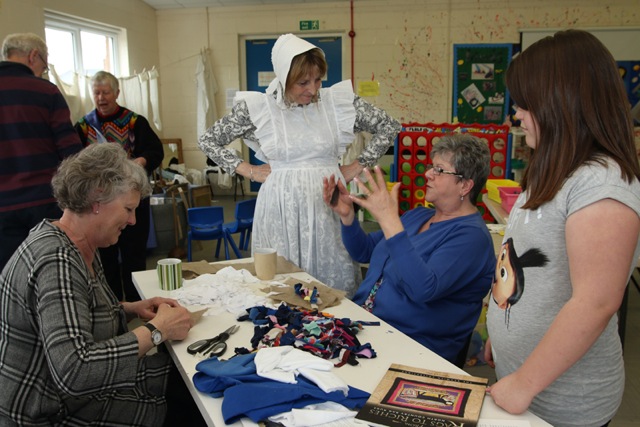 Volunteers from Bailiffgate also demonstrated life in Victorian times    .
The wall hanging will be displayed for the exhibition, "Barresdale in Living Memory" at the Bailiffgate Museum from July 7th to August 23rd.2015 
Activities included dressing up in Victorian clothes for a phone photo, how to be a laundry maid, and writing with quill pens. Victorian games and toys were played with enthusiasm.
         Volunteers from Bailiffgate also demonstrated life in Victorian times