Shilbottle First School
Video-still above and pictures courtesy H Henderson
Baliffgate Museum worked with Shilbottle First School on an exciting project involving various aspects of filming.
The school celebrated 90 years in 2016 and with the help of the Museum and Harry Henderson the film maker, the Year 3 and 4s were shown different techniques of filming covering animation, blue screen and voice-overs etc. The children learnt about various aspects of film production, from research to the actual filming and recording of the history of the school.
The school has, with the help of the community, amassed a huge collection of photographs and along with the school's admission books and the head teachers' diaries. A the resulting DVD will allow the school to use it as a valuable teaching resource and allow the children and community to research further.
 The format of the DVD is based on a timeline covering 10 decades from 1920s to the current date. The children ere in production teams of 4. Each group is looking at a different decade and an 'incident' within that decade relating to the school e.g. the day the school opened using actual newspaper reports and photos of the time. 1926 was also the year of The General Strike. They aimed  to make links in each decade relating to what was happening in the school and also what was happening further afield, nationally and internationally.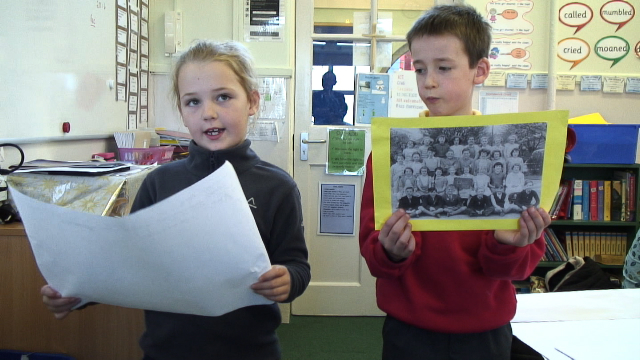 To keep updated with this and all the other Bailiffgate Community Projects please    join our mailing list*      
           *You can unsubscribe at any time, but we only send out updates approximately once a month