10,000 Miles for his Family History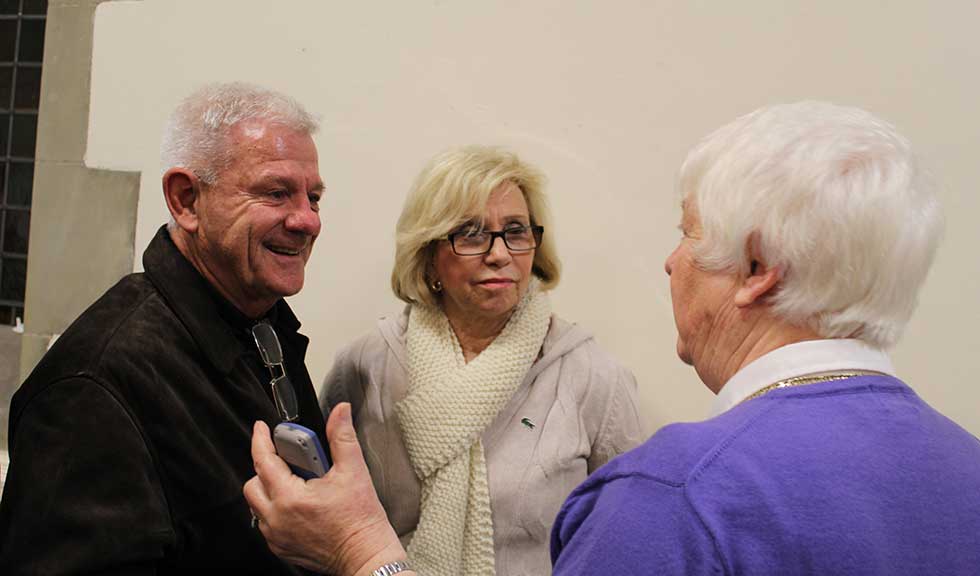 Ian and his wife Judy with Marjorie Brown, discussing the information she had uncovered  about his ancestor George Newton and his activities.
When Ian Newton saw that there was a first informal meeting of Alnwick Family History Society on December 2013 he felt he just had to attend.  Ian and his wife Judy needed to book a plane first, however as they live in Sydney, Australia, 10,000 miles away. 
Ian had been intending for many years to discover the story of his ancestor George Newton. He knew  that George had a substantial business in central Alnwick in the 1840's, and wanted  more than anything  to see exactly where he had worked.
"People were so helpful as soon as we arrived in Alnwick" Ian told us. "We walked straight into the Alnwick Family History meeting full of 20+ people. Pretty soon every one of them was sharing knowledge about the area and suggestions to help".
Ian's ancestor was an officer Freeman and Cordwainer, that is making locally-tanned leather into fine boots and shoes. He had a shop in Narrowgate.  Records are not definitive as to exactly where, but it looks likely that his premises were those now occupied by "Specially for You".  Ian was delighted to talk to the current occupier, Margaret High and especially to see that handicraft is still carried on within the premises 150 years later.
Chairman of the new Alnwick Branch of the Family History Society Dudley George said "Ian and Judy's presence made our first meeting even more memorable. The branch will begin to hold formal events and help sessions from March 2014 when Bailiffgate Museum reopens, but I doubt we will ever have anyone come quite so far again. We are really pleased that we were able to make such a long journey worthwhile".
For more information on Alnwick Family History Society, please use our contact form giving you full name and interests,  email  familyhistory@bailiffgatemuseum.co.uk  or  ring 01665 604502