John Hunter
Died 27th September 1849
                                         Above: John Hunter Jnr examines the Dukes School 
John Hunter was born on 6th July 1804 to Henry and Mary Hunter, and baptised in Green Batt Meeting House, or "Scotch Church". His parents were married in Alnwick, on 23rd June 1796 when Henry was a joiner in Bondgate Street.
John was born the 6th child of ten. His siblings were all baptised in the Green Batt Meeting House. They were: Ann born 2/4/1797: Margaret born 12/5/1798: Margaret II born 25/4/1800: John born 20/9/1801: Mary born 20/5/1803: John II born 6/7/1804: Elizabeth born 17/3/1806: Henry born 31/3/1812: Mary II born 29/4/1816 and Edward born 25/7/1819.

John became a joiner like his father, and must have worked with him as an apprentice. He married Mary Ann Thompson at St Michael's Church on 14th June 1827. One of the witnesses was his sister, Elizabeth. Their first son was Henry, born the following year on 10th April 1828, but not baptised until 27th November 1833. They had six living children by the time of the 1841 census. Jane was born on 8/11/ 29 when they were living in Backway. This road's name was changed to Dispensary St and James (19/2/32) John (27/11/33) and Mary Ann (9/3/36) were all born in Dispensary St.
John now gave his occupation as "cabinet maker". Little John died aged three and a half, on 30/6/37, and Margaret was born at the end of that year (15/12/37), when the Hunter family were living in Clayport. A second child named John was born 29/10/1839 and these all appear on the 1841 census for Prudhoe St. This area was under construction at that time, so there was plenty of work for a joiner/ carpenter.

By 1849, when the cholera struck, the Hunter family had moved to Chapel Lane and increased by two. Thompson had been born at the end of December 1841 when they were still living in Prudhoe St, and Susannah Cenia was born two years later on the last day of 1843. Another boy Edward Grey was born in 1846 but died age 7 weeks.

John died, from cholera, age 45, on 27th September 1849. He was buried in St Michael's Church Yard in his own plot. A big stone commemorates his life and was filled with the details of his wife and children.  Most of the children are mentioned on the stone, but some are missing.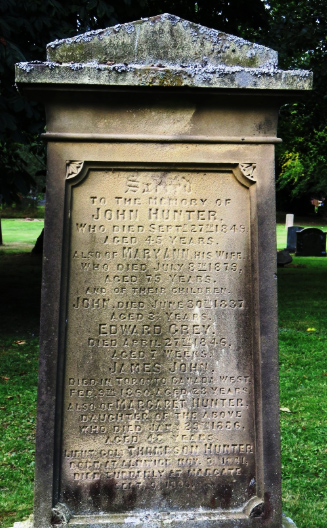 On the 1851 census all her children from Henry age 22 to Susannah were at home, and two lodgers, so the Chapel Lane house was pretty full.

James John Hunter went to Canada and sadly died in Toronto in 1860 age 29. By the 1861 census the family was still in Chapel Lane but the daughters were missing, probably in service. Henry had followed in his father's and grandfather's footsteps and was now a joiner and cabinet maker, Thompson was a trainee accountant and Susannah was a 'pupil teacher'.
By 1871, Mrs Hunter was living in Bondgate Street with unmarried daughter Jane 41. Son John who was 31, and had given up teaching and came back home to become an inspector of schools.
Mrs Hunter died in 1879 and was buried with her husband.

In 1881, John was head of the household and probably supporting his three sisters. Only Susannah was working as a teacher, and John left Alnwick to end his days in Harrogate, still unmarried he was the only one to live to the 20th century, living until 1921.
Henry had married Ann Pringle Wood on 21st June 1865 and had three sons Henry, William and Thompson Pringle Hunter, by the 1871 census when they were in Prudhoe Street again. Henry was working as a house carpenter employing 6 men and two apprentices. Ann died and Henry then married Eleanor Wood on 25/10/1875 when he was 47. Eleanor already had two children and they had a son James, together .
Thompson started his working life as an accountant, then later he was a Civil servant working for the Inland Revenue in Somerset House, London. By 1881 he was a Captain, later Lt Col in The Artillery Militia where he excelled-see below. He died suddenly in Margate on 9/9/99 age 57, almost exactly 50 years after his father died in the cholera outbreak.