Jane Snowdon
Died 1st October 1849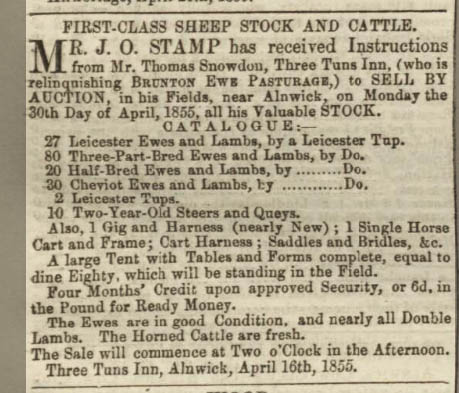 Above: The sale of Thomas Snowdons stock -see below,
Jane Snowdon was the 27 year old daughter of the innkeeper, Thomas Snowdon, according to her obituary in the Newcastle Courant, following her death from cholera on October 1st 1849.

Jane was baptised on 25th August 1822, in the Roman Catholic Church in Ellingham. She was the daughter of Thomas Snowdon and Elizabeth Moore. Her younger brother John, however was baptised on 8th April 1831 in St Mary's Roman Catholic Church, Bailiffgate, Alnwick (now Bailiffgate Museum).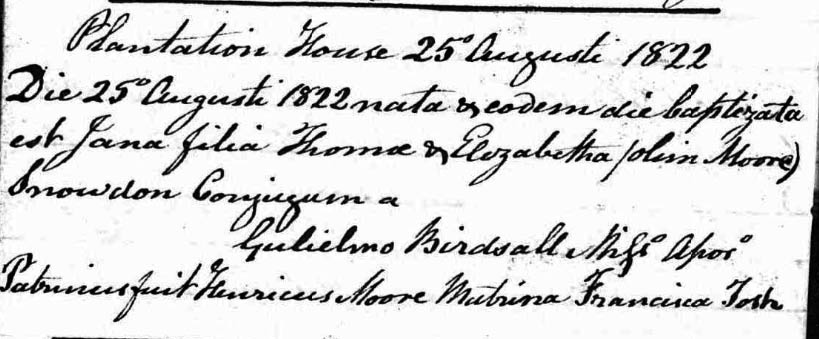 Above : Janes baptism recorded in Latin

By this time Thomas was Innkeeper at Three Tuns Inn in Clayport Street, Alnwick. This was a large coaching inn on the south side of the road. The inn no longer exists, as it was described as "old" in 1717, although Three Tuns Lane remains on the same site.
In 1717 it belonged to Mark Forster, who then resided in the adjoining house. He sold the Three Tuns to Ralph Wake of Grumwell's Park who devised it to his daughter, subject to her giving Mary Hall "two guineas and a cow"!  In 1784 the property was purchased by Robert Adams of Longhoughton, whose son Robert, in 1795 sold it to Clement Yellowly, from whom, in 1811, it was purchased by John Rattray.

Thomas  Snowdon was probably the next owner, and by 1832 (to 1847) his name was in the Poll Register, occupying house, stables and yard at the Three Tuns Inn. He held sales and inquests in his Inn, and it was a big enterprise. On the 1841 census there were children Jane (15) and John (10) living at The Three Tuns with parents Thomas and Elizabeth.

Jane sadly died on 1st October 1849, according to the Rawlinson's report, together with several others from Clayport alone. She was buried in a plot in St Michael's Church Yard with her own headstone, which was obviously good quality stone as is still clearly legible.
It says she died on September 30th. A difference in dates is hardly surprising, imagining the chaos at the time of the outbreak. It also says "second daughter",  but Jane was the only one we could find.  
Thomas and Elizabeth were still at the Three Tuns for the 1851 census, when John was a 19 year old draper's apprentice. But by March 1855 the Inn was to be let, rather than sold so perhaps Thomas was retiring and was letting the Inn for a pension. He also advertised cattle and sheep for sale.  (see above).

Thomas died at Greensfield Moor Farm on 9th January 1858. His son John then became a farmer of 224 acres, with two men working for him and living in tied cottages . His mother, Elizabeth died there 15th February 1861 before the 1861 census took place.

By 1871 John had married Henrietta and had four children but then they gave up farming, and moved to Roxburgh Place, when he became a 'relieving officer' working for the municipal Council.

In 1891 their smaller family were living at 9, Bondgate Without, and John, at 56, was the 'keeper of births and deaths, and school attendance officer'.

John died in 1900 over 50 years after his sister, Jane died in the Cholera outbreak.