James Paxton
Died September 28th 1849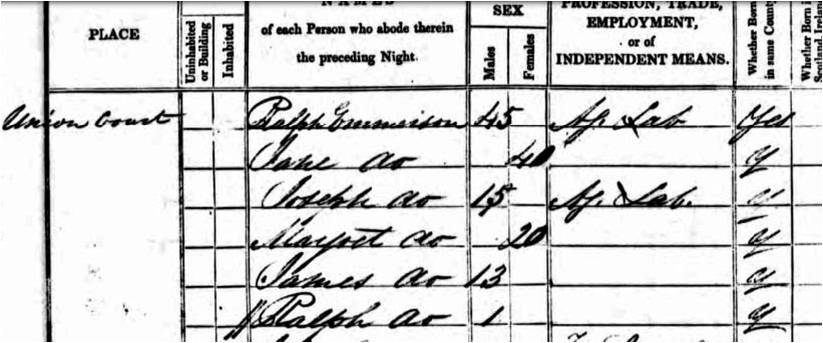 Above  Six Emmersons  crammed into  Union Court, one of the  worst areas of Alnwick In 1841
There is confusion as regards James's surname, so we have used the Rawlinson Report version as per all our listings of the dead, but tried to explain the anomalies. James Paxton was 20 years old when he died on 28th September 1849, one of the worst days during the cholera outbreak. He was recorded as James Paxton on the Rawlinson Report, but in the Bishops Transcript burial records, he was recorded as James Emmerson, alias Paxton- see below.

Ralph Emmerson –see his separate entry in this folder- died on the same day, so even though James' name was recorded as Paxton, we think James was one of Ralph Emmerson's sons.
James Emmerson  was baptised on 10th February 1828 . He was born to Ralph Emmerson and Jane Patterson. (Perhaps "Patterson" was misheard, and is the origin of this otherwise puzzling listing of Paxton). In any case James appears on the 1841 census for Union Court, off Clayport, Alnwick. We therefore think that father and son were buried together in a mass grave at the rear of St Michaels church.
                                                           Below: James Emmerson referred to as "Alias Paxton"  on his burial record