Ann Hudson and Ann Hudson
Mother and Daughter-in-Law? 
Died Oct 2nd, Sept 27th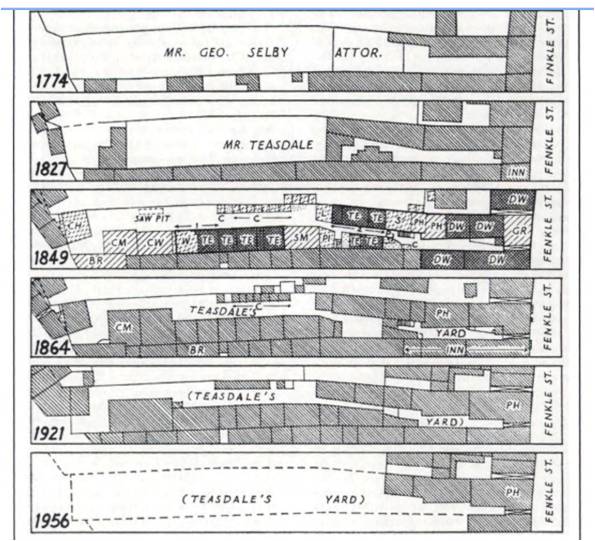 The notorious Teasdales yard and how it grew more and more overcrowded
Ann Hudson was born in 1789, and died aged 60 in Teasdale's Yard on 2nd  October 1849.  Another  Ann Hudson, born in 1825, had already died  aged 24 on the 27th September in Teasdale's Yard. As both were reported in the Newcastle Courant to be "Mrs Ann Hudson", we assume the latter Ann to be daughter in law of the first. As no more details are quoted in the newspaper we have no evidence, other than they were both living in Teasdale's Yard when the cholera struck Alnwick.

Teasdale Yard was one of the most overcrowded parts of the town. It had belonged to William Teasdale. The land which fronted onto Fenkle Street had been built up piece-meal  (PTO) until it was totally overcrowded with shops, middens, pig-sties and workshops. In this chaos, Ann Hudson and her family  must have lived in appalling conditions. There were 17 cases of cholera in this yard during the outbreak of which 5 were fatal.

Ann senior had married William Hudson in Alnwick on 6th June 1815, when he was then a butcher of Bondgate. Their son Robert Wellington Hudson was baptised on Christmas Day later that year (the year of Waterloo!).  Daughter Margaret was baptised 8th June 1817; Jane baptised 1st August 1819; and Isabella baptised 12th August 1821, but died aged 15 months ; William Jnr. was born on 19th October 1823.

In the 1841 census William  Snr and his wife Ann were living with their youngest son, William. He was then a 15 year old apprentice gardener. William Snr died in Alnwick, on 13th March 1845 aged 67, so perhaps both Anns were widowed when they died in the 1849 cholera outbreak.

On the 1851 census, William  Jnr was still living in Fenkle Street ( which could mean Teasdale's Yard) , now married to Elizabeth 4 years older than him. By 1861 they had two sons and were living in Angel's Inn Yard in the same area of Alnwick. William was then working for the brewery, but in 1871 he was back to working as a gardener. He died in 1873 aged 49.