Ann Appleby   1804-1849
A hero in the family 
Died 26 Sept 1849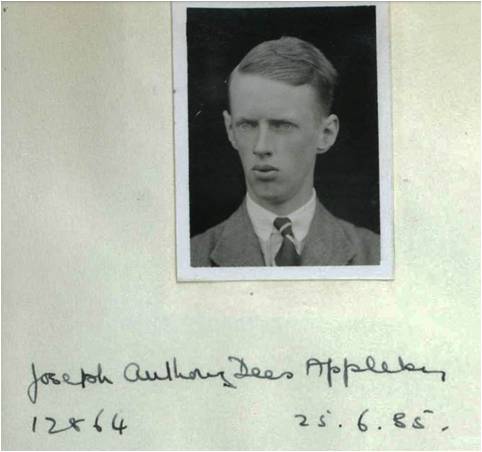 Ann was born to John Ogle and Jane Hope on 17/6/1804 and baptised in St Michael's Church, six months later on 14/12/1804. She married Joseph Appleby on 4/4/1832.
By the 1841 census, Ann was recorded as being 30, and Joseph was 40 and a fell monger, which was a man who dealt with and sold animal skins and hides. They had two young children, Joseph (ii) born 24/2/1833, and William born 25/5/1838. They were living in Clayport in 1849, when Ann caught cholera and died on 26th September. She has a clearly engraved head stone in St Michael's Churchyard.
By the 1851 census Joseph was now recorded as 55 and still a fellmonger in Clayport. His sons were now 17 (also a fellmonger) and 12. Joseph had remarried on 14/11/1850, just over a year after Ann's death. He had married Catherine Stafford, who was also a widow and a near neighbour in Clayport. Her first husband had been Nixon Stafford, a plasterer. Unfortunately Catherine died two years later in 1852 aged 41, and was also buried with an equally clear grave stone.
On the 1861 census, Joseph Appleby was still working as a fellmonger, and the business must have been thriving as he was now employing 1 man and 2 boys. Joseph (ii) was probably one of these, but his other son, William was a grocer.
Ten years later, Joseph was still in Clayport with his unmarried son, William, aged 32, but his older son Joseph (ii) had married Elizabeth, and moved to Hurworth, Durham. Joseph died on 6th September 1872 aged 80 according to the stone where his name was added as he was buried alongside Ann, his first wife.

William died not long after his father in 1876 aged just 38.
Joseph (ii) and Elizabeth had two children Joseph (iii) born 1874 and Ann Esther born 1875 in Hurworth. Joseph (ii) was a retired Fellmonger and living on his own means despite being in his 40s on the 1881 census.

By 1891 the Appleby family were still in Durham, and Jo (iii) was a student of analytical chemistry.

Joseph (ii) died on 20/7/1894 leaving £13,768 to his widow, Elizabeth. In 1901 Jo (iii) was a trainee land agent living in rooms, in Whitehaven, Cumberland. By the 1911 census he had married Ethel Dees (b1882) . He had qualified as a land agent and was living in a nine roomed house in Corkickle, Whitehaven. They also had a cook and housemaid living in. They had one son also called Joseph (iv) born later that year on 11/6/1911.

On the 1939 records Jo (iv) was living at home with just his mother Ethel living on private means, in Whitehaven. He had learnt to fly so when the Second World War began he joined the RAF .

LAC Joseph Anthony Dees Appleby RAF was killed in action on 20/11/1944. His name is found on the memorial at Harare, Zimbabwe. The end of the Appleby line