Elizabeth Gray
Died October 5th 1849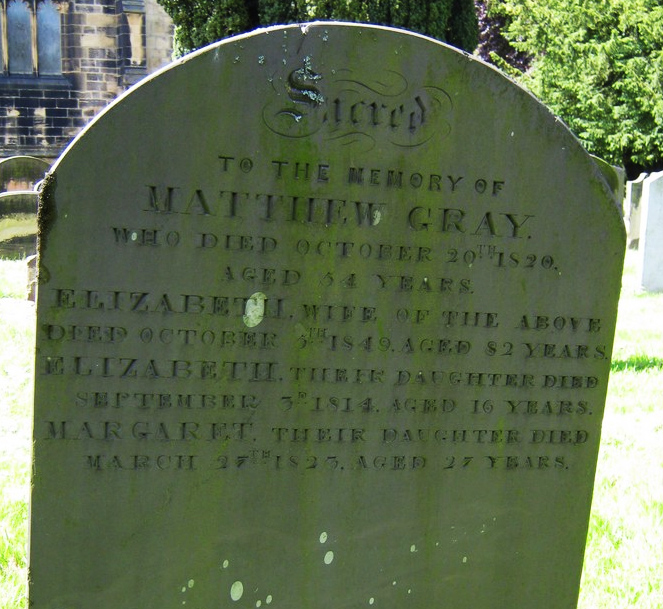 The family gravestone (which, unlike many others
                                                    in St Michaels,  remains in excellent condition)

 Elizabeth Gray was an 83 year old widow when she died in the cholera outbreak on 5th October 1849.
We got a lot of information from the clearly engraved gravestone (above) towards the front of St. Michael's churchyard. Elizabeth had been born Elizabeth Mason, in Alnwick, in 1766. When she married Matthew Gray on 12th October 1794, in St. Michael's the witnesses were Algernon Percy and Matthew Swanson. Matthew was a mason by trade, which initially caused confusion, owing to Elizabeth's maiden name. 

Son Matthew was born the following year and became a shoemaker in Newcastle. Two daughters were born to Elizabeth and Matthew. Margaret was born in 1796 (See below) but died aged 27, on 27th March 1823, and Elizabeth was born in 1798 but died age 16, on 3rd September 1814. Matthew Snr died on 20th October 1820, age 54. We know he was born in Bamburgh in about 1766 so was the same age as his wife Elizabeth. When she died in the Cholera outbreak, she had been a widow for 29 years.
Elizabeth didn't appear on the 1841 census, but Rawlinson's report says she was living in Clayport at the time of her death.
Above: Birth record of daughter Margaret