Michael Sanderson
Died 23rd September 1849 
A family with retail roots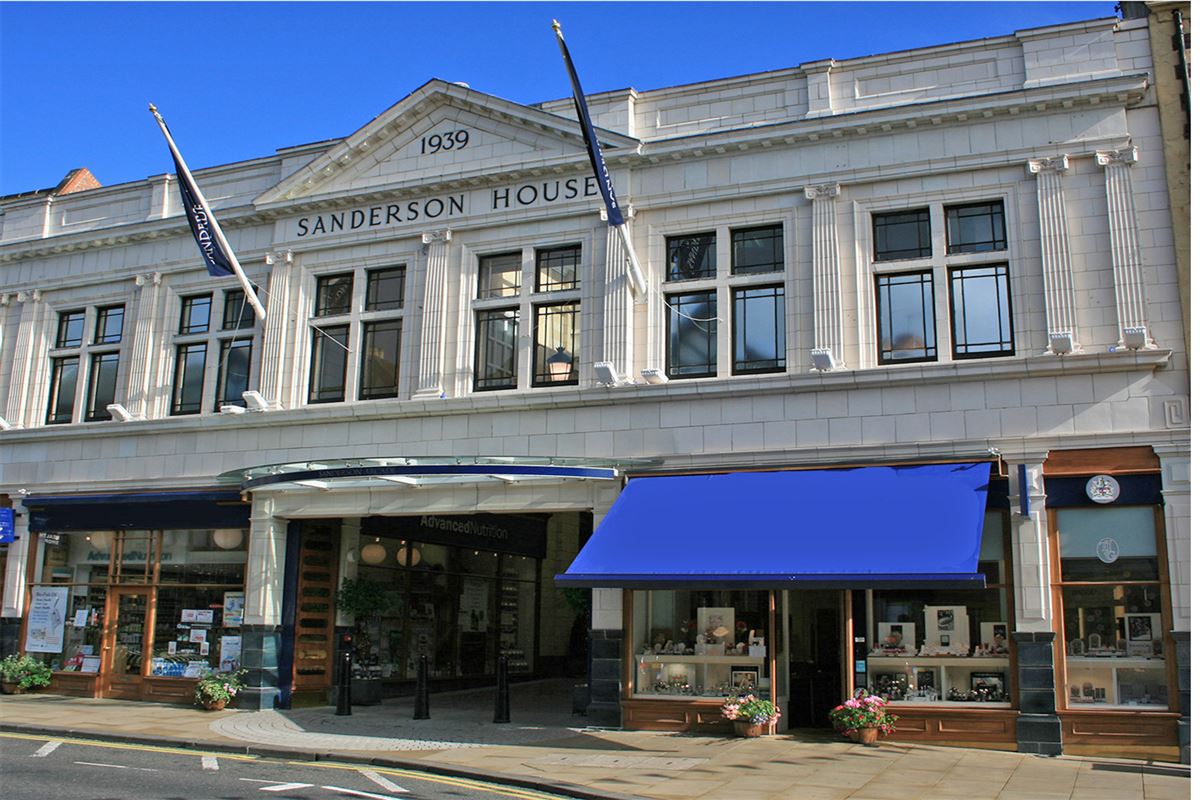 The Sanderson Arcade in Morpeth c. 2018
On the 1841 census Michel Sanderson was living with wife Ann (b 1807) and son Thomas  He was married to Ann Strafford on the 26/8/1838  in St Michael's Church in Alnwick, and was a grocer.  Ann was the daughter of the late Thomas Strafford of Alnwick.

Thomas Strafford was their first child, baptised on March 22nd 1840, followed by Michael Henry born April 1844. On the 1834 to 1848 poll lists for Alnwick, Michael owned a house and lands at St Thomas's Lands. This was at the end of Clayport Street possibly a Freemen's property. In October 1844 "the grocer shop in Claypath (sic) was broken into, and money stolen. Thieves entered the shop through the window by removing the shutters and then cutting out the glass."

In April 1848 the house where Michael was a tenant was up for sale by Auction. On the "north side of Clayport and part extending into Dispensary St, and consisting of a shop & parlour on the ground floor, private entrance from Dispensary St. four dwelling rooms and two light closets above."
Michael was 54 when he died the following year from cholera, on September 23rd .

On 1851census, Ann was still a widow living with her two young sons in the grocery shop in Clayport. She was a flour dealer as well as a grocer. Thomas S Sanderson attended the Dukes school, leaving in 1852, and becoming grocer by trade. Younger brother Michael followed him to the Dukes school leaving in 1857. By 1861 Ann and Michael were still in Clayport where she was a grocer and he was a general apprentice.

In 1871 they were found in Elswick and by 1881 they were still living together, by now at a grocery shop in Queen street, Amble. Ann was supported by Michael who was now the grocer.

Ann died aged 72 at Bullers Green Morpeth on 13/7/1882
In 1891 Michael was  still a grocer assistant in Morpeth, still unmarried,at the age of 42.
At the time of the  1901 census,  son Michael H  was visiting Alnwick, some ex neighbours maybe, as he was in Dispensary Street.

Meanwhile, on the 1861 census Thomas S was lodging in Wooler, and was a student of agriculture. By 15/9/1866 "Thomas Strafford Sanderson of Newton Underwood", near Mitford was declared bankrupt. His farming project  had obviously failed in less than 5 years. He had married Charlotte Todd from Hexham in 1864, when she was only 16. She had been baptised in April 1845 the illegitimate daughter of Ann Todd, a milliner. In 1861 she was staying with her aunt's family on a farm near Morpeth and on the 1871 census was again staying with her aunt at Wansbeck farm, Bullers Green, Morpeth. Charlotte had three children with her.
By 1878 Thomas was working as road surveyor for Morpeth local board of health. He had been there for three years and was still working there when the 1881 census took place. They had quite a large family , including Roundell P (16), Thomas S (15), Charlotte (13, born in Hampshire), Edith (7),John M (6), Henry BS (3), and William S (1). All  except Charlotte were born in Mitford, near Morpeth. By 1891, daughters Beatrice and Maude had been added to the family, now living at" Peacock Gap". On 1901 census Thomas and Charlotte and their four daughters  were at home, and Thomas died in1903 aged 62.

Charlotte was a grandmother by the time of the 1911 census. Her two daughters, Beatrice and Charlotte were still at home, in Peacocks Gap and both were single, but a granddaughter Dorothy Forster Thorp age 3 was there too, daughter of Maud. She was with her grandmother as a new baby sister had been born two months earlier.
                                          The wedding of Thomas Ss daughter Edith in 1906

Thomas and Charlotte's offspring went on to prosper. Roundell became a hospital secretary, Thomas S became a farmer and emigrated to Canada in 1903, John M became an engineer.
Maud married into the Thorp Family, Henry B married Mary Ann Collingwood and became a wine and spirit supplier, and  Thomas and Charlotte's youngest son went on to be locally famous.

William Strafford Sanderson was born in 1880. He served in the Boer war in South Africa in 1899, in the Northumberland Hussars, a contingent of the Imperial Yeomanry. He married Jane Appleby in 1906.

By 1911 William was living in Chantry Place, Morpeth with his wife, Jane and two children, William S  and John L  He was a wine and porter merchant and employer. In the Great War he served in the 7th Battalion, Durham Light Infantry, and fought in France.  After the War he began in business as a landlord of the Howard Arms, Bedlington. Next he bought Mr Scott's wine and spirits business, and then that of Messrs R Edgar& Co of  Old Gaol Yard in Morpeth. He became a councillor from 1911-1922 and Alderman from 1922-1967. He bought Longhirst Hall from the Joicey Family in 1937, as an investment.

There wasn't another census until just prior to the war in 1939, by which time there were many Sandersons  living at The Warreners, Morpeth. William Strafford was then a farmer, living with Jane, John and other Sandersons including two young children, possibly grandchildren.
William S Sanderson was given the honorary title of Freeman of Morpeth in 1946 for 35 years of public service. He died in 1973 aged 93, but his name lives on because of the Sanderson Arcade in Morpeth. It was opened originally in the 1950s  by the man himself and the Duke of Northumberland, but was later extended and remodelled in the 1970s and still bears the Sanderson name.