Dorothy Jameson, Jane Jackson
Died Sept 23rd and Sept 24th 1849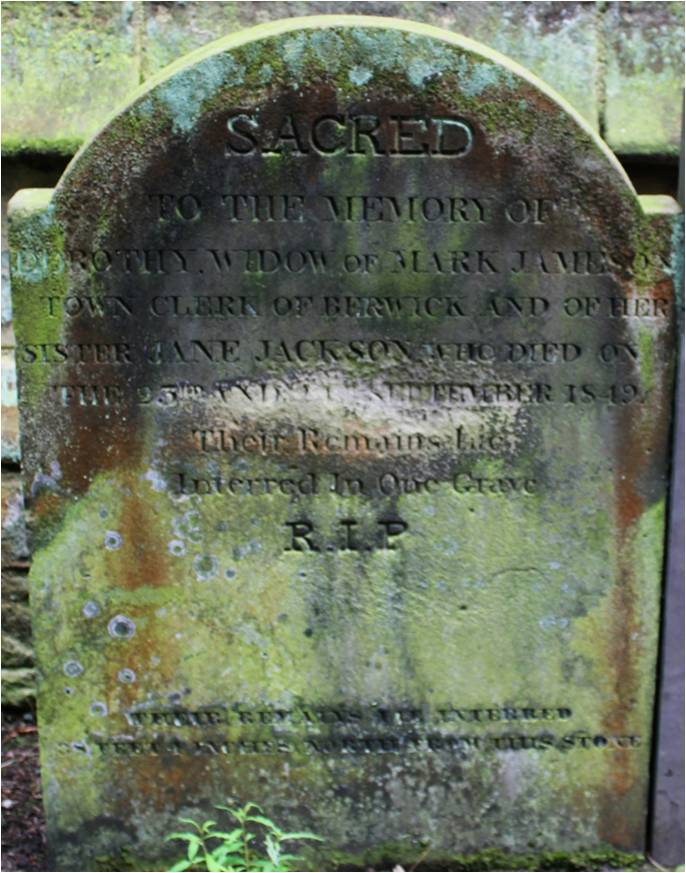 "Sacred // To the memory of// Dorothy widow of Mark Jameson// Town Clerk of Berwick and of her//sister Jane Jackson who died 23rd September 1849// Their remains lie // interred in one grave// RIP
     And lower down the stone it gives exact details.:
Their remains lie interred// 38 feet 4 inches north from this stone" .
Dorothy Jameson died on the first day of the cholera outbreak, the 23rd September. She died at almost the same time as her sister, Jane Jackson, living together in Green Batt.

Dorothy was widowed and Jane was a spinster, both born in Lowick in 1789 and 1793 respectively. They were two of the daughters born to Thomas (1759) and Mary(b1763) Jackson of The Loder, Lowick. Other siblings included Mary b6/2/1790, Arthur b 18/12/91, Elizabeth b 23/3/96, and Sarah b5/8/1798.

Dorothy Jackson married Mark Jameson from Berwick upon Tweed, on 6 th May 1819, when she was "21 or upward". They married in Lowick. Mark had been born in Berwick and baptised on the 23rd March, 1775, making him 44 years old and already widowed. His parents were Hannah and John, a baker.
Mark started an apprenticeship with John Constable, an attorney, working in Chancery, in Westminster, London, in 1792. This was to last 5 years and when he qualified, Mark returned to Berwick and set up in business in Scott's Place. He was listed in Pigot's directory from 1803 to 1825 as Town Clerk for Berwick. Meanwhile he had married and widowed before he married Dorothy Jackson, in 1819. They had a son, also called Mark, who followed his father in the legal profession but went to London to work, and son Thomas (1824-1848).

There are many legal notices, in The Berwick local paper signed by Mark senior, between 1830 and 1838, giving details of land for lease or sale, tenders for the building of public roads, bridges etc.

By the 1841 census Mark and Dorothy were back in Lowick, and he was listed as an attorney. His death was announced in the newspaper dated 19th February 1848 aged 72. "Mark Jameson Esq, solicitor."
Dorothy and Jane must have moved in together after his death. Eighteen months later, both were dead. The sisters deaths were reported in the Newcastle paper for the same day, 23rd September 1849. A stone was erected for them, probably by Mark's family as it mentions Mark as well.
This was the only stone at the rear of  St Michaels church for specific cholera victims who were mostly buried nearby, in a mass grave.