George and Jane Davison
Died 3rd and 8th October 1849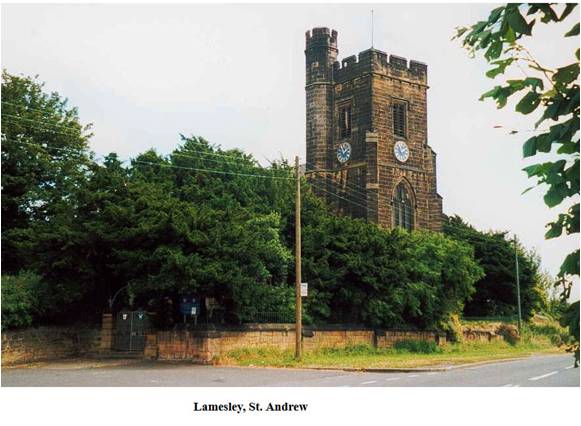 Lamesley  Church Co. Durham where  Thomas and Isabellas  children were all baptised
George Davison was one of four children born to John and Jane Davison of Pottergate. On the 1841 census both parents were recorded as being 45 years old, and John was a butcher, born in Embleton in about 1796.  Of the other children, Elizabeth was 17 and born in Felton. George 13, Mary 10 and Thomas 8 were all born in Alnwick.

George and his mother Jane both died in the cholera epidemic, he on the 3rd October aged 22, and she on the 8th.
By the 1851 census John was still a butcher at 2, Pottergate, Mary now 20 was keeping house, and brother Thomas was a barber. John died on 10 April 1853 aged 57.

Thomas was not on a census again, till 1871, when he was married to Isabella (b 1828 in Whickham, Co Durham). They had Hannah b1858: Martha b 1860: John G b1864: Thomas b 1866: and Isabella b 1868, all born in Lamesley, Co Durham. So Thomas must have been in Lamesley in 1861. Thomas was a labourer in 1871 and again in 1881, but by 1891 he was a "coke dome leveller". Coking ovens were part of the mining complex in those early days.

Thomas's sons were working in heavy industry by 1891. Thomas 24 was a coke oven worker and James 19, was a platelayer. The family was living in Railway Cottage, Lamesley. This township increased in population from 3,817 in 1871 to 4,927 in1891.

In 1901 Thomas and Isabella were in their sixties and retired. They were living with their son in law, a brickyard worker, their daughter, Martha and an assortment of grandchildren. Thomas died in 1903.

When the borders were changed and this area became part of Tyne and Wear it was more famous for the Angel of the North built on the site of the pits.