John Walker
Died 24th September 1849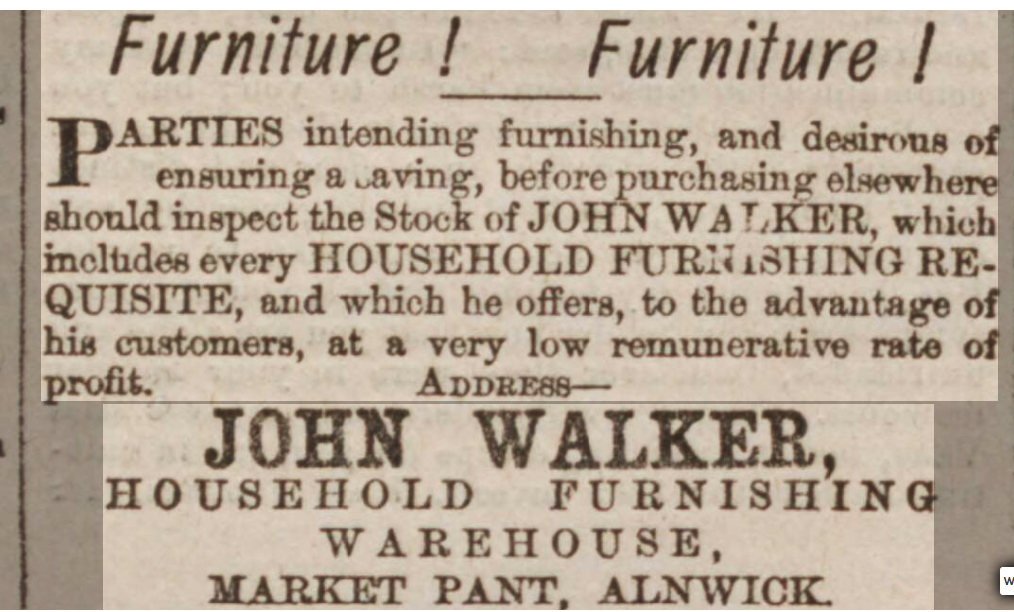 Above: An 1882 advertisement for the business of the "third" John Walker
John Walker was a 72 year old cordwainer, or shoe maker when he died on 24th September 1849. He was living in Union Court off Clayport Street, one of the worst areas of Alnwick.
John was born in Scotland, and married a Dorothy from Ford. Two (youngest) sons, John and Richard were both born in Wooler. They both became shoe makers like their father. They were all recorded on the 1841 census confirming that they were then living in Union Court, Alnwick.
John Snr died on the second day of the cholera outbreak and was buried in a mass grave at the rear of St Michael's Church, along with five other victims that day.

The rest of the Walker Family were all still together in 1851, in Union Court, but in 1857 Dorothy was living in Ogle Terrace when she died age 76. We think Richard died in 1859 as there were no more records for him.

By the following census in 1861 John Jnr. was married to Jane (Redpath), and had four young children. They were living in Green Batt and he was still a shoemaker. By 1871 John was listed as a 'late' shoemaker, so we assume he was retired, or perhaps he was suffering ill health. He died the following year in 1872, age 52.
There were seven children living now in Chapel Lane, and his eldest son, a third John (b1853) became a cabinet maker. This John, before 1881 ran the White Hart Inn, in Market Place as well as being a part time furniture salesman, (See over for 1882 advert), possibly from a warehouse behind the Inn. He then left Alnwick and became a fruit farmer, at East Brunton and his son became a music teacher.