Thomas Carr
Died 26th September 1849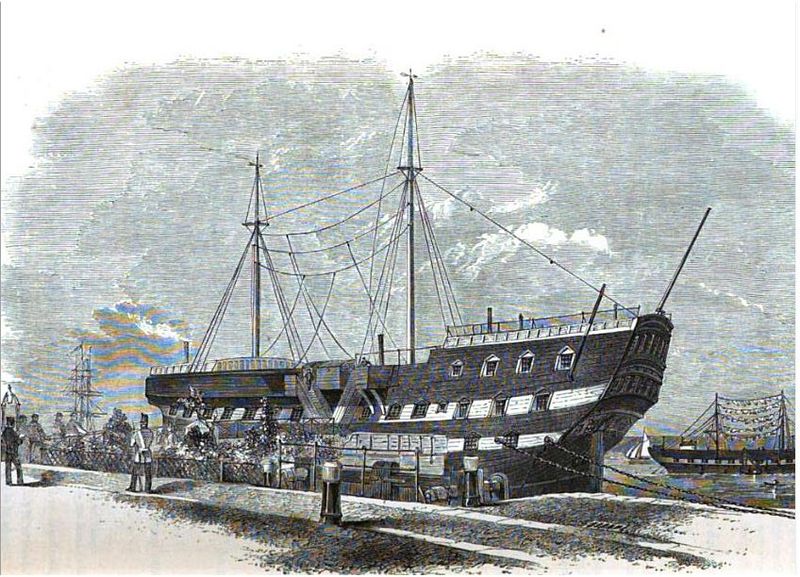 Above: A prison hulk with appalling conditions, such as those Thoma Carrs prison would have replaced
                                                                                      ( Source Wikipedia Commons)
Thomas was the son of Andrew Carr, a labourer of South Charlton and was baptised in the non conformist Chapel, the Sion Chapel, Alnwick on 8th December 1780. Thomas was a joiner when he married Elizabeth from Scotland. By the time of the 1841 census Thomas Carr was a grocer in Clayport St. and they had five children at home.
Mary Ann Carr was 15 and had been born in Alnwick in 1826. Thomas Peter was 12, born in 1829. Mark William was baptised on 25/3/1832 and was 10 years old. Caroline was baptised 26/6/1836 and so was 4 at the time of the census, and finally Rosina was one born on 23/8/1840. Another baby Rosina had been born on 12th October 1834 but had died aged three in 1837.
Thomas had given his profession as a joiner on the birth registration of all his children, but when he died in 1849 he was recorded as a grocer, both on the official cholera list and in the Newcastle paper. On the 1851 census, for Clayport Elizabeth, his widow was recorded as a grocer and flour dealer as was son Thomas Peter. Mark had become a brewer aged 20 and Caroline was a 14 year old servant. Rosina was ten and called Roseanna and there were two daughters born after the 1841 census, Marina born March q 1845, and Elizabeth born 10/7/1846. Roseanna died in 1857 aged 17.
On the 1861 census, Elizabeth was 61 and still living in Clayport with her daughter Marina, a 16 year old dressmaker. Mary Ann had married a miner, Garrett Burrell in 1846, and by 1851 they were living in Bedlington. Garrett died young and Mary Ann remarried and became Mary Ann Mitchell. Her second husband died, and she ran a pub before she lived with her eldest son Carr Burrell in Earsdon where he was a coal miner, in 1901. He died at the great age of 87 in 1935
On 2nd August 1852, Thomas Peter Carr aged 23 was a clerk in Millbank Prison, London when he married (in Alnwick) Ann Crisp.
Ann was the daughter of an army officer. They returned to Millbank and had a daughter, Ann Foster Carr there. Three sons. Thomas, Edmund and Walter were then born in Islington, Camberwell and Portsea respectively
When Thomas died on 5/12/1884 he was a steward at HM Convict Prison at Portsmouth. The family lived at Anchor Gate Terrace, close to the prison but about as far away from Alnwick as you could get..

 Facts about HM Convict Prison, Portsmouth :

The prison was built between 1850 and 1853 to the designs of Joshua Jebb. It was situated in what is now HM Naval Base, in the general area bounded by Gloucester Road to the west and Cumberland Street to the south, east of Anchor Gate Road and Lennox Row. It was a public works prison for convicts, to replace the hulks in the harbour. The convicts worked as labourers in the dockyard. When the prison opened in 1852 it could accommodate 1020 convicts. The gatehouse was in the north-east corner of the site. South of the gateway was the keepers room and the dead house and north of it were the civil guard room, visits room and armoury. South of the gatehouse was Anchor Gate Terrace, a row of houses for the governor, chaplain, medical officer, deputy governor and steward, and three buildings each housing eight officers families. Convict accommodation was in two parallel four storey brick wings, both 36 feet wide. The west wing was 38 bays and 292 feet long. The east was 236 feet long. The wing was open and the cells on the upper floor were reached from galleries. At the south end of the east wing on its east side was a three storey wing containing 35 punishment cells. In the re-entrang angle of the two wings were officers quarters, and to the north were medical offices and a second wing containing offices and infirmary. Between the east and west wings was a central block containing kitchen, wash house, bakery and pump house. South of it were privies, bath house, and offices and to the north was the chapel. Another accommodation block was built between 1869 and 1870, and a new infirmary between 1870 and 1872. A new wash house was built in 1870, a new shoemakers shop in 1881, a tailors and shoemakers workshop between 1886 and 1888. At some date before 1894 eight new punishment cells were erected south of the separate cells. With the completion of the dockyards the prison was closed. The last prisoners left in July 1894 and the buildings were handed to the Admiralty
Appendix
The following was received from Australia in June 2020, with further information about the Carr family.
 Thank you for your interesting website which I have recently discovered. For some time I have been looking into the history of the Carr family and found your section on the Cholera victims, particularly Thomas Peter Carr very informative.
Thomas is my husband Peters great,great grandfather on the maternal side.His son,Thomas was the father of Edmund, my husbands grandfather. Thomas may have left Alnwick for a better life but I dont think it can have been very happy.
According to Edmunds notebook, after the birth of Ann and Thomass first two children,over a period of eleven years they had six children who all died at varying ages from birth to four years before Edmund[1871] and Walter[1874 were born.Thomas died of a "muscle wasting atrophy" the age of fifty six. The family must then have had to leave the Prison Staff Quarters in Anchor Gate Terrace to live in poorer circumstances. Sister, Ann taught piano and after caring for her mother until she died[1897] she married a sailor[at the age of forty seven]. She died blind and destitute,a deserted wife, in the Portsmouth Workhouse at the age of fifty two.
I would like to think that Edmund was contributing to her welfare as he had the name of the Workhouse Chaplain in his notebook with word "recompense" beside it. Edmund left home at the age of fifteen, two years after his fathers death, to join his Uncle Mark Carr in Australia. He worked in various occupations as he moved around the country finally settling in Sydney, New South Wales, marrying and raising his own family. I really like your photographs of the area and the  people who lived there and have a "fading" photo of Ann[Crisp]Carr who looks very much like your your photos of the Misses Crisp.    
  Hope this is of interest to you, Cecilie Elliott.
   Above shows:  Ann Crisp Carr, when an old lady, and  a miniature of her father Lieutenant Robert Crisp, whose uniform was actually a brilliant red and gold.
   Below:  Edmund aka "Alf" Carr, as an old gentleman, as a young man, and also standing outside his birthplace at Vaughan Road  Camberwell, London. This lower  photograph was taken on a visit to England from Australia in 1926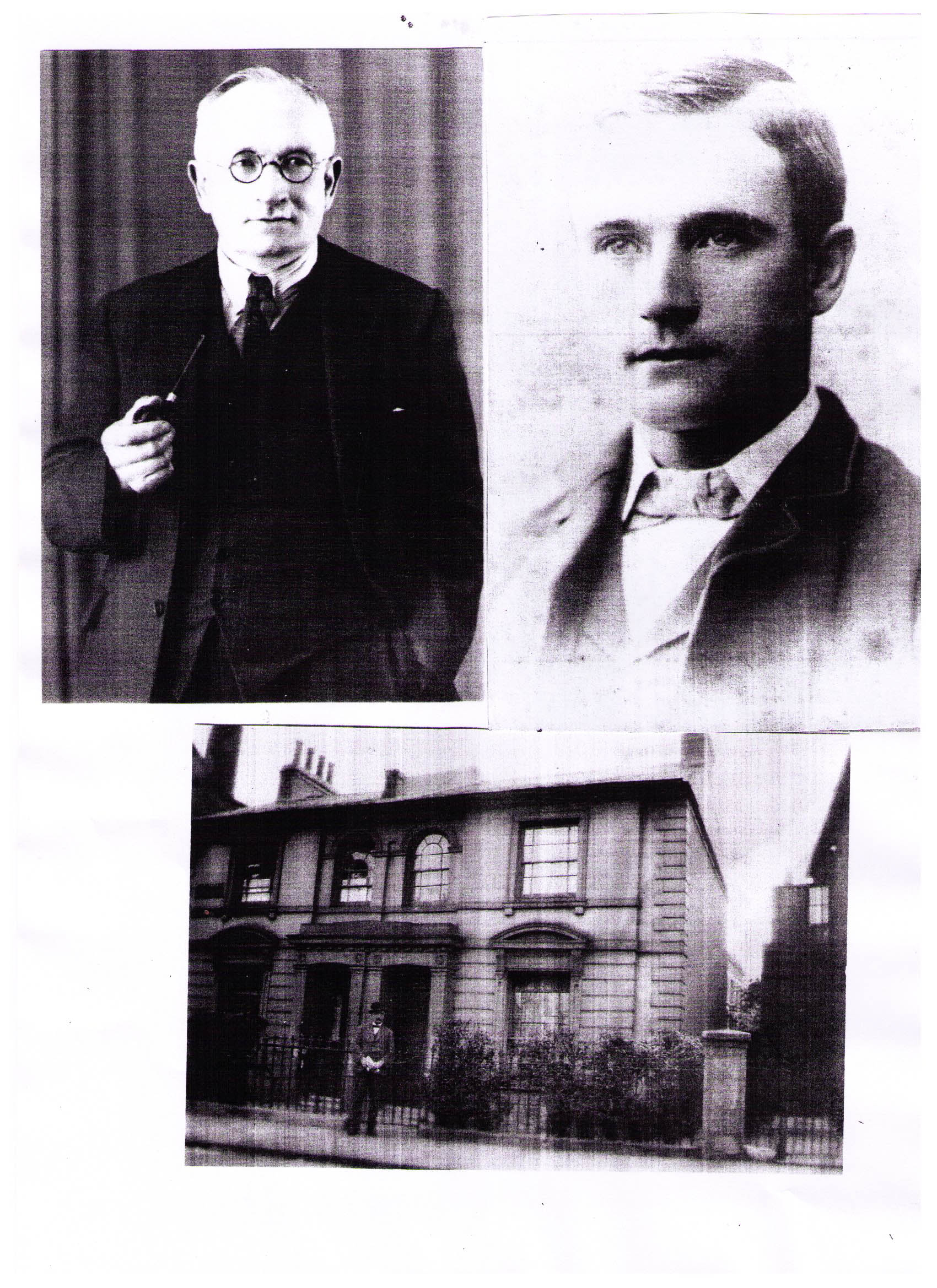 Below: A letter writtten to Edmund in Australia in 1897 from his brother on the Isle of Wight, informing Edmund of their mothers death.. Showing the first and last and then the centre pages.