Mary Ann Featherstone
Died 9th October 1849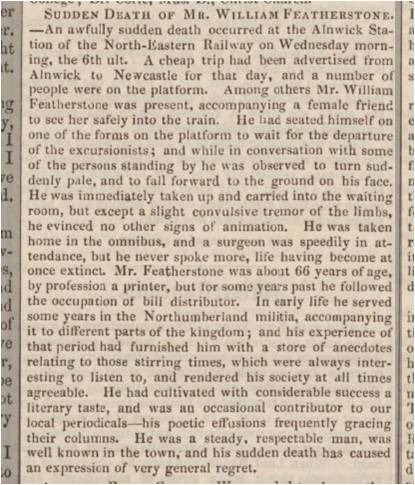 Above: William seniors sudden death
Mary Ann Lawson was born in Longbenton on 25/10/1801 and baptised the following year on 28/3/1802.  She married a widower on 27/6/ 1818 when she was only 17, apparently. He was William Featherstone and had been born in Carlisle in 1795, so he was only six years older than Mary Ann but was already widowed.

On the 1841 census for Alnwick, they were living in Clayport and the name quoted was Featherson. William's age was rounded up to 45 and Mary Ann's rounded down to 35 as was the procedure on that census. William was a printer, living next to Lockey's yard. They had one son, also William aged 5 born on the 1st of July 1836.

Mary Ann died from cholera on 9th October 1849. On the 1851 census the two Williams, now recorded as Fetherson, were still in Clayport. The father was now a compositor/ printer. Son William Thomas died in July the following year aged just 16, and his father died suddenly on 6th June 1860, at Alnwick Railway station after escorting a lady to the train.