Henry and Ellen Mary Ferguson
Died October 1st and 11th 1849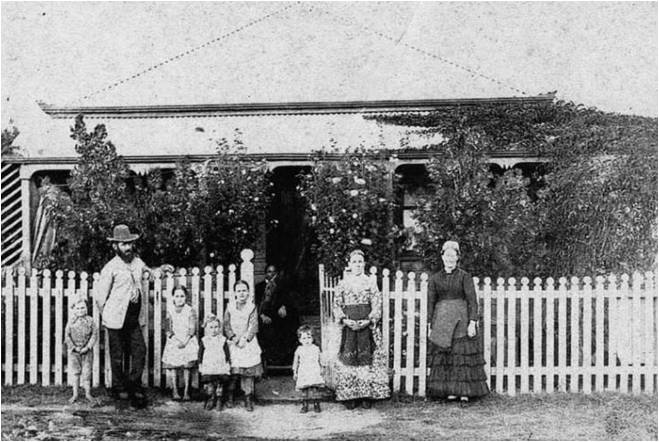 Isabella seated on the steps of the house of her son Thomas in Queensland (see below)
           Note that this is the only image we have of anyone directly involved in the outbreak-albeit a poor one.
Henry  Ferguson married Isabella (Best) in Alnwick in 1833. When Henry died on 1st October 1849, 12 children had been born to the couple. Henry was then 39, a cooper by trade, working from 31 Clayport Street. He was one of 12 people buried in mass grave at St Michael's church on the following day, the 2nd October. This was one of the worst days of the outbreak and the graveyard was soon overwhelmed. What, then happened to Isabella and all her children?
– Ellen Ferguson b. 1846, had died in Alnwick, age 6 months.
 –Ellen Mary Ferguson  b July 1849,  just before the outbreak that took her father. Sadly died just after him on 11th October.
 –George Best Ferguson was born in 1844, and died in Alnwick aged 5, in 1850. So one assumes Isabella and the rest of the family were still living in Alnwick in 1850. The 1851 census, however only turns up the oldest daughter Elizabeth Ferguson, then aged 16 and working as a servant, in the household of an elderly lady at Hope Terrace in the town.
The branch could not find any traces of the rest of the family until it unearthed a Ferguson descendant in Australia, and it transpired Isabella and her eight other children left Liverpool on July 2nd 1854 and arrived in Hobart, Tasmania 90 days later, on September 29th. They travelled on board the Caroline Middleton under the "indenture scheme" which was intended to increase the population of Australia and paid reduced rates for their passage.
The sailing ship under Captain William Allcock was carrying cargo and 373 immigrants, mainly Irish. The Hobart papers later reported that "the Caroline Middleton was good until the beginning of September, when strong gales commenced and continued until the time of her arrival here. On September 15th she had her mainsail and fore topsail split."   Despite these trials, the passengers wrote an open thank you letter to the Captain and surgeon for bringing them "through the perils of the tempestuous oceans".
Isabella and family settled in Hobart when they first arrived in Tasmania. Her eldest sons, Henry and Robert got jobs with Thomas Jennings, a cooper, paid £3 each for three months, with rations- giving them time to find more permanent work.
As the children grew up they all gradually travelled to the Australian mainland.. After 2 years in Tasmania, Isabella and her younger children sailed 1000 km northwards, to Sydney on the mainland. Three sons and a daughter settled there, where there was plenty of work and a temperate climate. In 1861 or 1862 Isabella moved again, another 1,200 km north, to the farming settlement of Yengarie a short distance south west of Maryborough, Queensland. There, she lived with her son Thomas Johnson Ferguson and his wife and family.
                                      (see image above) 
Isabella is just visible sitting behind the main group, on the steps of the house her son built, with him and his family and a servant in front. Isabella lived here for the next 26 years, always with some family members nearby. She died, of apoplexy (a stroke in current parlance) in 1887, having outlived her husband Henry by 38 years.                                  
Of the children of Isabella who went with Isabella:
Robert Ferguson  by the time of his death he was a sugar planter. He had no known family and died in Yengarie, Queensland in1883, aged 50.
Isabella Ferguson married a German-born man when she was 21 years old. They only had 7 children, as Isabella died in 1876 aged 40 also in Yengarie.
Henry Ferguson was a cooper like his father and brother. In 1862 he married Sarah Berwick aged 19, from Tansmania. The family later moved to Sydney and had eleven children. Rather oddly, there was an advert for his funeral in the local paper, inviting all the friends of Henry's children to attend. The procession was to begin at his home at 49, Merriman Street, Miller's Point, Sydney.
John Ferguson was 14 years old and already an apprentice blacksmith when the family decided to move to the other side of the world. Once there, we know that he married Elizabeth Swan, they had 5 children and he died in Sydney.
 James Ferguson was only 8 years old when his father died, and 14 when he arrived in Tasmania.  He left Hobart for the mainland when he was 24, and made his own way for several years travelling from Tasmania to Ovens, in gold mining country, then to Oxley Plains on Victoria's vast gold fields. He then joined his mother and siblings at Yengarie. In 1875, aged 35 he married Devon-born Amelia Duckham when she was only 15 years old. In 1884 James selected a 160 acre plot of farmland at Miriam Vale, Queensland allocated to immigrants by the crown. He called it Sunnyside. James and Amelia went on to have thirteen children all born in there. James died there in 1930 aged 90, and Amelia lived on till 1941.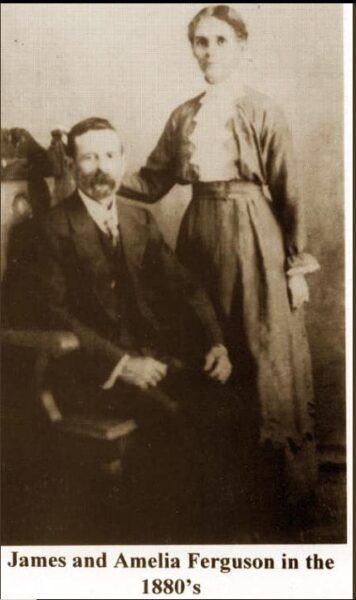 James and Amelia's son, James Jnr. was an exception to the rule that their children lived long lives, passing at least the age of 80. There was good reason for this, however. James Jnr. served in Gallipoli in WW1. Although not killed there, he did become very ill and was repatriated.
Having recovered, he returned to serve as a stretcher bearer on the Western Front.  In late 1917 he was awarded the Military Medal and was wounded. Recovered again, he returned to the front in May 1918, and was gassed. Not surprisingly, all these events must have had a terrible effect on his health. He was recorded as a dairyman in 1925, but this was the year when he tragically died, aged just 44. 
Several other sons of James and Amelia became farmers. Son Charles is shown in records as farming at "Gladstone" Queensland up till 1935.
                                                                            Charles Ferguson -Farmer
Jemima Ferguson married William M George Forster and had 11 children, all born in the Sydney area.
 Frank Ferguson married a Catherine in Sydney. A daughter Mary was born before their marriage and they had three further children who all died in infancy. Sadly Frank left a tragedy in Alnwick, only to suffer another in Australia.
 Thomas Johnson Ferguson lived with his mother Isabella, as seen in the earlier photograph. He married Margaret in 1874. They had 12 children, all born in Maryborough. On the 1913 records they were living in Wide Bay, Maryborough, which is now an Australian tourist destination.
In summary, Isabella Ferguson's surviving children gave her 63 grandchildren, whose descendents went on populate much of the east coast of Australia. It can safely be said that the family met the mandate by which they travelled on the assisted passage scheme; namely to go out and fill a country desperate for development and growth!
Note:
Most of this information was sent to the branch by Ray Young, who is a great, great grandson of Henry and Isabella Ferguson. He is over 90 years old and is pictured in the middle of this photo with two of his many cousins. They all have large farms in Queensland.
Ray was very keen to see the death of Henry and others buried with him commemorated in some way in Alnwick. He raised the proposal for a memorial, which has just been created  in the churchyard of St Michaels Alnwick, where the vast majority of the victims were interred. This was mainly in mass graves- only a few of the more affluent having a marked grave- so the memorial has been placed overlooking the site of these. 
Update from Ian Young:
My relationship to Ray Young (87yr) is that he is the younger brother of my father Frank (89yrs) & only 5 of the 10 children are still alive.
Ray was diligent in the family tree research & I did it in unison using the internet ie Ancestry.com whilst he chose to do it the long way (alas)
I have travelled to England a couple of times now &  have always marvelled at the history of the place. My ancestry research has bordered on the obsessive & have been rewarded in that my 2nd great grandfather Dr Edmund Bower (1838-1920) married Amelia Thomasina Wilson (1842-1913) who comes from well documented families which you may wish to peruse  on my tree eg Geoffrey Boleyn(1406-1463) is my 16th great grand father (his granddaughter is Anne Boleyn). Other branches give us well to do people living in castles eg Anne of Hardwick Hall etc , the only line of my tree that has credible bragging rights.