Rebecca Quin
Died 15th October 1849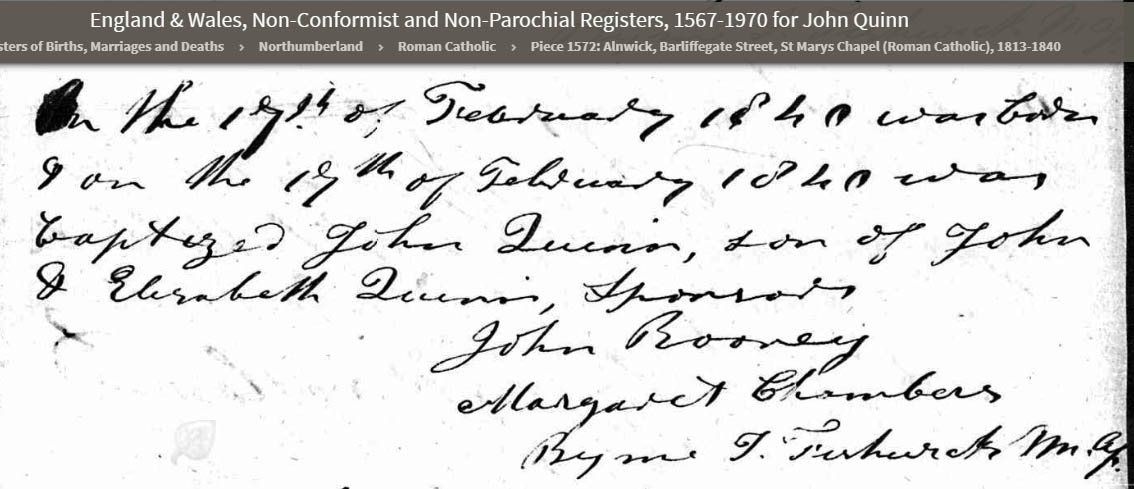 Above Rebeccas brother John Baptised
Rebecca Quin died on October 15th 1849 in the Alnwick Cholera outbreak. She was baptised in St Mary's Roman Catholic Church, Alnwick ( now the Bailiffgate Museum) on 2nd January 1848, born to John and Elizabeth Quin, and so was only one year old when she died.

Rebecca was the youngest of at least five children. Isabella born 27th May 1835 : Elizabeth born 21/12/1836 , sponsors Patrick Rogan and Sarah Caulfield : Edward b 9/5/1838 with sponsors John Hannah and Ann Kavenagh at his baptism: and the first Rebecca Quin who died age 2 on 18th December 1847, so was born about 1845.
From the names of the sponsors of the baptisms we assumed that John, at least was Irish. All of these children were baptised in St Mary's RC Church.

When we found the family on the 1841 census for Victoria Place, Bondgate Without, Alnwick there was also an Ann 6 ( born 1834) , possibly the daughter baptised as Isabella : Elizabeth 4, Edward 3, and John 1( born 1840)-see baptism record above. Rebeccas father John was a Hawker, and there were two other hawkers living with them, Robert and Patrick Quin. These two men were possibly his brothers.

Rebecca was the only one in this large household to die in the cholera outbreak. She was buried in a mass grave at the rear of St Michael's C of E Church, despite being a Catholic. On the 1851 census we learned that John Quin was indeed born in Ireland, but his wife, Elizabeth was from Morpeth. John was now about 56, and a licensed merchant.
There were three other children all born after the 1841 census, who were Margaret 9, George 7, and Mary 5.  Edward and his sister Elizabeth were living with their uncle Patrick, in Newcastle. He was a 'victualler' or publican at the Corn Market Tavern. He had his wife and children together with an assortment of nephews, nieces and servants living in half the property. There were 15 residents altogether and another large Irish family were living in the other part of the tavern.
By 1861 John and Elizabeth had moved to Newcastle, where John was still a hawker, but his two sons Edward and John were both seamen in the merchant service. Their sister Mary was 15. All their neighbours were born in Ireland.

We couldn't find any members of this Quin family again. We found an Edward Quin, died at sea from heart disease, in June 1867, age 28. It may not be the right Edward,  and lots of Quins emigrated at this time.

                            Above: An Edward Quin dies at sea, possibly brother Edward