Sarah Smith
Died 29th September 1849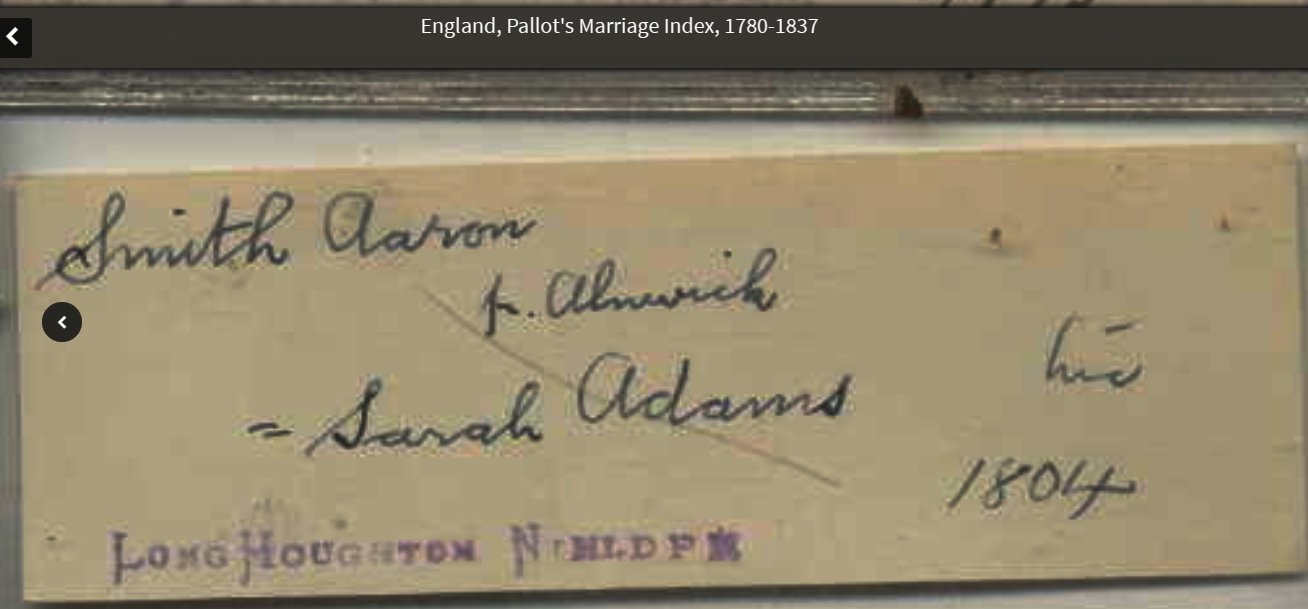 Above Sarah and Aaron married
Sarah Adams was born in Warkworth and baptised on 25th August 1783 to Robert and Jane Adams. She had at least 2 sisters and 3 brothers, all born in Northumberland, but in a variety of places.  Their parents then returned to Longhoughton, near Alnwick where their mother had been born ( 1763-1824), and where they were to die.
Sarah married Aaron Smith in St Peter and St Paul's church in Longhoughton on 2nd Dec 1804. Aaron came from Wiltshire. He had been born 14/9/1777, "out of wedlock" to Mary Smith. His father was presumed to be a Benjamin Cooksey of Potterne in Wiltshire. Aaron travelled far from his roots, perhaps to forget his background, to marry in Northumberland.
On the 1841 census for Alnwick, Sarah was already widowed and living in a house in St Michael's Lane Alnwick with daughters Jane Adams Smith b.16.9.1808 and Sarah Adams Smith 12/5/1816-1896. Also sons Robert Adams Smith, a druggist baptised 29/7/1820-1899 and Thomas William Aaron Adams Smith, baptised 5.3.1827.
Elizabeth, baptised 9/6/22 married a cousin, William Edward Adams on  10/6/1845. The groom was from Felton and his father was William Adams, one of Sarah's brothers. The couple had at least one daughter, also a Sarah born in Eshott in 1847.  Aaron was on the voter's list for householders in the Coquetdale ward of Alnwick in 1826 and in White's directory for 1827 for South Street Alnwick. He died aged 48 on 7/1/1830. He had been a successful Wine and Spirit Merchant, leaving his effects to Sarah, who then sold his entire wine cellar.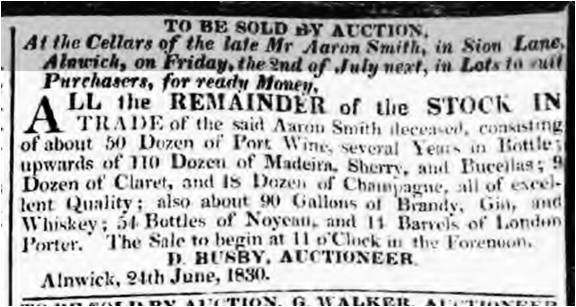 When she died from cholera on 28th Sept 1849,  Sarah's death was recorded in the Newcastle Courant as "widow of the late Aaron Smith". Her family was left without a head, and had to sell off their large property.
On the 1851 census Robert was visiting John Morrison's family, perhaps living there temporarily to be near his Chemists shop in Bondgate Within Alnwick, as advertised in the Durham Directory for 1850.