James Lockey
Died September 28th 
                                                                                   Above: A simplified family tree for James Lockey
James Lockey was born in 1809, to a shoemaker also called James Lockey (1778-1843) and Ann Middlemas. That James Lockey  was also born to a shoemaker called John Lockey(1755-1797) and Margery Wilson.

The Lockey Family had been here in Alnwick for many years. They had a yard off Clayport called Lockie's Yard, and a shop in Market Place for several years. James Lockey married Ann Middlemas in St Michael's Church, Alnwick on 29/5/1803. Son James was born in 1809 and baptised on Christmas Day. He was possibly the third son of James and Ann, but as there were a great many births (and deaths) in the family at this time, it was difficult to sort out.

James followed his father in shoemaking -see advertisement below, and became a Freemason too. He married Mary Greig/Gregg in April 1830 and had children: Jane b 1831: James b 1833: and Andrew b+d 1837. Mary also died at this time, probably due to complications in childbirth.
James remarried a year later, in July 1838, to Jane Mattison. This couple are recorded on the 1841 census for Clayport Street with three children Jane (10)  and James (8) from his first marriage and Peter (1). They then had a further five children : Elizabeth born 1842: George b 1843 : Walter b 1845 : John b 1857 . Son Joseph was then born in 1849 after his father had died from cholera on 28th September, aged 39.
James was buried in a mass grave at the rear of St Michael's Church, on one of the worst days for deaths from Cholera. Poor Jane had to raise eight children on her own. By the 1851, most of her children were still at home, but Peter was staying with his Mattison grandparents in Abberwick and James Jnr was called her son in law, but we think it should read stepson. He was now about 18, and a hairdresser.

Jane died age 47 in 1858, so young to have been a widow for nine years. Peter was now the head of the family in 1861. He was a tobacconist and their home was in Burns Yard. Peter was only 20, Elizabeth was 19, George a carter was 17. Th other children were Walter 15, John 14 and Joseph 11.
1861 was the last census when they were all together. Peter married Eleanor and had nine children. He lived on Alnwick Moor and worked his whole life in the tobacco industry. George moved to Newcastle with his wife Mary and four children. Mary was the great great great aunt of Ian Waggott, one of our members (ie of Alnwick Branch of the NDFHS).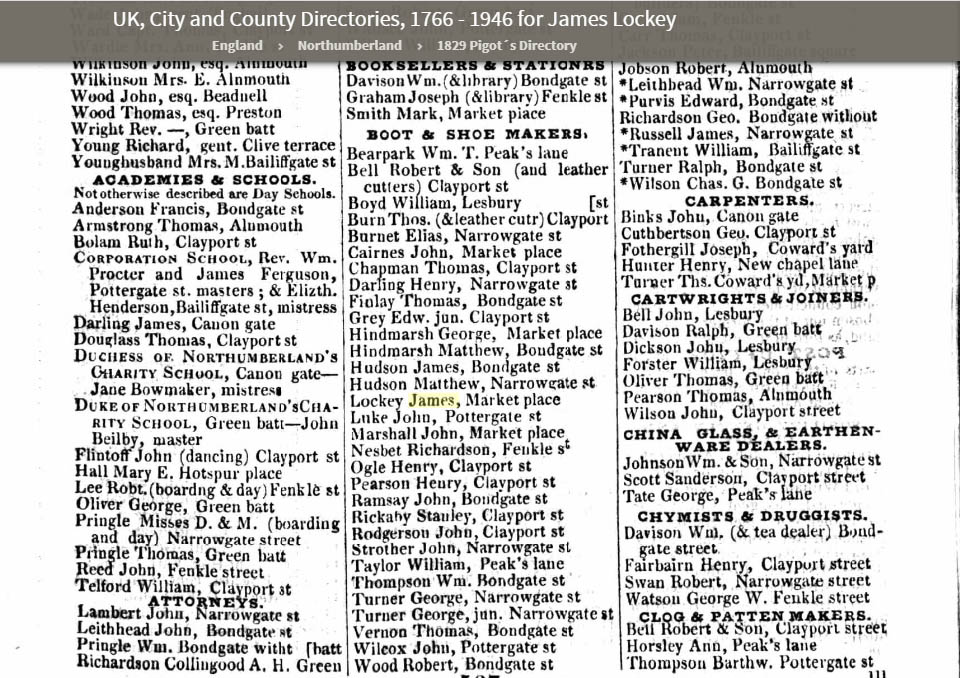 Above: James Lockey, shoemaker