Jane Duncan
Died 26th September 1849
                                                                                 Above: Record of the birth of Thomas Duncan in 1805
Jane Duncan died aged 34 on 26th September 1849, in the first week of the cholera outbreak in Alnwick. She died with eleven others that day and was buried the next day in a mass grave at the rear of St Michael's Church.

We only know from Rawlinson's Report that she was 34 and lived in Clayport. Her entry is marked with an asterisk, meaning Rawlinson didn't know whereabouts in Clayport she lived. We couldn't find out either. We know from the obituary column in the Newcastle Courant that she was married.
We found a Jane in Clayport married to a Thomas Duncan on a baptism entry for their child, Hannah Richardson Duncan, on 3/7/1846. Thomas was a shoemaker from Clayport, whose father was William Duncan. But is this the correct Jane?
Unfortunately Hannah died the following year on 11/7/47. Both of these events were recorded in the Bishops Transcripts, as was Jane's death from cholera. We had no luck in finding anything else about
her.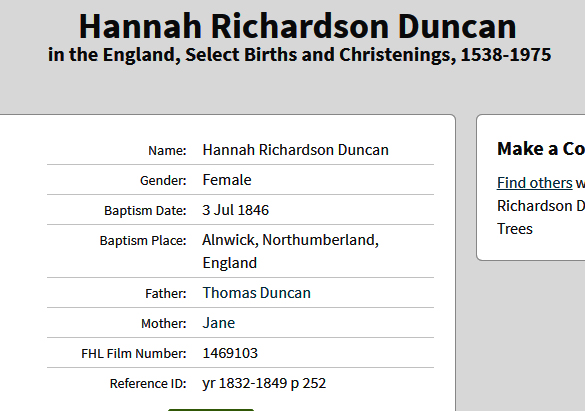 If you know anything else about Jane, or any other of the cholera victims, do feel free to contact us on:
            familyhistory@bailiffgatemuseum.co.uk
so that we may share your information with everyone.