George Slight 
 Tanner 
d Oct 9th 1849
Isabella takes over the business.
George Slight was born in Scotland about 1796. He arrived in Alnwick before the 1820s and worked as a tanner for Mr. Hindmarsh whose tannery was well established in Back Way, later renamed Dispensary Street.

George married a local girl, Jane Turner, in St Michael's Church on 19th June 1821. They quickly had a large family, all of whom were baptised in the Green Batt Meeting House (also known as the Church of Scotland). George was their first born, baptised on 22/9/1822, but he sadly died in 1828 when still only 5. Next came Rachel Turner Slight born on 5/9/1824, James Archibald born 16/9/26, Jane baptised 8/6/29, Isabella born 26/10/31. Another George was born in December and baptised on 1st January 1836. These children were followed by Thomas died aged 8 days on 12/5/1839 and then John born and died the following day on 13/4/1840.

On the 1841 census for Dispensary Street Alnwick, George was the head and still working as a tanner. James was now 14 and a gardener's apprentice and Isabella was 9 years old. Her older sister, Rachel was a servant for the grocer Mr Thew in Bondgate and Jane was a 12 year old servant for a lady of independent means in Percy Street. There was no reference to their mother and her youngest son, George. Perhaps they had gone to stay with relatives.

George died in the Cholera outbreak on October 9th 1849. He was buried with a nice clear headstone in St Michael's churchyard (see below) -not in the mass graves.
On the 1851 census, Jane was a 55 year old widow, in Dispensary Street with son James who was now a clerk in the Post Office, working for George Tate, Jane was a 21 year old dress maker and George Jnr was a painter's apprentice. Isabella was a House servant at 6, Bailiffgate for John Turnbull a grocer. Rachel had married Andrew Coldwell in 1850. Jane married in York, before the next census.
By the 1861 census James had become a leather merchant, moved to Newcastle. He married a Margaret from Scotland and  they had their first child. His mother Jane now 64 was a visitor, probably helping with the new baby.
In 1861 daughter Isabella was now a servant for the Catholic Priest, Father Joseph Gibson of St Mary's church Bailiffgate, now the Bailiffgate Museum.  George Slight Jnr was lodging in Howick and was a house painter. He later went to America.
 
By 1871 James was a successful leather merchant of Pilgrim Street, Newcastle. He and Margaret had five daughters and her sister Christina Watts from Scotland lived with them. James died in 1890, aged 69.
Isabella had married James Watson, a blacksmith from Warkworth, and in 1871 she was living with her father in law, (72) and her mother Jane (74) and five small children. When James died, Isabella took over the business (see the newspaper announcement above)

By the 1881 census Isabella was still living with her father in law and four of her children. Her mother Jane had died , "accidentally killed" due to drinking  whiskey according to the coroner's verdict. Jane was buried along with husband George, who had died in the cholera outbreak so long before.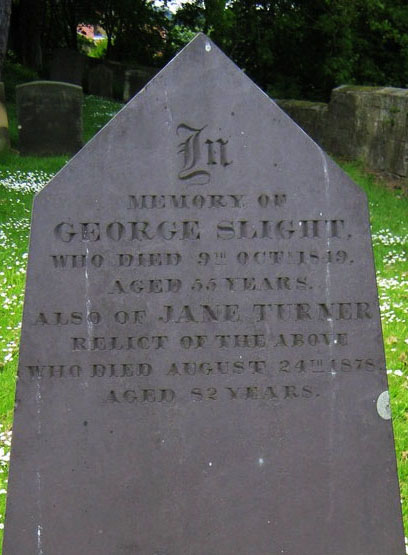 Above: George and Janes good-quality stone
                                               Below: The tragic story of what strong drink can do!