No 1 Howick St   "Shy Bairns"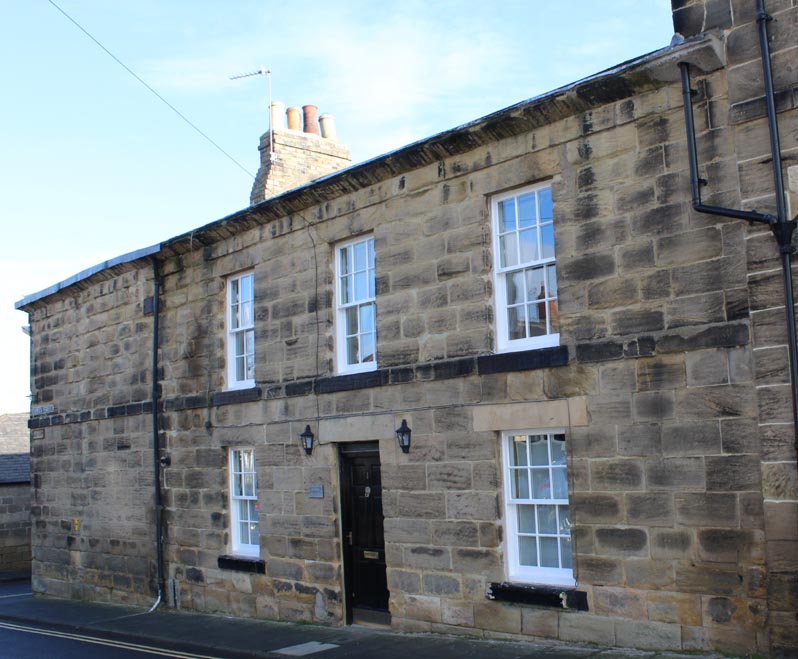 No 1 Howick St
In Pigot's directory of 1834 Maule's Carriage building business, which is now at number 3 Howick St  is entered as  being located on "Greenbat" . (Howick St was often known as "Greenbat Close" until the 1841 census)..
1841 Census
At the end of Howick St (Greenbat Close) there were four families in no1.. These were recorded as
-Robert Gardner and his wife Jane, both over 65 and of independent means.( Robert died in 1849).. In 1841, their daughter Christian was then 30 and worked as a dress-maker, probably at home. She moved to Lisburn St when her parents died.
-Benjamin Thompson who was a tenant in 1836, when this newly built property was for sale with him as a sitting tenant. He was a cabinet maker, probably working next door. He and his wife Margaret shared their rooms with David Geggie, another cabinet maker. David later went on to be an auctioneer after starting up his own business. By 1861 he was living in a business in Bondgate within, with his wife and 6 children.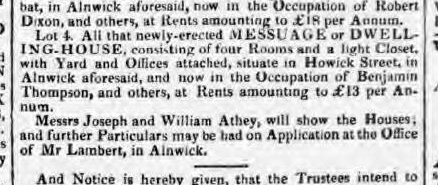 -Mary Davison aged 60 and her maid
       -Rachel Tate a 70 year old living on independent means.
There were only 11 properties in Howick St on the 1841 census including the pub and Grove House which predates the street.  There were 16 properties by 1851.
1851 Census  
There was only one family in no1 in 1851 and that was Margaret Robinson (68) and her niece, 30 year old Margaret Riley acting as a servant. She was included in the 1855 Whellan's Directory and in the 1858 Post Office Directory. Ten years earlier she and the niece were living in Lisburn St. She had been born in Boulmer. She had been married as she was a widow when she died on 12/7/1860. She left effects of under £500 to executors Michael Hindmarsh, ironmonger and Thomas Duncan.
1861 Census  .
In 1861 the whole house was occupied by Robert Elliott (52), his wife Isabella (38) and their daughters Isabella (10) and Margaret (8), all born in Warkworth. He was trained as a schoolteacher, but by 1861 he was a Land Surveyor. Robert was related to Matthew Armstrong, the builder responsible for much of the upper part of this area, as his daughter married Matthew. This may have accounted for him passing the plans for the various properties Matthew built!
Robert died in 1877 and all his furniture and surveying instruments were auctioned. The  newspaper cutting below makes interesting reading.  Look how much furniture he had  to sell……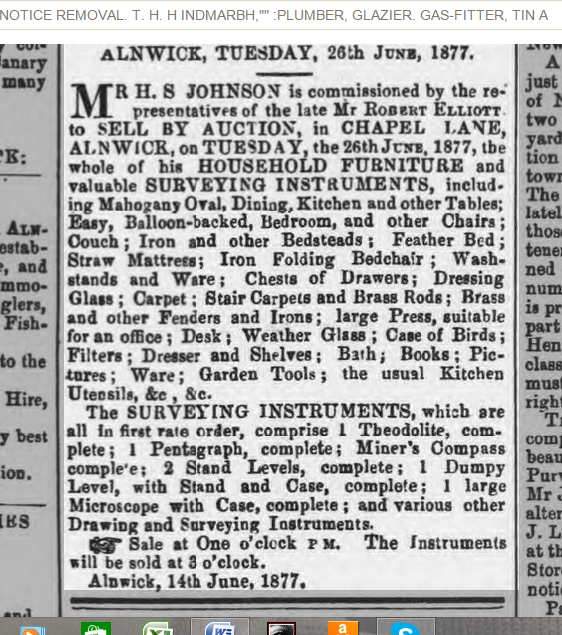 1871 Census
In 1871 the house was divided into three:
The main occupant was William Lockhart a 42 year old "scrounger"  (believed  to be a  rag and bone man). He was born in Scotland and lived with his wife, Elizabeth from Wooler and their 4 children.  George, the oldest was a coach- smith apprentice, and maybe worked next door.
James Hudson was a 17year old lodger, working as a drapers apprentice.
Ann Taylor was a 57year old lodger, and was a dressmaker.
1881 Census
This census is all topsy-turvy. It is impossible to say which is no1. We do know however, from the 1887 Kellys Directory that Elias Burnet Gibson was living "in rooms" in no1, so it was again subdivided . He was born in 1850.
Elias was a draper but probably had a shop elsewhere. He did lots of other voluntary work and good works. In 1879 as the eldest son of George Gibson, a cordwainer, Elias became a Freeman of the town. He became a member of the Mechanics institute in Percy Street, and gave a talk on "Guns and Gunnery" to the young men's mutual improvement association.
Also that year he became secretary of the Cocoa Rooms attached to the baths in Clayport St. This was a tea-total alternative to the pubs. Over 800 were served on the opening night.
Elias was appointed the school attendance officer in 1880.
Also in 1880 he attended a tradesman's dinner to celebrate the wedding of Algernon Percy to Lady Victoria eldest daughter of the Earl of Mount Edgecombe. The wedding took place in London but there was a lot of toasting in Alnwick, probably not in cocoa!
Elias became Secretary of the working men's club in 1880.
In 1882 , on July 8th, he married Eleanor Birkett and went on to have 5 sons, three of whom entered the Civil Service. Percy Burnet Gibson was the last to join in 1912.
1891 Census
In this census no 1  is shown containing two families; Eliza Lunby a 57yearold single woman living on own means and Robert Rutherford a 36 year old grocer, his wife Mary and son Thomas aged 2. They also had an 8 year old nephew living there. She was still living there 10 years later, but she ended her days in the asylum.
1901 Census 
Here Eliza shared the house with the McQueen family. This was John a 42 year old foreman cabinet maker, his wife Jane Anne 39 and sons Robert W 13, John H 8, and Frederick 5.
1911 Census
In this census the house was still divided into two:
Andrew Gray, a miner from Blyth lived there with his wife Mary. They had been married the year before.
In the other part of the house was Arthur Whellens and family. Arthur had been born in Hulne Park, Alnwick the son of a shepherd, on the estate of the Duke of Northumberland. The family consisted of his wife Edith, daughters Mary aged 28, Alice aged 7, and Nora McDonald Whellens aged 4 and his son John, a 10 month old baby. Arthur was now a coach builder, possibly working in Howick Street. He went on to have 6 children altogether and his dscendents moved to the Barresdale estate in Alnwick which was new in 1947. Several of the grand-children moved away, it is believed  to Australia, New Zealand and Canada. It is believed that Arthurs brother went on to own the famous Whellens cycle shop in the centre of Alnwick.