Clifton Terrace
Clifton Terrace was originally built as two houses; Clifton House and number 1 Clifton Terrace.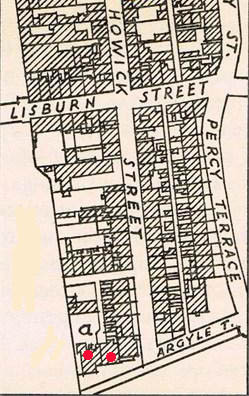 Clifton House and No 1 Clifton Terrace ( red dots at bottom of map)
Matthew Armstrong was the builder, using land left by his father, William Armstrong in his will in 1876. This area was to be a popular development. They were "superior town houses" on the southern edge of Alnwick, then with a lane leading to BelleVue, separating them from open countryside.
The houses were begun in 1882 and there was trouble with the drainage plans. A letter was published in the local paper signed by the five people who had purchased the properties in Clifton Terrace and the adjoining Beaconsfield Terrace, before they had been finished, showing how popular these houses were. Because the Armstrong family were Freemasons, a window with edges in blue and yellow glass-Matthew's colours- was incorporated in some of the houses, usually at the top of the stairs.
A Masons window in Clifton Terrace

The original owner of Clifton House, was Charles Percy, a local well known solicitor and coroner. He had been born in Scotland, days after his father had died, but his mother and siblings moved back to Alnwick where she was a shopkeeper ( grocer) in Narrowgate. She later became a publican, advertising quite frequently in the local paper. He attended the Dukes School leaving in 1866.
Charles Percy was then an articled clerk to Mr.Thomas Tate, solicitor, and qualified in 1879. He married Alice Parker in January 1883 and the Percy family must have moved into Clifton House soon after as their son Hugh James was born there in January in 1884.
At around this time Charles was elected to the Board of Health, in Alnwick, and later became a councillor, and eventually County Coroner. The house first appears on the 1891 Census, but Mr. Percy was away from home at the time, visiting London. His wife and children were at home, though.
They were, Alice Percy, who had been born in Yorkshire and was then 30 years old, and her children Hugh James (7)and Kathleen(3). They had two teenage servants. The next door property was empty at the time of the census. Charles was kept busy by his work as the Coroner for Alnwick and surrounding area. He held inquests into suspicious and accidental deaths and in one year alone he presided over 40 deaths, ranging from accidents in mines to drowning at Blyth.

Ten years later, on the 1901 census the Percy family was still in Clifton House and this time Charles was at home. He was an employer in his solicitor's office in Alnwick. One of his employees was his son, Hugh who at 17 was a solicitor's clerk. His daughter was 13 and being privately educated at home by a governess, Ann Bass, 31, who came from Hampstead in London, and "lived in". There was also an 18 year old housemaid living in Clifton House. Charles' wife Alice died on 7th September 1906 but by this date the family had already moved to Hillcrest, on the other side of Alnwick. She had caught a chill which developed into pneumonia.

Daughter, Kathleen died the following year, in 1907. Charles died in that house some 22 years later, in 1929.He left £102,979-8-11 (worth about £10 million today) to his son Hugh, who also took over the business of Tate And Percy, later Charles Percy and son and also the other properties he owned including two in Armstrong Terrace.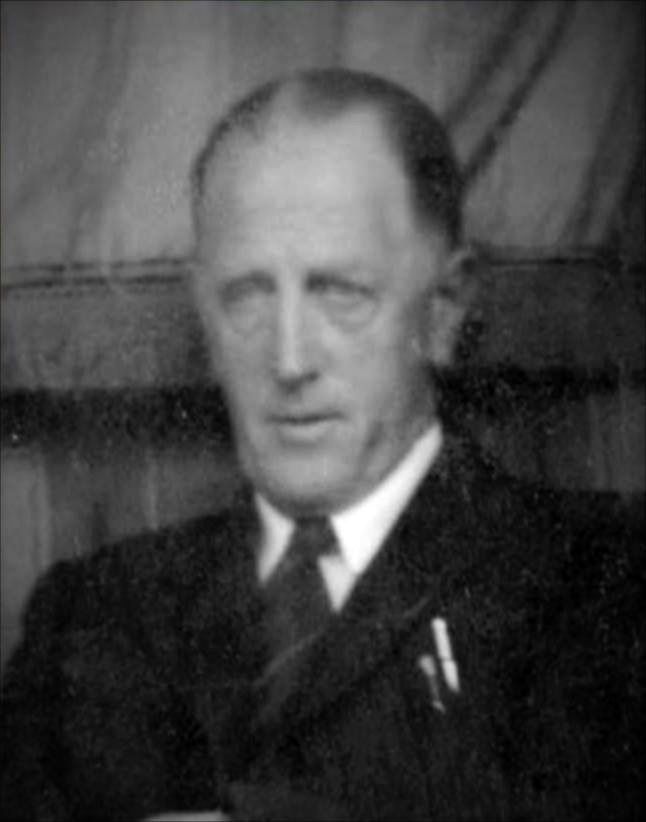 Hugh James Percy

Next door in 1 Clifton Terrace, in 1901, lived a 77 year old Widow and her 47 year old daughter. These were Jane and Isabella Scott. They were both born in Newcastle. Jane married Joseph Scott, an engineering works agent and they brought up their large family in Jesmond. Jane moved into Clifton Terrace after his death in 1894, and was " living on own means". They had moved back to Jesmond before the next census.

On the 1911 census, Alfred Hare, a 39 year old brewer and brewery manager was living with his wife, Ursula 35, and three daughters, Margaret 9, Ursula 7, and Jane 5. They had one servant living in.
The house we are told had ten rooms and was called number 2 Clifton Terrace. This was in fact Clifton House.

Alfred was christened Alfred Samuel Aplin Horsey Hare when born in Somerset, known as A H Hare. His father was an Inland Revenue inspector. Alfred was married before the 1901 census and was living in Clive Terrace, Alnwick with his wife Ursula (Jobbing) born in Morpeth. They were still at 2,Clifton Terrace in 1914, when he appeared in the phone directory. In the local paper there were numerous entries in 1912, for A H Hare, cricketer. He later became a JP and a magistrate. He sat on the Bench along side H J Percy ( see above) As managing director of the Alnwick brewery he had to present the figures annually and he was still working in 1939, the year before his death.

The Hare Family moved to Hope Villa before the 1939 records and they had several other children who were "redacted" i.e. names were blacked out. Alfred died in 1940 and left £7669-11-2 to his two spinster daughters Jane and Alice(1912-1992).
In 1911, in number 1, then called Rosenheim, there was another lady living on her own means. She was Fanny Elizabeth Tyte (45) living with a companion Edith Wakelin (34) and one servant. Miss Tyte's father had been a physician in St Andrews, Scotland. She had moved from Ipswich with Edith who was then a sick nurse, in 1901.She died in 1931, in Whitby.#

Mrs Edith Mary Allan must have purchased Clifton House from AH Hare, but it is not sure when (between 1914 and 1932). She was a widow born in 1875. She married Percy Frederick Allan, an electrical engineer, in London in 1909. They had two sons, Garton Rowed Allan b 1911 and Arthur Quinton Allan b1915, both very distinctive names. The only Garton Rowed Allan, was found on record when he died in 1912 aged 11 months, but in Australia. He couldn't have gone on his own, so I assume his parents went to Australia, but after his death, they came back to England.
Husband Percy died in Liverpool on 30/11/1931 aged 51, leaving £3,761 to Edith. Perhaps they never lived in Clifton House and let it out, but on 28/6/1932 there was a conveyance from Edith Mary Allan of Liverpool to Catherine Little of Alnmouth, for Clifton House for £800. Edith died in Liverpool in 1963 aged 88.

Catherine Little was also a widow. Her maiden name was Frater, born on 7/9/1872 and she married a farmer Richard Davidson Little from Chathill in 1910. They had been married for less than a year in 1911, when on the census . They were living at Broom House Farm, Chathill, Alnwick when her husband died on 21/6/1931. Catherine was still living in Clifton House in 1939 when the survey was carried out. It showed she was incapacitated (with a club foot) and living on private means. She had two servants to look after her and also two lodgers. These were two sisters Mary B and Edith C Rodgers, both teachers.
Catherine wrote her will on 22/10/1956 and died 5 years later in 1961, leaving her estate to William Newton Wade, solicitor, of Thornhill, Alnmouth Rd, Alnwick and John Wilberforce Frater, farmer and nephew. As her executors they sold Clifton House to Mr and Mrs D Inkster, a joiner.
This was the owner responsible for dividing Clifton House into two smaller houses, but still larger than newer ones, today. They became Clifton House and number 3 Clifton Terrace, next door was now number 2.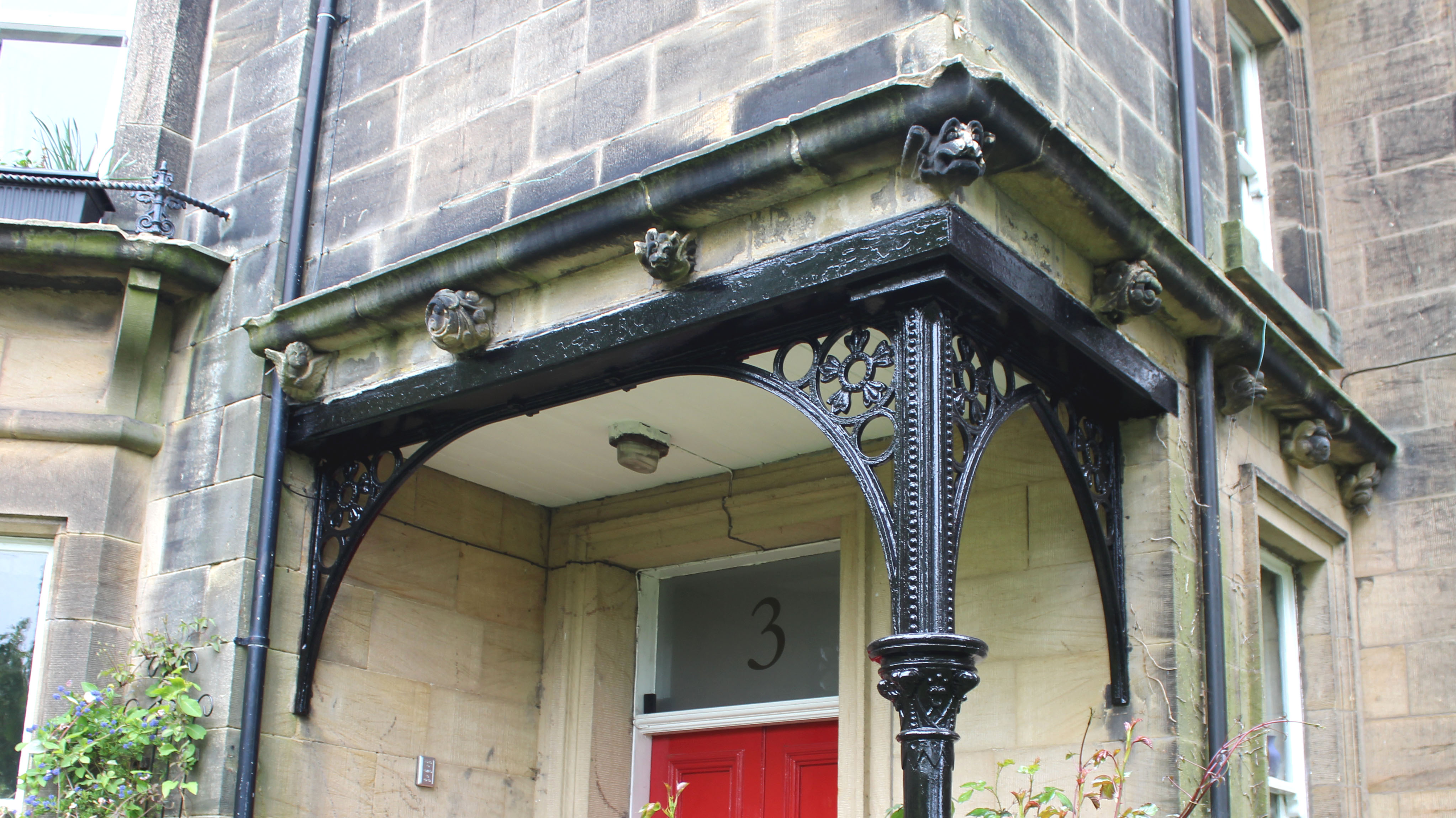 Carved Heads on No 3 Clifton Terrace

The next time no3 was sold, in 1963, as a separate property, was to Mr and Mrs J. Turnbull. On the conveyance deed it was described as the property bounded by " to the north George Green (Brierley House in Armstrong Place), to the east partly by the back lane from Upper Howick Street and partly by the property of Reginald Henry Cheesmont Coates, to the south land formerly carriage way to Loan End formerly BellVue, and to the West by property formerly belonging to Inkster"
It was described as the Eastern portion of Clifton House.

In 1939 Reginald H C Coates lived in number 2 He was by then a master printer (46) with wife Williamina (39) one child -redacted- possibly Enid Mary b 1926 in Newcastle, and Henry E Coates b 1865 (Reginald's father) and a servant. In 1911 Henry had also been a master printer in Newcastle and Reginald was then a clerk on the railway.

In 1925 Reginald married Williamina Clarke in Alnwick and in 1928, Reginald's "abode" was in Stott St, Alnwick. He became the Hon. Sec. of the Alnwick and District Canine Society, in December 1936.
He joined the men's VAD in July 1938 and served throughout the war. He became assistant controller of the VAD before 1939 and organised fund raising events and training courses for the volunteers. He also became Grand Master of the Alnwick Branch of the Freemasons in 1939.

In 1950 an advert for the sale of number 2 appeared in the local paper. It was for sale by auction at the White Swan Hotel on behalf of R Douglas Gray, auctioneer. "A stone built terraced house consisting of dining room, lounge, kitchen, scullery, bathroom WC. 1st floor 4 bedrooms. 2 attic rooms. Currently let to Mr R C Coates. Rent £45/annum , tenant to pay rates, current RV £30,  so Reginald was renting at this time. In fact he was the longest resident of Clifton Terrace and died there on 9/7/1974, leaving £11,477 in his will.