Number 5 Howick Street
Number 5 Howick St. was built in the early part of the 1830's development of the area. These buildings were, in the main industrial units with accommodation.
 From the deeds: First June 1846
Conveyance of building ground in Howick Street.
Sold by John Lambert Esq to Robert Davison, County Mason.
"One undivided moiety of all that field close or parcel of  ground situate lying or being within the township precincts of Alnwick aforesaid commonly called Green Batt Close was duly conveyed to said John Lambert…and whereas by indentures of lease and release, bearing the date the 3rd and 4th days of August 1829. Release between William Davison and William Teasdale for £46-8-0d.
….all that piece of land situate lying within and forming part of said field called Green Batt Close between the Relief Secession Chapel on the north, Howick Street on the west, and Green Batt field on east and south…measuring east to west 49ft and north to south, 45ft 8inches …approximately 232 square yards. Robert Davison shall suffer and will permit drains and sewers to be made…."
On the 5th October 1885 the will of Robert Davison  saw John and George Davison, two of his sons named as executors. Robert died on 24 February 1885 leaving the two houses he had built in Howick St, Alnwick to his family. The northern one (downhill) was left to Isabella. This one was then occupied by Margaret Henderson. The southern one was left to one of his sons, John, though it was occupied by another son, William.
On 4/4/1886 Isabella sold her house to her brother John.
Number 5 was used as a carpenter/joiners work shop. The first entry on the 1841 census shows William Henderson age 45 living there with his wife, Margaret and six children. These were:   John a 20 year old joiner, Robert also a 20 year old joiner, George a 15 year old blacksmith, Alexander 13, Mary, 10, and Jane 2.   Jane Dunn was a 15 year old servant looking after them all.
Mary, daughter of William and Margaret, died in summer 1849. She was one of the victims of the Cholera outbreak in Alnwick.
By 1851 William Henderson was still in Howick St., but by then classed as a master carpenter employing 10 men. He had been born in Scotland in 1795 and was 56 years old. His wife Margaret and only their youngest child Jane was still "at home" being only 12 years old.
Their older son George was a 25 year old smith, employing one man and two boys in a smithy across the road, still in Howick St. His wife Hannah was older than him at 30 years old.
In 1855 both father William and son, George, were  listed in the Whellan's directory for businesses in Alnwick, but in the 1858 Post Office directory, Mrs Margaret Henderson was listed, and her son John was a joiner/Cartwright. Margarets son George asked his parents to let his blacksmith business across the road at number 8 Howick St.
By 1861 Margaret was listed as a 66 year old widow. Her youngest daughter Jane, 22 was still "at home" and unmarried. They ran a boarding house. Their lodgers were Betsy Sim, a 62 year old former needlewoman, and Thomas Taylor a 28 year old teacher at the Ragged School.
Margaret Henderson died in 1870.
By the 1871 census another carpenter/joiner was at number 5. He was Jonathan Cockburn, a 59 year old house carpenter employing 1 man and 1 apprentice. His wife Mary, was also 59. They had three daughters, Anne aged 26, Eleanor aged 24, and 18 year old Frances.
In 1879 Jonathan Cockburn was listed as a carpenter in the Kellys business directory.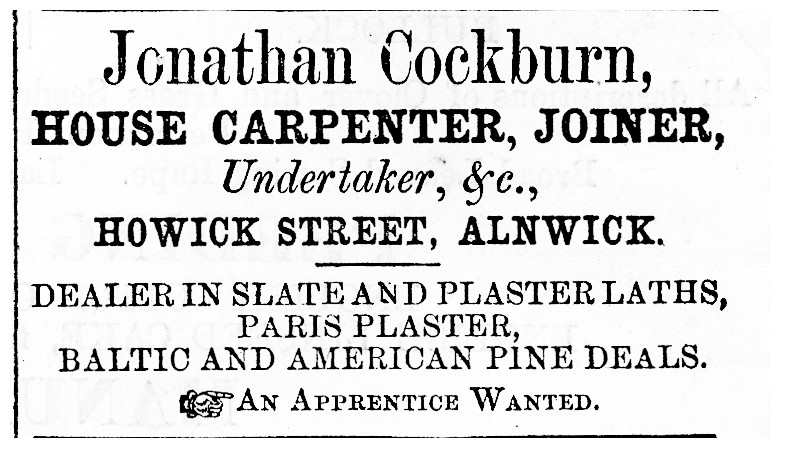 On the 1881 census Jonathan Cockburn was still there in Howick Street.By now he was 69 and still working as a carpenter/joiner employing 2 apprentices. His wife, Mary was also 69. Frances was "at home" still unmarried at 28. Jonathan died in 1885 aged 74.
A Charles Nettleship was living with his parents, Thomas and Sarah, in Lisburn St. He was born in Alnwick in1856
In 1878 he was a teacher at the Mechanics Institute just around the corner from his parents yard.
He married in 1884 and probably took over the business in Howick St then in 1887 Charles Nettleship was listed in Kelly's directory as carpenter/ joiner.
In 1889 Charles Nettleship was on the list of occupation voters for Howick St.  although his business was in Lisburn St.
On 1891 census Charles Nettleship was living at no 5. He was a 35 year old joiner. His wife Elizabeth was 32 and they had 3 children, Thomas a 5 year old at school, Elizabeth, 2, and  Charles Mark a baby. Also in the house were, Elizabeth J Watson, a 34 year old cousin, Mary J Brewer, a 28year old boarder, who was a school teacher and a 14 year old servant called Isabella Grey.
Charles Nettleship was listed in the 1894 Kelly's directory as carpenter/joiner.
On 1901 census Charles Nettleship was still living and working as an employer joiner. He was 45years old, and his wife Elizabeth was 42.Their son Thomas was a 15 year old apprentice, daughter Elizabeth was 12 and the youngest two members of the family were Mark aged 8 and Louisa aged 5. Charles M the baby born in 1891 died in infancy.(b1891.d1892)
Charles snr., as well as a joiner became a manufacturer of fishing rods. Hardys business was well known and several rival fishing rod makers set up. In 1900 Charles applied for a patent no 21010 for a fishing rod joint improvement, which was granted in 1901.A Nettleship rod is on show in the Bailiffgate museum.
in 1902 he was elected to the Alnwick Urban District Council:
 Charles died in 1905 and his obituary in the Gazette was on the 16th December 1905.
 By 1911 Elizabeth Nettleship was a 52 year old widow. Thomas 25 was a fishing rod maker, Elizabeth Jane was 22 and an assistant in fishing rod shop. Mark was now 18 and was also a fishing rod maker. Louisa Mary was still at school at 15 years old. The family were therefore all in the rod-making business.
Elizabeth Nettleship was still in Howick St in 1918 when she learnt the awful news that first Thomas and then Mark had been killed in France in WW1.They are both mentioned on the Alnwick town war memorial and on the war dead web sites.
Thomas

was 2nd Lieutenant in the 1st/5th Northumberland Fusiliers. He was killed in action on22/3/1918 aged 32 and commemorated on the Poziere Memorial on the

Somme

.

Mark

was also a 2nd Lieutenant in the King's own Scottish Borderers 1st Battalion. He was killed in action on

1/9/1918

aged 25 and is buried in the Queant Rd Military Cemetery in

France

.
Section of Alnwick War Memorial (Denwick Lane)

A replica of Mark's Belgian cemetery cross  was held in Alnwick Methodist church until its closure in 2023.
Elizabeth lived on in Howick until 1938 when she died leaving £1174-2-9 to Elizabeth Jane Atkinson, her daughter .