No 3 Howick St:  Carriages fit for a Queen.
 No 3 Howick St was built as part of the new development about 1831.
Mr Willliam Maule was a carriage/coach builder and he probably designed this building to meet his needs.
Number 3 Howick St as it is Today
William had been born in North Middleton in 1804, the son of Joseph Maule-a schoolteacher- and his  first wife Catherine. William was apprenticed as a wheelwright on leaving school. He moved to Newcastle in 1823 where he learned to be a coach builder. He started his own business in Alnwick in 1830 and his second daughter, Sarah, was baptised in Alnwick in that year.
In Pigots directory for 1834 his business was listed as in Greenbat, but it was really in what was to become Howick Street. By the 1841 census William and his wife Ann with their children, Catherine 15, William 13, Mary 8, Frederick John 6, and Edwin Davidson 4 were living in front of the Coach business in a building that had 3 floors at the time. Sarah, aged 10, was living with her Grandma Mrs Robinson, in Clayport st.
By the 1851 census, William was 47, and the business in Howick St was flourishing. Their son William was also a coach body maker and Fred was a coach body painter. Edwin was away at school in Catterick, and the two younger daughters were "at home". Their eldest daughter Catherine had married her second cousin, Alexander Maule who was also a coachsmith and spring maker with a business at no 12 Howick St, across the road, next to the pub. William employed 35 men in his carriage building business.
William was listed in the 1855 Whellans business directory and advertsed most weeks in the Alnwick Mercury..
NOTICE..An elegant hearse mounted with ostrich feathers supplied for hire, with or without a horse for town and country funerals. For terms apply William Maule & Sons.
In 1857 this article appeared in the Alnwick Mercury:
The business was also advertising its services:
William had done well in Alnwick and by 1861 he was 57 and a coach builder and harness maker employing 26 men and 11 boys. These figures included his two youger sons Fred and Edwin. Mary Ann was by now 27 and still unmarried.The area must have been noisy as the advert in the Mercury now read;
By the 1871 census the business in Howick St was being run by William and Anns son Edwin Davidson Maule,a 34 year old master coach builder employing 19 men and 10 boys. His wife Mary Ann was 27 and they had no children. Edwin died in 1908, in Norton on Tees leaving £6289.14.11 in his will.
Some papers between W Maule and Sons and Earl Grey/ Lord Howick are kept at the Durham University Records Office. They include a copy of an estimate for a landau dated 9/6/1874 and copies of various letters.Reference at Durham are GRE/X/P115/1 and GRE/X/P229.
On the 1881 census son Frederick was liviing at no3 Howick St. He was then aged 46, a coach builder employing 18 men and 2 boys.His family consisted of wife Elizabeth, 34, son Frederick B 10, and daughters Ethel A 8, and Catherine J  aged 4.They were still trading as W. Maule and Sons. as listed in 1887 Kellys directory. Frederick later moved to Liverpool and became a coachbuilder Manager and died in 1920.
In the voters list of 1889 for Howick St. William was back. He was then 85 and still working. His wife Ann had died in  1878 aged 76 and buried in the new cemetry in Alnwick.
In 1891 William was recorded as living once again in Howick St. but with just Maria Cole his 40 year old servant, although he was still listed as a coach maker, but an 87 year old widower with no workers.
He died in 1899 having moved to Percy Terrace, just around the corner. He was in the coach building business most of his life and left over £5000 in his will.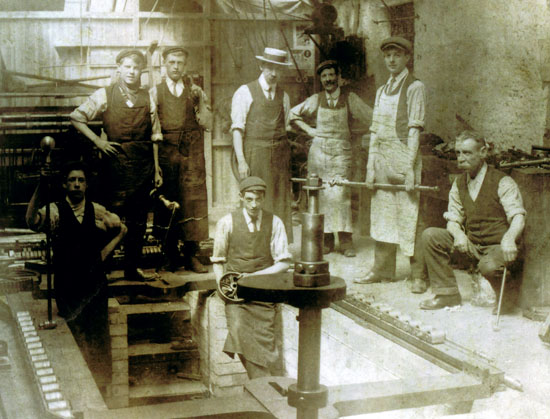 Maules Carriage Works: Believed to have been taken around 1900   C  Adrian Ions Collection
Note:
Robert Charles Ashburn was born in Bailiffgate in 1862. He was educated at the old Dukes Grammar School for Boys in Greenbatt, leaving in 1877. He served his apprentiship at William Maules coach works in Howick St.
In the 1880s Robert owned a coachbuilders in Ness St Berwick with his brother-in-law Mr McGregor. In 1896 he returned to Alnwick to work at Maules again as a manager. During this period he renovated the Dukes coach.
*******************************************************************
On the next census in 1901 the house only was occupied by James L Scott at 56, a retired famer from Scotland.
He had a wife Margaret and a 3 year old daughter Marian.
The Morpeth Herald on Jan 4th 1902 described the activities taking place in the rear busines area, including the holding of dances!
By 1911 the house was occupied by Mary Davison a 45 year old boarding house keeper .There were 8 rooms in the house and at this time they were let to Arthur Dibble, James Graham, Fred Dyer, all workers in the Post Office as telegraphers, and Mark Tell, an architect in the iron foundry.
These details are all from the census. Later, from living sources (2014) it was confirmed  that  number 3 was used as a dance hall, but in later years it was called the Jubilee Hall  and held tea-dances etc. During WW2 it was used to billet soldiers training and getting ready to go abroad.
After the War it was used for many years by Simpsons the maltsters.They used to dry and store the grain used for the brewing industry, which was big business in Alnwick in those days. The Hall was empty for a while before it was taken over by Mr William Gibbeson in 1971 and used as a garage/motorbike repairs.
His son Billy (pictured below) took it over and carried on with the business until 1989.
Mark Brothers a firm of joiners took over the building and ran a business there for quite a few years.
Eventually the yard of this property and of no 5 in 1993 were built on to create the properties known as Jubilee Court, with several houses and flats with off-road parking.
Part of Jubilee Court Development (2014)
—————————————————————————————————————
The property was described thus when listed:
No 3 (Howick House)
and Howick Street Garage
NU 1813 SE 1/283
II GV
2.
Part of Howick Street development after 1831. Two storeys, 5 windows in all.
Gabled 2nd floor added to the garage (former coach works which were part of original
development). Ashlar, No 3 painted, with 1st floor cill band and moulded eaves
cornice. Part slate, part asbestos roof; No 3 has 4 plastic vases and cross ridged
features on the eaves. One shared brick chimney and one stone chimney. Glazing
bar sash windows, No 3 with louvred shutters on 1st floor. No 3 has round headed
doorway with boldly rusticated quoins and diamond panelled door. Garage has large
depressed arch to right. To left is a 2nd floor, a late C19 addition with a heavy
gable having scrolls to raised pediment at apex and a 2 light round headed central
window with a moulded hood. The 3 storey property, now divided, extends back to
Gills Lane; inside are panelled dados taken from SS Olympic (cf White Swan, Bondgate
Within). The south wall on the 1st floor is partly timber framed (recent) with
brick infill.