No 34 Upper Howick St
Number 34 was the last house on the west side of Howick Street, until Cuthbert Burnett planned his property next door, at number 36, in 1870. The first family was here by the 1871 census and stayed beyond 1901. This family were the Suthrens, both born in Whittingham. George Suthren was a currier, or leather worker. He was 37 years old on the 1851 census for Hotspur Place and Jane was 38, and daughter Jane Robson Suthren was two, born in June 1848.

On the Post Office directory for 1856 George was a currier and leather seller in Clayport. By 1871 George was 57 and still a currier, wife Jane was 59, daughter Jane was 23 and they had a 14 year old son, another George. In the 1879 trade directory, their business was in Dodd's Yard. His son, George followed in the business. They were all still living in Howick Street in 1881 but George died in 1884 age 70. 


The business was sold in October 1884: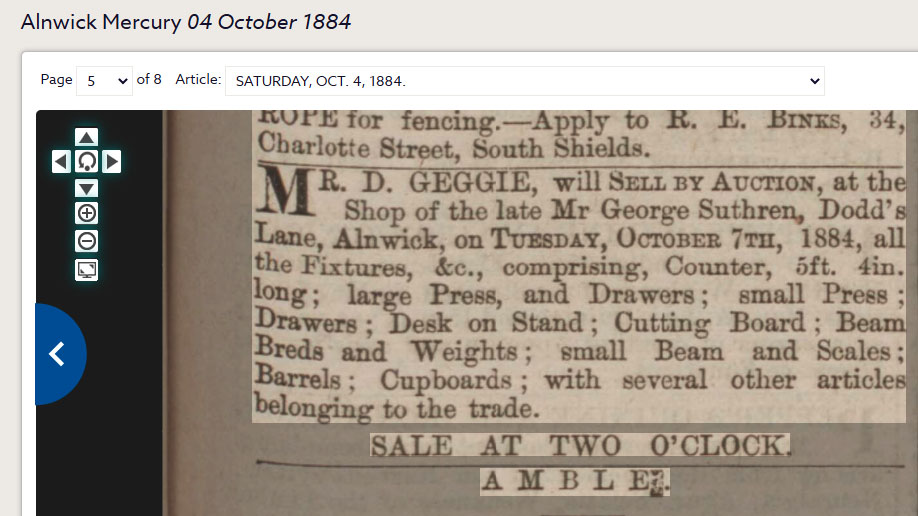 Then son George died the following year age 28. Poor Jane was left a widow in Howick Street with her daughter and began running a boarding house, at number 34. As a business she was listed on the 1889 voters list. On the 1891 census they had just one lodger, William Chesson, a Congregational Minister, from Leeds age 37. William was the son of a minister, and trained as a printer compositor, but became a minister like his father and his brother in law. Jane Robson Suthren continues to run the boarding house after her mother's death in 1897, until she died ten years later in 1907. The last of this branch of the Suthren Family.

By 1911 John Wilson a 57 year old mason, working for the railway, was living at number 34. He was from Lesbury, but his wife Annie, and all of their ten children were born in Alnwick or Alnmouth. They had been married for over 34 years, and eight their " children " were still at home with their parents. Jane, a milliner and John, a printer's compositor had left home since the 1901 census when they were all living in Lisburn Street. All of their children were working locally in various types of job. Isabella was a dressmaker and 'employer' and at 34, was their first born. Thomas (b1878) was a draper's assistant, Annie Eleanor (b 13/11/1885) was a grocer's clerk, George Edward (b 1888) was an Estate Clerk, Ernest ( b 7/9/1889) was a fishing rod maker, and Winifred (b 28/12/1891) Ella b 12/3/1893 were both shop assistants.

Annie and three of her daughters were still living in number 34 at the next census in 1939. Annie was an invalid by then and Ella was caring for her, while Annie Eleanor was working as a cashier and Winifred was a school mistress. A 5 roomed house full of women. Winifred's name was in the Berwickshire paper in August 1938 for a traffic offence when she did not stop at a road junction.
Annie died in 1941 age 87, outliving her husband, John by 10 years.  Winifred was still unmarried when she died in 1992, age 101, in Grovewood House, a care home in South Charlton. Ella died in Cramlington in 1991 at the age of 98. All the sons were the right age to serve in WW1, but only George Edward Wilson had served as a colour Sargeant in the 8th Northumberland Fusiliers no. 7060 Z class and served in France. He married and had two children, living in Swansfield Park Rd, in 1939, and was working as an estate clerk.

Thomas Wilson was a caretaker in a fishing rod factory, in 1939. He was married with two daughters and living in Hotspur Street. Ernest disappeared.  By the 1950s number 34 was run as a car hire place, by Mr Cowan we assume. He placed an advert in the local press most weeks.