Armstrong Place -Howick St
Armstrong Place was a separate property development by the main developer of Howick St- Mr Matthew Armstrong (along with his father George before him, who died in 1878)
Notification of the development came in the Alnwick Mercury in 1883:
Within Armstrong Place, the most interesting building is probably the property formerly known as Brierley House or on occasions Armstrong House..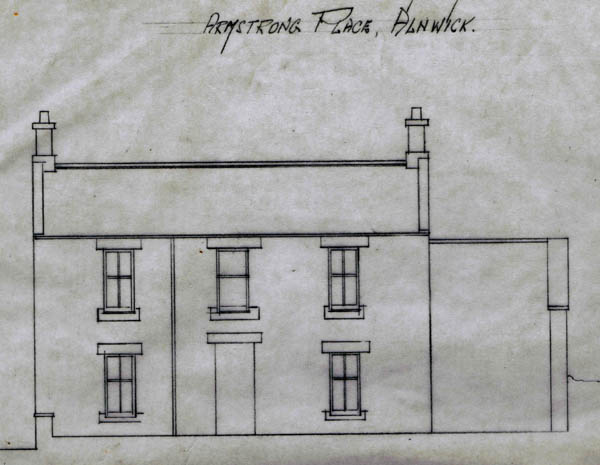 This house is different from the others that surround it. It was built as a detached house, by the Armstrongs, but records do not show exactly when. It appears to have been built from recycled stone as several stone heads are built into the kitchen and parlour walls-perhaps from a church. The occupants do not appear on any published census, so was it originally a stable block? Before the 1920s it seems to have been a house "in a dilapidated state"
The first document held by the current owner of the detached house in Armstrong Place is a tenancy agreement dated 16th August 1922. This was between J.G.Green and Sons Ltd Builders of Warkworth and Edgar V Ravalde of Abberwick, Alnwick. The rent was to be fifty two pounds a year, to be paid quarterly.
Tenants were then Mr William Thompson of Nursery Cottage, tailor, followed by G S Fortherby of School House, Lisburn st, Insurance inspector, in 1924, followed by Mr Andrew Sell, Managing Director of the Alnwick Foundry and Engineering Co. The tenancy was then quarterly and the rate was thirteen pounds per quarter.
The following year Mr Sell was complaining about leaks from the water tank in the roof and the cylinder in the kitchen that "still leaks".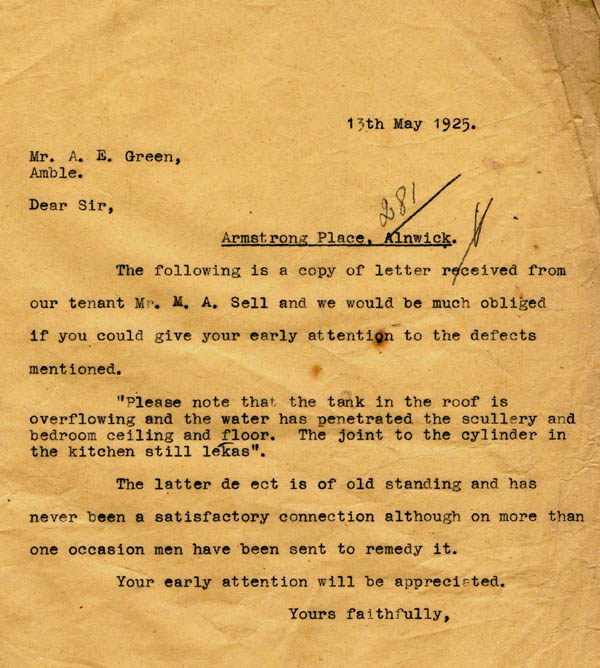 By 1927 the house was now named Brierley House and Mr. Sell left at the end of January. In August of that year Mr Green paid to have an advert in the Alnwick Gazette for two weeks stating;
For Sale or to let, Dwelling house in Armstrong Place, Alnwick, containing sitting room , kitchen, scullery and offices, two large bedrooms, bathroom and W.C.
Interestingly, there were no details of price etc. given in the advertisement. A group of solicitors wrote to request the details and were informed the price was £650 and the annual rental was £30 but this was felt to be too expensive! Several other inquiries had the same outcome. To compound matters Mr Green received a bill for unpaid taxes from the local tax inspector, for eighteen shillings.
By November 1927 the required rent had dropped to £26 per annum. A tenancy agreement was then signed with a Mr Waud of the electric supply company in January 1928 but Mr Waud had second thoughts due to the costs of internal decoration. A Mr Graham was offered the tenancy in February but he turned it down when he saw how damp it was. Eventually a Mrs Edgar took over on 1st May with a rental agreement of £18 per annum and Mr Green was to have the place cleaned and decorated for her! Mrs Edgar then complained about having to pay rates and taxes, AND the tank was still leaking!!! She left within a year.
Next to rent the house, at £26 per annum was a Mrs G Harrison after agreeing to pay weekly, on Mondays. Shewas still there in 1931 despite the faulty gas cooker but then she got into arrears with the rent. On the 19th December Mr Green wrote to her to say she was £9 in arrears, which she paid eventually. In April 1932 Mr Green had to write a similar letter.
In January 1943 J G Green & Sons , still the landlord received a letter from Alnwick Urban District Council requesting details on the dampness treatment he had undertaken, in response to a complaint from his tenant. Mr Green appears to have agreed to reduce the rent to ten shillings per week.
Mr Porter used to collect the rent from Mrs Harrison, on behalf of J G Green but by 31st October 1947 he was living in a part of this house. It appears however that Mr Porter never paid his rent. From July 1948 to January 1953 nothing was paid to Mr Green, making £45-4-8 outstanding. Mr Dougie Hedley of Alnwick in 2013 remembered the Porters as"nice people with land on Tows Edge where they kept cows and hens .They also kept a pony and trap".
In July 1955 Mr Green took legal action, at last. He took Mr Porter to court to get the money back.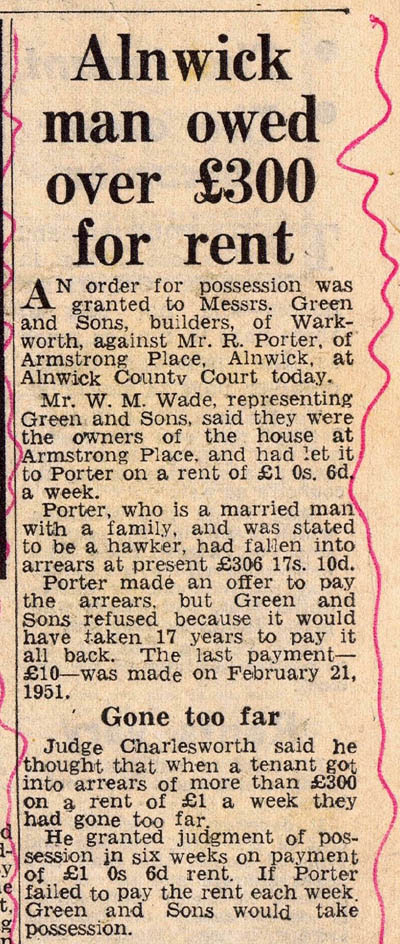 Mr Porter agreed to pay £1-0-6 per week as in the cutting above- so this would take six years, at least but Mr Green wanted him to leave. A claim of possession was heard at Alnwick County Court on 28th October 1955. Mr Wilson was living in the house as subtenant and was given permission to stay there until he found somewhere else to live.
After these tribulations Mr Green decided that his life as a landlord was at an end. He applied for "change of use" to have the house demolished and replaced by lock up garages with storage overhead, in November 1956. The Council Planners turned this idea down. The situation was still unresolved by the following April but by December Mr Mattison of Greensfield Avenue was looking for a store for his paint and could use the top floor with two lock up garages underneath.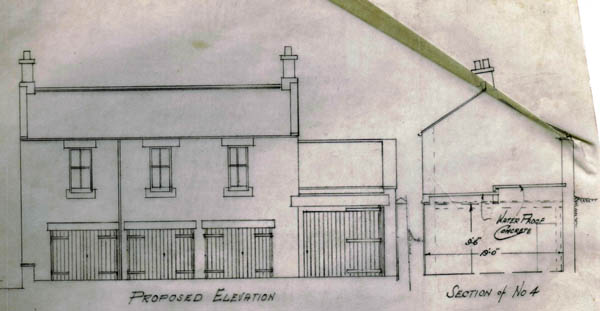 The building plans were passed by the council, in January 1958. The rent would have to be set at 12s6d/per week for upper floor and 10shillings for each garage. Question – Did Mr Green ever get the rent from the tenants of his garages?
In 2000 when the property was bought by the present owner it was completely derelict. He has since carried out major renovations to return it to use as a house. The history of Brierley House continues..