Numbers 30, and 30a Upper Howick Street
Number 30 Upper Howick Street was the biggest house in Upper Howick Street, at times split into two smaller properties, 30 and 30 a with three floors and a big yard at the side and a garden behind. We think it was not built before the 1861 census, but in 1871, the census was confusing and we couldn't be sure who lived there.

On the 1881 census, George Davison was living at number 30. He was born in Howick Street, but further down the road to Robert and Elizabeth. Robert was a master Mason employing 5 men in 1851, when George was a baby. His father was described as County Mason when he bought a plot of land in 1829, on which Robert built what were to become numbers 5 and 7 Howick Street. Builders and masons were in work continuously at that time, and sons George and Robert followed him in the business. His father lived in Howick Street but possibly moved from house to house as others were built up the hill. George was still living with his parents in 1871, age 21, when they were both involved in an accident involving the death of a child. Robert and George had hired a carriage from Maule's and were returning from Rothbury, when their horse ran out of control near Corby's bank, and dragged the little girl, Mary Ann Murphy, four, under the wheels. She died of her injuries, but the Davison's were found not guilty of a crime. Verdict accidentally killed.

George married Elizabeth Jackson in spring 1875. They were living in number 30 before January 1879, when in the bad winter, George was accused of not clearing the path of snow, near his builders yard.He wrote to the local paper to say he had cleared the path many times but the Roman Catholic School and Chapel ( next door) have "scarcely been touched" during the storms. (25/1/79).*

By that time he and Elizabeth had two sons, George W. b1877 and Robert b1879. In 1885 George was involved the the internal remodelling of the Methodist chapel following the architectural plans drawn up by FR Wilson. In 9/2/89 the house was "to let or to buy, six rooms, washhouse and every convenience with gardens and vinery attached. Currently occupied by George Davison". He was advertising because he was taken to court for non-payment of rates for the house owing 19s 5d to Alnwick local board for the past half year. (1888) He did have success with his advert as he moved to Bondgate hill before the next census, having lived all his life in Howick Street in one house or another.
The two sons on the 1879 census both served in the forces in WW1. George W married and emigrated to Canada in 1910 and lived in Montreal and later was killed in action at Bethune, France in 1918. Robert joined the NER (Pioneers) having been a member of The Percy Artillery as a volunteer for five years. He was 37 and still single when he applied for active service. Robert survived the war.

                                                 Barlin Cemetary, where George W Davison  is buried
                  
Also living in number 30 in 1881, was Evander MacKenzie. A Scot, he was a widower, born in1842. He had seven children including twin boys. He had married Ann Munro, from Edinburgh, in 1866, and their first two sons and a daughter were born there. They must have moved south to Alnwick, before the twins were born in 1873. A stillborn daughter was born in 1875, as announced in the the local paper, and Frances' birth was in the newspaper, on 22/10/1878. Poor Ann died aged 36 in Alnwick in 1880. The following year Evander Mackenzie married his "servant " Mary MacLeod, in Alnwick. She probably came with the family, from Scotland to help with the children. Four years later Evander died age 43 and Mary was left with all those children. Perhaps his death and hence no tenants led to the non payment of rates by George Davison.

We tried to find what happened to them all. There was no other record of Mary. John died age 17, in 1885. Thomas was found on the 1901 census for Alnwick when he was 30 and was a visitor with "no occupation". Hugh Graham Mackenzie, one of twins, trained as a tailor then joined the Cameron Highlanders in May 1892 number 3308. He served in the Boer war, in the Orange Free State.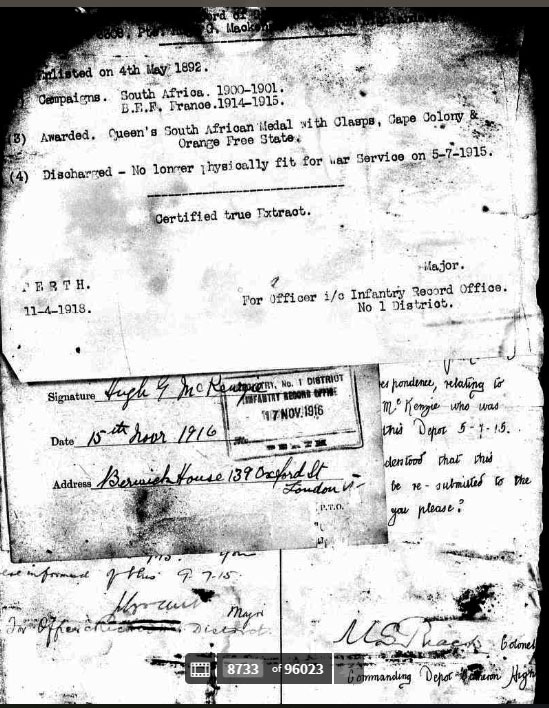 He was still a soldier when he married Eleanor Ross in London in 1899. He was sent to France on 14th August 1914, one of the first soldiers to arrive at the front, but he was discharged on 5/7/15, no longer fit. He served for a total of "23y 63d plus 1y 334d in India " He earned along service medal, a good conduct medal, the SA medal and clasps,( when in the Cape Colony) and the Victory Medal awarded in 1921, in London. He was absent for the census in 1891 and 1901, although he was recorded on the 1911 census for the military in Bangalore. He died in 1938 age 64. His twin Alexander, was not as adventurous, becoming an insurance agent in Belford and died age 34 in 1908.
Wilimina Mackenzie never married but sailed all over world, as a nurse. She sailed to Portugal , Burma and Brazil amongst other places. Wilimina came back to Newcastle to retire. The youngest child, Frances Rennison Mackenzie was found, in 1891, in the Netherton home for waifs and strays, a school run by Nuns. Later called Nedderton it was moved to Cullercoats, Whitley Bay and girls from 3 to 16 were taught needlework and how to do the laundry, so they were trained for the workplace. It was then called the St Owald's Home for girls.
                                                        St Qswalds Home for Girls, Whitley Bay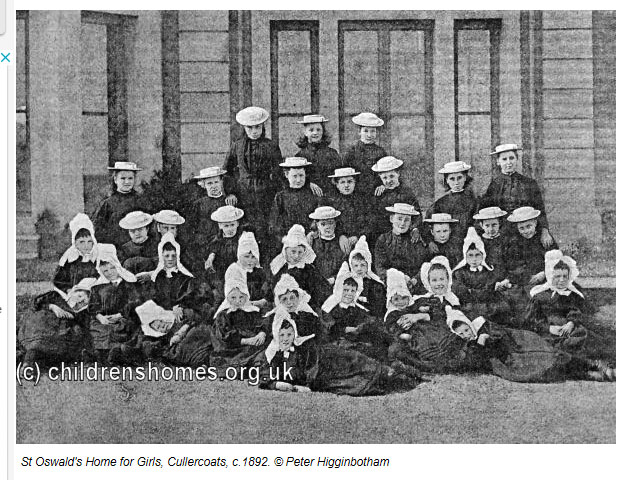 Frances is believed to be on this picture, aged about 11
By 1911 Frances was indeed working as a laundry maid with two other young women, in Cound Shropshire. After several more appointments at large houses, as a laundry maid working for Lady Yarborough, for example, she then applied to join the Women's Auxiliary Corps in August 1917, as a Laundress, giving her brother Hugh of 139 Oxford Street London, as next of kin. She was discharged in January 1919, having suffered from chronic inner ear infections, she was "slightly deaf". Her records are in the National Archives at Kew. Frances died in Crewe, in 1967 age 88.

   
On the 1891 census William Dixon was the head of the household. He and his family lived in number 30 but 30a was empty at that time. William was a 33 year old house builder listed in Kelly's directory.
William was born and baptised in 1868, in Long Edlingham. His wife, Mary was from Chester le Street and they had four children, Nellie, Rosie, Thomas and William G. Dixon. Nellie and Rosie were twins and their birth, on 12th August 1884 was announced in the local paper. Two sets of twins born in the same house to successive families! William advertised his building and slating business quite frequently in the Alnwick Mercury too.

Also Mrs. W. Dixon, on 30/8/1884, advertised "Wanted -two strong girls 16-17 years old from the country " Were they to help her with the twin girls, we wonder? In February 1886 William was fined 20s for being drunk and disorderly in Grey's Inn, Clayport Street. He said in his defence that it was the first time he had been "catched " drunk and it wouldn't happen again. We are not sure if this referred to his drinking, or to being caught!

On 9th February 1889 W Dixon was advertising again, " To let self- contained house of 5 rooms in Upper Howick Street " and this must have been for just half of the property, because from the 1911 census we learnt that number 30 had 10 rooms. William died at the end of 1895 at the young age of 37.

Mary returned to Chester le Street with her twin girls, her two sons and three other children, Agnes, Alfred and Eva. Mary was "living on her own means" and only Thomas was working as a plumber's apprentice. Eva was born at the end of 1897, in Alnwick.(oops)  Eva Mary Dixon later married Robert Ranson in 1920 and emigrated to the USA.

John Pearse, his wife Anne and children moved into number 30 before the next census. John was born in Newcastle in 1860 to John Samuel Pearse (a shopkeeper) and his wife Mary. By the time son John was about 10, his father had died, leaving his mother to bring up her four children. By the time of the next census, in 1881, John and his sister Henrietta were boarders, in Hammersmith, London. He was a joiner and she was a music teacher. John married Anne Young in Elswick in 1889, and moved back to London where he worked as an employee in the building trade. Their two eldest children were both registered in Hammersmith, Leslie in 1890 and Margaret 2 years later. Their third child, Alice was born in Newcastle in 1899, so the family must have returned to their roots for a while, moving to Howick Street before the 1901 census. John had given up building and was now a brewer and maltster, and a wine and spirit merchant. He was now an employer and must have been successful. Success was short lived though, as John Pearse died in 1904 aged 44. Anne returned to Elswick and died there almost 40 years later in 1941.

Also living in number 30, at the time of the 1901 census, were Mary Ann Bell (76) and her unmarried daughter, also called Mary Ann (48). The mother came from Norwich and married here in Alnwick in 1851, to William Alexander Bell, who became a successful boot and shoemaker. Mary Ann was their first child of a large family, but by the time the two Mary's moved to number 30, William and several of their children had died. They had lived further down Howick Street, * when William was still working, and lived near the John Bull for many years, but when a widow "living on her own means " included downsizing, and living in part of number 30. Mary Ann died in 1907, age 82 and her daughter died the following year age 55. They were both added to the Family's headstone in South Road Cemetery, Alnwick.
                               The well-preserved (ie good quality) headstone of the Bell family. 

By the 1911 census for Howick Street, a widow called Margaret Scott was living at number 30. She was a wealthy woman age 40 with a whole houseful of women living in all ten rooms. Margaret's mother, Joan Graham a 71 year old widow was there, and her unmarried sister Johanna Graham 36 and a niece, Mary Walker 16 . They were all from Stirling in Scotland and moved down to Alnwick before the 1901 census when Joan and Johanna were living at 9 Howick Street and working in the drapery business. Margaret (Graham) had married James M Scott, in Alnwick, (b 1852) He was one of the sons of a hairdresser, Robert Scott and his wife Ann. One son followed in the family hairdressing business but James and his brother George both trained to become drapers. George later ran a draper's shop in Bondgate.

In 1881 James married Elizabeth, his first wife. In the 1889 in the register of voters, he was living at 8 Prudhoe Street as a freeholder, and he owned land in Aydon Forest. He must have been a Freeman of Alnwick. James with his first wife Elizabeth, had two sons (Robert Leslie Scott b 1880 and Archibald Alexander Hills Scott b1886)and he worked as a commercial traveller in the drapery business. Elizabeth died age 46, in 1896, and James married Margaret at the beginning of 1901. They probably met because of their common interest in the drapery business, and perhaps she worked for him, or his brother, George at his drapers shop in Bondgate. Meanwhile brother Robert, the hairdresser, was also living in Howick Street at number 20.

On the census taken later that year James and Margaret were living in "Fernlea" in Alnmouth Rd, which was a grand house, in the best area of Alnwick. Their daughter Joan was born there in 1906, but James died the following November. In his will he left Margaret £6,489-9-2 which would be £746,000 today (using ONS index). He was buried in the same plot as Elizabeth.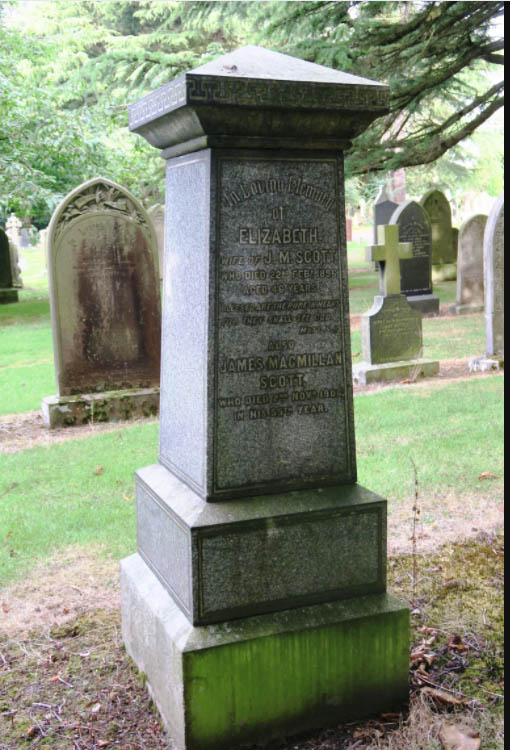 James and Elizbeths memorial (his first wife..)

Margaret's stepson Archibald A H Scott began his education as a day pupil at Miss Langridge's school at the bottom of Howick Street. From 1893-1901 he attended The Duke's School, and from there he went to Glasgow's Peterhill School where he studied mechanics and machine design. Throughout WW1 he was an engineer at Burma Petroleum Ltd, in Rangoon. We learnt all these details from his application to become a member of the Institute of Mechanical Engineers in 1923. He was accepted ( no. 17.847) and travelled the world, working on different projects. He ended up in Dublin, living until 1955.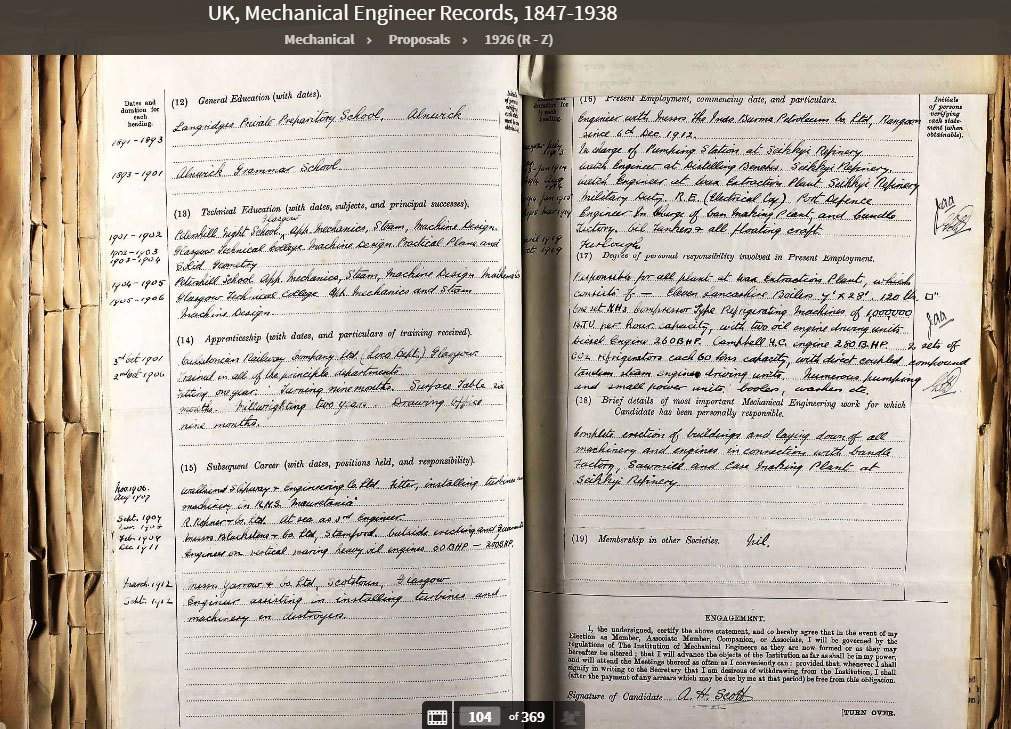 By the 1939 survey, number 30 was again divided. Thomas Hood, (b 13/1/1869) and his wife Jane (b 2/3/1870) were living in the smaller part. They were married in March 1890, and ten years they had a three month old baby named Adam after his grandfather. On the 1911 census they had four more children, Thomas 7, William 5, George 3, and Margaret 1. Thomas and Jane had previously given birth to two more children who died in infancy, but these five all survived and had left home before 1939, when the parents were living in Howick Street. Thomas had worked all his life as an auctioneer's Clerk and was then working (age 70) in Alnwick Cattle Market as a Clerk. He died in 1947.

Helen Brown Cairns lived in the rest of number 30. She was an unmarried lady born in Berwick in 1896. She was born Ellen Brown Cairns to parents who were "victuallers" that means they were running a pub. They later ran the Plough Inn in Mitford,near Morpeth, and she was an assistant in the business in 1911, when she was only15.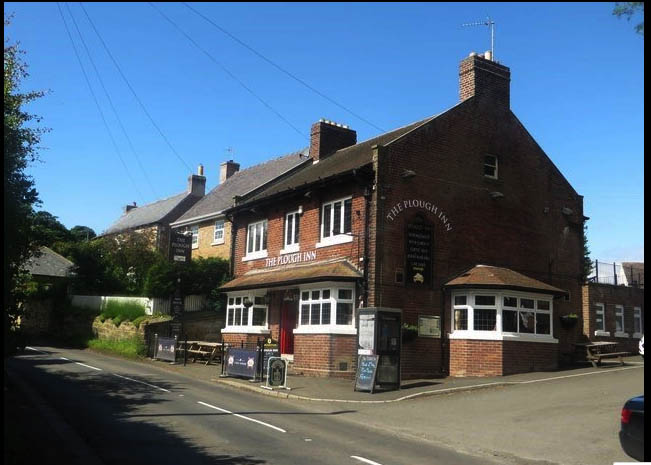 The Plough Inn  –  Mitford
Twenty eight years later she was running her own business from number 30. She was "Proprietress of a servants Registry". This business was well-known locally, and later became a general recruitment agency. Helen also helped out young married couples by letting out rooms to them until they could get a house of their own. In the 1950s Helen owned the only car in the street. She lived in the same place until she died in Howick Street on 3rd September 1978, age 84.