No 40 Upper Howick St 
It is difficult to tell the first residents of number 40, as the houses weren't numbered in those days. It was built in the 1870s and an extension was built by Armstrong Brothers to link the back of the house to Armstrong Place. There is a Freemason's window in the extension in Armstrong's colours.

This house and the one next door ( No 38) were both built by the same builder, before the Armstrong Brothers built Armstrong Place, which was planned in 1873 by their father George but then because of George's death, that building work was delayed, until 1883. It is believed that Arthur Forster may have lived in rooms in number 40, as he is mentioned in the 1889 "occupation voters list" as a tailor but his story is told later when he moved to another house down the hill.

The first family, we know for certain, who lived at number 40, at the time of the 1891 census, was Henry William Laing Clements, a 38 year old draper's assistant with his wife Mary Ann Oxley. She came from Yorkshire, where they were married there the year before, in September 1890. Henry was christened in Bamburgh, Northumberland. He was one of the children of Henry W Clements, the chief boatman in the coast guard. This Henry had been born in Ryde, on the Isle of Wight. He had married Rachel from Berwick on Tweed and in 1861 were living in the coast guard station in Craster. 
An early view of Craster Harbour 

By 1881, the family had moved to Alnwick and were living in 2, Dovecote Terrace, when Henry senior had retired from the coast guard. Henry died there in 1899 age 75. Henry Jnr. and Mary Ann had two children while living in Howick Street, Gertrude Mary born 21/6/1891, and Aidan Oxley born 22/4/1895. They had left Howick Street by 1901. Henry was with his widowed mother in Dovecote Lane, who died the following year in 1902 aged75. Mary Ann and their children were visiting her unmarried sisters, Susannah and Rachel in Harrogate, on the same census.

Aiden Oxley Clements had attended the Dukes school, Alnwick. He was a 'farm student' leaving in 1911. His address was given as Prudhoe st although on the 1911 census Aidan was living in Percy Street with a Mr and Mrs Dixon. He was a 16 year old school boy so he may have been staying there until he had finished school, later that year. Henry and Mary Ann and Gertrude, who was a governess by this time, were living in Harrogate, on the 1911 census, in an eleven roomed up market house with their brother-in-law. Ten years later Aidan (also a Draper) was married and on board the Corsican bound for Canada.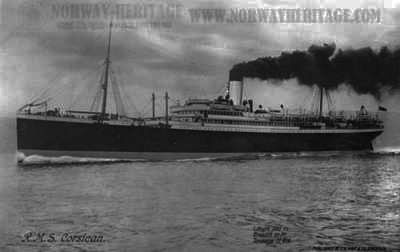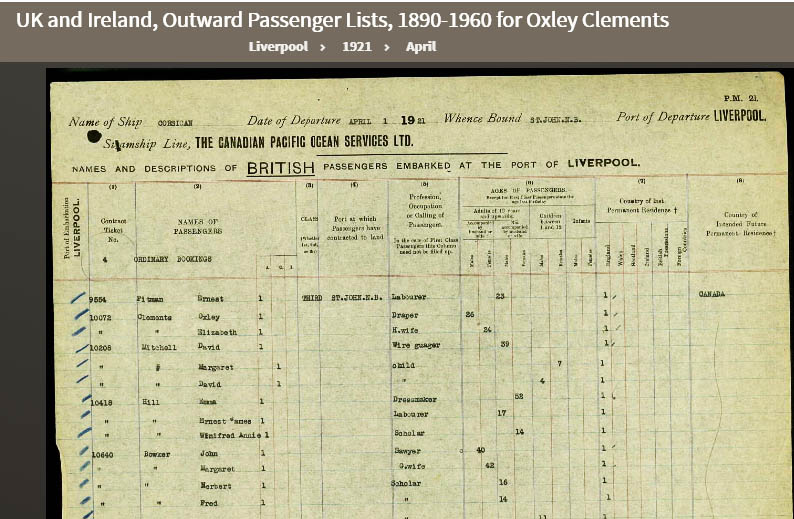 The ship sailed from Liverpool on the 1/4/1921. They appeared on the 1921 census for Vernon, British Columbia. Whether they joined their parents or whether their parents joined Aidan and his family is unknown, but they all ended their days in Canada. Mary Ann died on 30/9/1938 aged 87 and Henry died about two months later on 25/11/1938.

On the 1901 census for 40, Howick Street, David G Guild , born in 1873, in Scotland was living there with his wife Ruth born in Durham, in 1871. David was the only child , (still at home on the 1881 census) of Elizabeth and James Guild from Ayrshire. By 1891 his mother had died and David was a pupil teacher still in Scotland. He married Ruth Hutchinson in April 1897 in Hartlepool, and moved into Howick Street, when he was working as a assistant teacher. They had at least one son as the next time we came across David was in 1939 when he was a retired teacher living in Bathavon, Somerset with his daughter-in-law Isabella Guild born 6/5/1907 so was 32. A member of the family is redacted so must have been a child. David died three years later in October 1942 in Bathavon.

By 1911, the census shows Harry Bailey, a 29 year old solicitor was living at number 40, with his wife Maud Marion (33) and their baby son, also Harry (Ernest) was less than one month old. Emma Bailey, Harry's 62 year old mother was staying with them at that time, probably to help with the baby. The family was from the Midlands, the Baileys from Loughborough and Maud Caley from Leicester. Harry was the youngest of four sons born to Emma and William H Bailey, a draper. He moved to Leicester to study Law and on 1901 census, he was a solicitor's clerk, boarding with the Chown family. The 1911 census shows that he had been married for one year, although they were actually married in September 1909. It also shows that Harry was one of five children born to Emma, two of whom had died young.
The next census wasn't until the eve of war in 1939. Harry Bailey and his wife were then living in West Hartlepool with a second son Arthur J Bailey who had been born in Easington, Durham, in 1918. Arthur was a university student. Maud died in Hartlepool in April 1941 age 60. Harry lived on until 1959 when according to his will, he was living at Martindale Farm, Elwick, West Hartlepool. He left his effects to son Harry Ernest also from Hartlepool, and also a solicitor. When the land was sold in 1960 it was mainly used for housing.
The people living in number 40 Howick Street by the following census in 1939 were Lilian cairns and two others who were redacted because of their ages. Lilian was born in 1902, the first of six children born to Peter Molina and his wife Margaret Cannon, married in Gateshead in April 1901.Peter was an Italian citizen born Pierrot Molina, on 8/9/ 1870 in Morfessa, Italy according to the 1911 census for Newcastle, whereas Margaret was born in Gateshead. They were then both 30 ( so both born about 1881 but we know his actual year of birth was 1870) and living in a three roomed flat with their six children. Peter worked as a chef all his life, dying in Harrow on 11/6/1943.

Daughter Lilian married John D Meichan Cairns from Scotland in 1926 in Gateshead and they were on the polling register for 24, Vaughan Street, Benwell, Newcastle, in 1931. Their first two children, David and Cecelia were born in Newcastle in June 1931, and June 1937 respectively. Their third child Paulette was born in Alnwick in December 1939. Perhaps they had moved to Howick Street for safety, during the war. John was not with them, perhaps in the Sevices. The family eventually moved south, to Harrow ( perhaps to be near Lilian's parents ) but still without John. Lilian died there in 1969 age 67, and Paulette married Cecil A Leyton also in Harrow,in 1960, and later emigrated to the US. Son David also emigrated and died in Florida, USA in 2007.