Number 41 Howick Street.

Numbers 39 and 41 were built by the Armstrong Brothers to complete the east side of Howick Street. When George Armstrong died, his property was to be shared between his offspring, so there was an auction on Thursday 9th May 1878, in the Town Hall, Alnwick. Lot 5 was to become number 41. Matthew Armstrong himself was living here when the house, "consisting of 5 rooms, a yard and offices, having a frontage of 23ft 6 inches and 35 ft depth". It was sold to Mr Jos Archbold for £270, who bought it as a landlord.

It was on the 1881 census that we find the first proper resident of 41. Her name was Jane Turnbull and she was a 50 year old widow. She was living with her son, William a 26 year old general merchant and daughter, Mary who was a 12 year old school girl. They also had a 17 year old general servant called Dinah Young, living with them.

Jane Teasdale had married Edward Thew Turnbull in Alnwick in January 1854 and by the 1861 census, Jane was a young wife and mother, in Lovaine Place. Her husband Edward Thew Turnbull, was a manufacturer of candles and grocer, and part of the firm of Turnbull Brothers. He and Jane had four sons by 1861: William Teasdale Turnbull (b 1856), Edward Augustus (b1857), Charles Henry (b1859) and Walter (b1860).   
                                                                    Edward Thew Turnbull 
By 1871 the couple had two more children, Percy, (b1864-90) and Mary (b 1869). Husband, Edward Turnbull was on the local Board of Health in the 1860/70s, and a governor of Alnwick Infirmary, on the Alnwick burial Board, and played for the Alnwick cricket team, a sergeant in the Percy Volunteer Artillery, and on the Mechanics Institute Board. He was also a Freemason and a manager of Messrs. Hodgkin and Co's Bank. An all-round good citizen of Alnwick. He died in 1875 aged just 44 and left all his assets under the administration of his brother William Turnbull, (as all his children were underage).
Jane "down sized" and moved first to no 2, Argyle Place, another of Armstrong's properties, then to 41 Howick Street. Jane died in 1909 in Michigan, USA. Her son Percy and daughter Mary also emigrated and died there. They must have left Alnwick between 1881 and 1890. They are recorded on Edward's grave stone, *together with three other children, Annie, George and Jeannie who all died as babies and were never recorded on a census.
                 The family headstone, which includes those members who died in the USA
By the 1891 census, another widow, Susanna Reid (age 71) was living in number 41, with an extended family. Her husband, William had worked as a Revenue Officer. He had been born in Alnwick, but Susanna came from Dorset. Their first three children were born in Ireland, and the next three were born in Scotland. William was their eldest son, and was a sailor in the Merchant Service, age 49, in 1891.He was widowed too. Bessie was their youngest daughter,(23) and was married to John Thompson a marine engineer. A granddaughter Minnie Reid (12) was also living there. Susanna died the year after the census for Howick Street.
 
By the 1901 census a different family was living in number 41. The family consisted of father, Thomas Allan Elliott age 42 a maltster, his wife Elizabeth (Taylor) also 42, and their children, William (b 1884), Elizabeth (b 1886) and Robert (b 1891). The oldest two were born in Newcastle but Robert was born in Alnwick.

By 1911, this family had moved to Prudhoe House, and John James Selby Walker and his family were living in no. 41. He and his wife, Ann Isabella had by 1911 been married for 20 years. They had five children, all born in Alnwick. John was born in North Sunderland (Seahouses) in 1866 and Ann was born in Newcastle a year later. They had married in Newcastle in 1890 and by the 1891 census their first child, Ethel was a baby. They were then living in Bridge St, Alnwick and John was working as a fishing rod maker, possibly for Hardy's in Bondgate. John was an apprentice cabinet maker before changing to making fishing rods. Three more daughters were born before the next census; Mary Robson Walker (1893-1970); Susan Lilian Walker (1897- ); and Annie Isabel (1900-1960).
                                                            John James Selby Walker
Before 1901 they had moved to 21, Queen's Street, Alnwick , when John was still working making fishing rods but by 1911 the family, now with a son Lennox, age 7 (1904-1968) was living in 41 Howick Street and running their own rod making business. This was possibly in the yard behind the property as Ethel and Mary were assisting in the business as well as a nephew, James Alexander Walker who was an apprentice.
They formed a company with Bampton in the 1930s. They employed ex. Hardy workers and continued producing fishing rods until 1968. 
These were luxury products, costing £30 in the 1930s when the average weekly wage was £3.
John J S Walker died in 1930 age 54, and no 41 Howick Street was sold. His son Lennox* Walker continued running the business with a partner in a factory building in Hotspur Street and was living in Percy House in 1939. Lennox was still there when he died in 1968.
                                           *Note the name of the product on the image above

On the 1939 survey ready for the impending war, a Miss Ricalton was the head of the household of 41 Howick Street, living there with three other ladies. They were all teachers.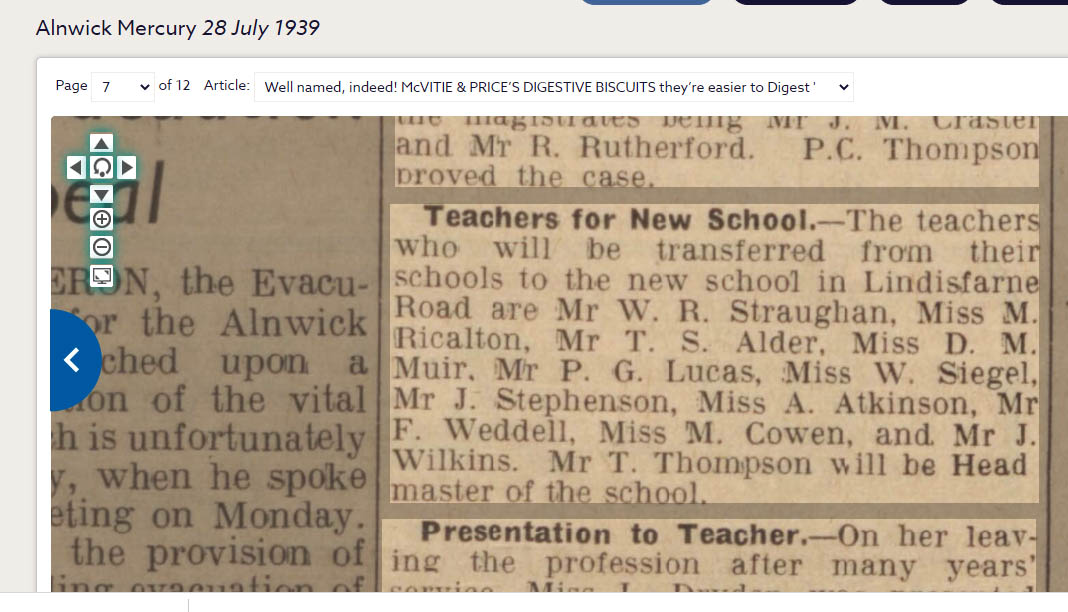 Miss Ricalton is transferred to the new Lindisfarne School  in 1939
Miss Margaret Anne Ricalton was born in 1889, and so was 50 years old by this time. Her tenants were Hannah Nichol born 1895, Adelaide Youngson born 1906 and Dorothy Iles born 1914. Margaret was born in Alnwick, at Abbey Lands where her father worked as a farm labourer. By 1901 the family had moved to Park Farm, Denwick. By 1911 she was working as an Elementary School Teacher and boarding with a coal miners family in Ashington. Perhaps she trained as a teacher at Ashington College. She must have moved to Howick Street after 1930, because this Miss Ricalton was the same person that Evelyn Knox remembered.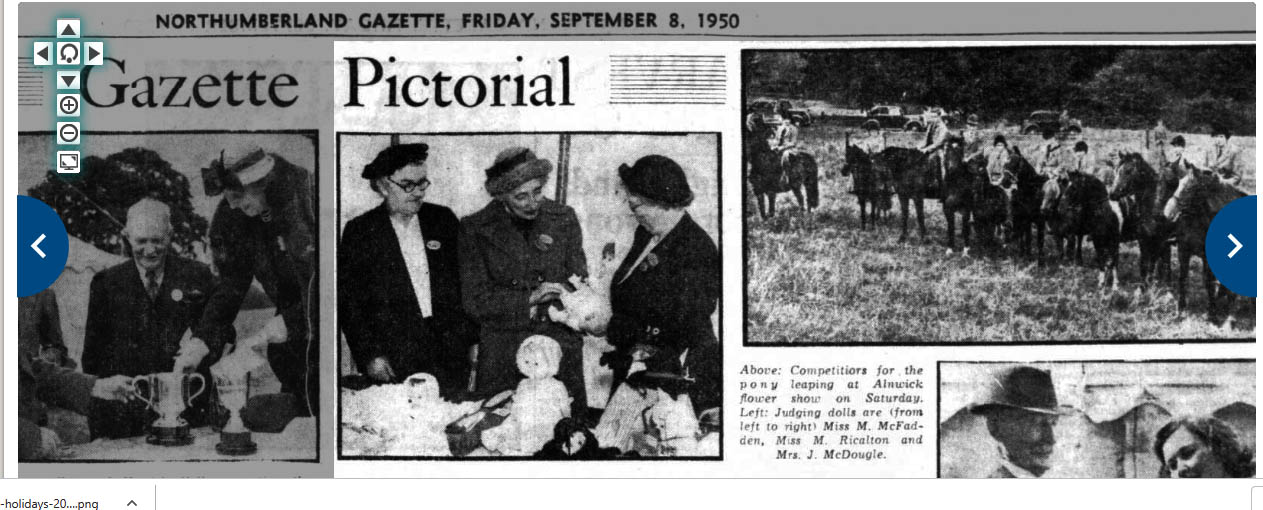 Miss Ricalton (centre of centre picture) judging dolls in 1950
 Evelyn lived at no. 35, and helped Margaret carry books home from school to be marked in the 1930s.
Margaret lived in Howick Street for the rest of her life, dying there in June 1977, age 87.