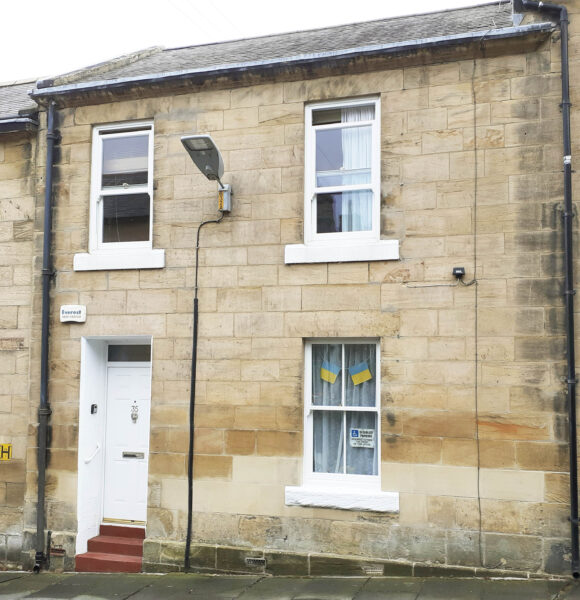 No 35 A Howick Street Dynasty  –  by Mary George
In 2013 I was lucky enough to meet Evelyn Knox, who then aged 93 knew all about Howick St. As luck or fate would have it, she had lived in number 35, the same house as I live in now!
I have an indenture between Thomas Kyle (bank cashier) and John Malcolm Douglas (Solicitor who lived across the road in Beaconsfield Terrace) acting as vendor, as the previous owner died without a will. Ralph Straughan, was the purchaser of no 35 Howick St. dated 13/07/1921. Ralph was Evelyn's grandfather's brother. He and his wife Eleanor (nee Davison) had no children of their own but were part of a large family. On 1911 Ralph census, was living at 38, Howick St and working as a "wood sawyer" in Hardy's fishing tackle factory. Eleanor died on 17/11/1922. By this time Ralph was living downstairs at no 35 Howick St., and the rest of the house was occupied by his niece Annie Fairbairn and family.
In 1933 Ralph wrote a will appointing his brother Thomas Straughan (retired shepherd) and his nephew John Wilfred Davison (farmer) as his executors. When he died on 23/2/1937, the house was left to:
* Maud Nellie Davison spinster (niece)
* Agnes Mary Straughan spinster (Thomas' daughter) and
* Annie Fairbairn (Thomas ' married daughter)
as tenants with common equal shares. Annie later bought Maud and Agnes shares of the house and became the freeholder.
Annie was a daughter of Thomas and Janet Straughan, who on the 1901 census was a hind (a skilled farmworker) at a small-holding in Denwick Lane. Evelyn remembers her Grandmother walking to Alnwick with pails of milk from the farm. She wore a black sateen apron and walked with her horse called Creeper.
Annie was born in 1893 the second of four children born to Thomas and Janet. She married John Fairbairn a saddler and taxidermist in 1919. The Fairbairn Brothers had left Scotland in 1865 with 2/6 in their pocket. They eventually had a saddlery business at 47 High St. Amble and at 39, Bondgate Within in Alnwick. Granny Fairbairn ran a little tea shop at 3,Bondgate Within, Alnwick. Her main customers were not tourists as now, but soldiers. She made chips from home grown potatoes!
John and Annie had two daughters. Evelyn Irene was born in 1920 in a flat above what is now Grannies Tea Rooms in Bondgate within. The shop was then Fairgreaves the jewellers. She was delivered by two nurses called "sunshine and shadow" locally. Her sister Nancy was born on 19/2/1928 when the family was living at 35, Howick St. Evelyn was a bit of a tomboy, getting caught by her knicker elastic while climbing trees, having to be rescued by her granddad. She enjoyed sledging in the winter when they would slide down Howick St., going straight under the arch at the bottom of the hill, past the bakers in Grahams Yard where she would buy fresh bread for tuppence ha'penny. Her teacher, Miss Ricalton would make Evelyn carry the exercise book home to be marked, as the teacher lived at no 41 Howick St. Evelyn went fishing with her father near Brizlee and any fish he caught she would add to a bucket and they would transfer them to the River Aln at Lesbury to restock the river.
Evelyn's memories of living in No 35 include:
* Gas mantles; electricity would not arrive until much later. (1928 roughly)
* No bathrooms or toilets indoors. Outside w.c in the yard next to the wash-house with a coal fired washtub. A kitchenette was built outside the back-door which later housed the bath.
* A shed was used for all the potatoes and other vegetables grown in the allotment, which were dried in the open before storage.
* In the kitchen a 1930s range with two hooks to hang pots over the fire.
. The front step was scrubbed with a yellow "Camel" product
On January 4th 1941 Evelyn married Laurence Johnson Knox from Armstrong Place, just across the road! They did not go to dances when courting, preferring to go on motorbike rides to Scotland. He joined the RAF and she meanwhile joined the Police Force, serving until the birth of her only son David in 1945.
David Knox was born in the front bedroom of 35 Howick St. The maternity nurse, Mrs Orde, lived next door at no 33. Evelyn used to leave him in the back- yard in his pram for fresh air. The lady next door ('Becca Gibson at no 37) would shake her mop out of the landing window and soots would land on him!
Annie Fairbairn died on 13/06/1953 aged 60 and left the house in Howick St to her daughter Evelyn Knox, by then of of 28 Augur Terrace. Evelyn sold the property to a James Smith who let it out to various tenants over the next thirty years. The Howick Street Dynasty had ended, although Evelyn lived on till 2014 elsewhere in Alnwick.