Peter Horbury was born in Alnwick in 1950 and studied industrial design at Newcastle School of Art. He was, until his sudden death on the 29th June 2023, one of the most influential car designers in the world.
Peter  revolutionised Volvo design in the 1990s, then headed a team of 800 designers at Ford's Premier Automotive Group, overseeing the language of Ford models for nearly a decade. After that he worked at the Chinese company Geely, and more recently has been responsible for the design renaissance at Lotus, including the look of the new Eletre SUV, possibly the most significant and unconventional car the company has ever launched.  An unpretentious person, as well as a great leader, he believed that design is something to be shared, and that beauty and pragmatism can and should co-exist.
Volvo
Horbury started his career at Chrysler UK and then during his time at Volvo in the Netherlands, worked on the 480ES coupe, a striking new development by that, at the time at a somewhat staid car company .
The Volvo 480 ES ( photo: Richard Gunn)
During his eleven years from 1991 as Design Director he is widely known for leading the revival of the Volvo brand.  He was instrumental in moving the company on from their traditional boxy look with a new design language for the brand with a new style characterised by more curved surfaces, rounded noses, and softer, less utilitarian interiors. He contributed to many designs including the Mitsubishi Carisma related to the Volve V40,.
Ford
In 2002 he was made head of all of Ford's Premier Automotive Group design studios which included  cars under the Jaguar, Land Rover, Aston Martin, and Volvo marques, and in January 2004 was promoted to Ford of America as Executive Design Director of all Ford's American brands, reporting to Ford's group vice president of Design.  In that role he ran a staff of 800 and was given the task of renewing the design language of all of Ford America's brands in the wake of sliding sales. He was responsible for the implementation of Ford's 'Red, White and Bold' design strategy that aimed to make American Fords more distinctively "American". He also oversaw the introduction of a similarly bold frontal treatment to Lincoln as previewed by the 2007 Lincoln MKR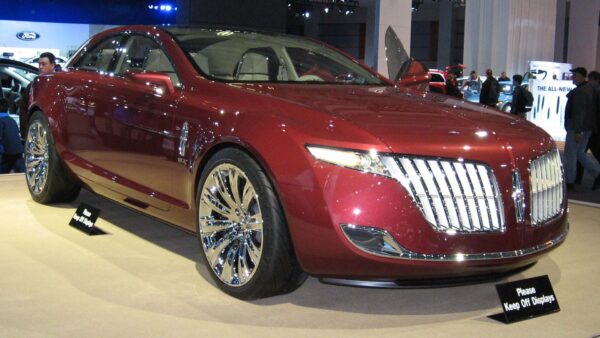 Lincoln MKR ( Source IFCAR)
Return to Volvo
In May 2009, Horbury returned to Volvo as Vice President, Design,  The first public exposure of his work from his third stint at Volvo, and the first for Volvo's new owners Geely, was the Volvo Concept Universe shown at the 2011 Shanghai Motor Show.
Volvo Concept Universe ( Source : LeBubu93)
Geely Auto
In late 2011, Peter was appointed Senior Vice President of Design for Geely with the responsibility of overseeing the design of all Geely brands and establishing a network of Geely design studios around the world, supervising the design work of all Geely brands, including Geely, Lynk & Co, Proton, and Lotus.
Lotus Cars
After a decade leading all of the Geely brands' designs, and at the age of 71, Horbury stepped back from his overall Geely position and  joined Lotus as Senior Vice President Design. In this newly created role, Here he led teams of  Lotus designers in Norfolk and Coventry, forming a link to headquarters in China and the wider Geely design network.
Lynk & Co 01 ( Source Shishi)
Peter died on 29 June 2023, at the age of 73, after making a huge contribution to automobile design throughout the world.