Eleanor Code  1733-1821  – Fine Creations in Stone
Alnwick cannot claim the successful Georgian businesswoman Eleanor Coade as one of its own, but is delighted to have examples of her fine work in the town and surrounding district. At a time when industry was almost completely dominated by men, Eleanor ran her own business manufacturing statues and ornaments in artificial stone. Her work has proven both attractive and durable.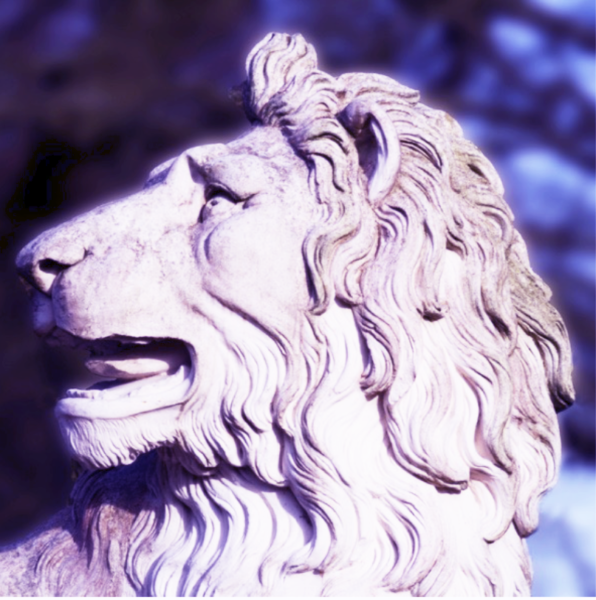 One of Eleanor's Lions on the
 Percy Tenantry Column
The Beginnings
Eleanor was daughter of wool merchant George Coade, and was born in Exeter on 3rd June 1733. Following her father's bankruptcy, the family moved to London where Eleanor set up a business selling linen. After the death of her father in 1769 she bought the premises of a struggling business in Lambeth manufacturing artificial stone. Here Eleanor started experimenting with her own formula, eventually taking over the business and becoming sole proprietor. She adapted and refined an existing formula, using a mix of finely ground clay, silicates such as flint and glass, and pre-fired terracotta. Eleanor's creations used a fired ceramic, resulting in a better quality product than the more common cast cement figures .
The Process
To produce an object, a clay model was made of the design and a plaster, reusable, mould created from it. The complexity of the form of the statue, vase or ornament determined how many moulds were needed. The Coade raw paste mix was rolled into thick sheets and pressed into the mould by hand before firing at extremely high temperatures over 4 days, with final finishing and smoothing when cool. Large sculptures were cut into sections for firing, then reassembled.
The artificial stone, which Eleanor produced, was one of the most widely used materials in the 18th century. It was exceptionally resistant to weathering and erosion and its versatility made it immensely popular for a great variety of sculptures both large and small.
Eleanor's Plaques at 
Hulme Abbey and Brislee Tower
Eleanor employed John Bacon, a talented artist, and very soon was dispatching a huge number of Coade stone sculptures and architectural pieces across Georgian Britain from her factory in Lambeth. It was used as decoration on some of the country's finest buildings by the eminent architects of the day, including Robert Adam, John Nash and Sir John Soane as well as being used for the creation of sculptures and monuments.
Carving natural stone was slow and expensive. Coade stone could be manufactured relatively quickly by kiln firing  and cost less.
Watercolour of the 
Coade factory c. 1800
An impression of the rear yard
 at the Lambeth factory
Eleanor's own property in Lyme Regis was decorated with items from her factory.
Eleanor's own front door
 in Lyme Regis
In 1799, Eleanor went into partnership with her cousin John Sealy and the same year they opened Coade's Gallery near the south end of Westminster Bridge in which to display their goods to prospective clients. In the early 19th century, the factory was asked to provide a memorial to the late Admiral Horatio Nelson. The result was the Nelson Pediment at the Royal Naval College, Greenwich. This was considered to be the factory's finest commission.
The Nelson Pediment at the 
Royal Naval College, Greenwich
Although often referred to by the customary business title of 'Mrs', Eleanor remained single all her life. She died on 18 November 1821, aged 88 and is buried in the Nonconformist Bunhill Fields Burial Ground, now a public garden, just to the north of the City of London. Bunhill Fields has a long history as a burial ground, but it is most significant for its Nonconformist connections, dating from the 18th and 19th centuries. It is the burial place of prominent people including William Blake, Daniel Defoe, John Bunyan and Susannah Wesley
The firm flourished until Eleanor's death in November 1821, when it was bought by William Groggan, a distant relation who had been helping Eleanor manage the business after the death of John Sealy. Stone was produced for another 10 years, production ceasing in the 1840s when the fixtures and fittings and stock of moulds were put up for auction.
Stephen Pettifer has researched and refined the processes used to manufacture Coade stone and, in the year 2000, founded a new company, COADE. The company has since restored historic Coade sculptures as well as creating new ones.
With thanks to Alnwick Civic Society 
for their help in the material for this article.