George Dixon Teasdale
George Dixon Teasdale lived in Percy House between 1851 (or before) and about 1870 with his mother Hannah (whose maiden name was Dixon), and a domestic servant. In 1851 the domestic servant was Margaret Wilkinson, aged 17; and in 1861 it was Ellen Hylton, aged 16).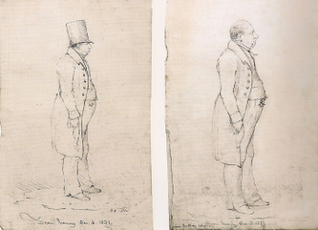 See more drawings by Percy Foster
G D Teasdale drawn by Percy Foster
George and Hannah both described themselves as retired drapers, although George was only in his 30s at the time. We believe they were the widow and son of William Teasdale (drawings, left) who was listed in the 1827 trade directory as a draper in Fenkle Street. Teasdales Yard lay behind the shop front on Fenkle Street. It was roughly where Morrisons stands today.
William also had other business interests. He was a shareholder in the first Alnwick Gas company. In the first half of the 19th century the population of Alnwick was growing rapidly, there was  a shortage of accommodation, and back yards were filled up with single-room, and double room tenement buildings. They were particularly densely packed between Clayport and Pottergate, including the area around "Teasdales yard". Teadales yard measured little more than 100 metres long, but by 1849 it contained around a dozen single and double-room homes, mixed with the workshops of a smith, a candle-maker and a cartwright; a brewery, piggery, stables, middens, and more.
The outbreak of of cholera in 1849 which killed 139 people was centred where the bus station stands today, on Clayport street, adjoining Teasdales Yard. In Teasdales Yard there were 17 cases of Cholera, of which 5 were fatal. We do not know whether William Teasdale was one of the victims, but we do know that two years later his widow and son had left Fenkle Street and were living in Percy House.
We next hear of George in 1870. On the 7th August, John Horsley and George Teasdale were charged with being drunk, and riotous.
"On the afternoon of that day, Police Sergeant Henry and P.C. Lunn proceeded, in consequence of information they had received, to Percy Street, there being service at the time in St. Pauls church. In compliance with their instructions they apprehended the two defendants whom they met in the street, and who were both intoxicated, but quite harmless and inoffensive, although a number of children were making a noise behind them The charge was not borne out by the facts adduced in evidence, and the magistrates, after an eloquent and moving appeal from Mr Teasdale, dismissed the case" (Alnwick Mercury, 20th Aug 1870).
By 1871 the Teasdales were no longer here. Hannah Teasdale passed away, at the age of 86, in february 1871, at the home of her daughter (Mrs. Mark Smith). Hopefully this was unconnected to her sons drinking. Later that year George is lodging with Mary Hardy and her daughter in Lisburn Street.
Things then seem to go from bad to worse for poor George, and by 1874 he is in the workhouse. On 21 November 1874, the Alnwick Mercury reported that the inmates of the Workhouse had been "regaled with an excellent tea", given by Lady Louisa Percy, "her ladyship being in the habit of giving this treat annually". 
"The hall was appropriately decorated by the Master and Matron (Mr and Mrs Brisco), the most noticeable being a device with the words "Health and Happiness to the House of Percy". Her ladyship was present, accompanied by another lady from the castle, and there were also present the Rev. E. B. Trotter and Mrs Trotter, Rev L. J. Stephens and Miss Dowling, Mr J Heatley, Mr E Allen, etc. After the tea was over tobacco, oranges and sweetmeats were plentifully distributed amongst the inmates, one of whom (Mr George Teasdale) returned thanks to her Ladyship in a neat speech. Mr E. Allen also conveyed to her the thanks of the Board of Guardians for her kindness. Lady Louisa visited the hospital where were some of the infirm inmates who were not able to assemble with the others, but whom her ladyship did not forget, manifesting that benevolent interest in their comfort which is so amiable a trait in her character.
A couple of years later George was still in the workhouse, and reported as giving another vote of thanks in February, 1877 after a musical entertainment given by amateurs of the town.
"Mr Edward Allen had got up the entertainment, and made all the arrangements exerting himself, as he always does, to provide amusement for the inmates to vary the monotony of their round of existence, which except for the kindness of ladies and gentlemen who give their services on these occasions there would scarcely be the means of doing. Songs were sung by Miss A Thomson, Mrs Embleton, Mr John Bell, and Mr G Scott; and duets glees, and part songs combined with these to form an admirable programme which was extremely well executed". 
In the 1881 census George still appears as a resident of the workhouse, unmarried, and aged 63, but we do not know how much longer he was there.