Stella Vine Paintings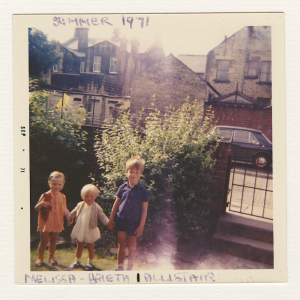 Melissa (Stella), cousin Brieta & brother Alistair, St Michael's Sq, Alnwick, 1971.    Source Stellavine.com
Stella Vine was born Melissa Jane Robson in Alnwick in 1969. At the age of 7 she left Alnwick to move to Norwich and by her late teens was living in London. She frequently returns to Northumberland
After working in a variety of jobs she turned her attention to painting in the early years of this century.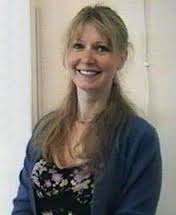 Stella Vine- Source Wikipedia
Much of her work is a reflection on the nature of celebrity and she has produced paintings of a diverse range of people (predominantly women) including: Princess Diana, Kate Moss, Elizabeth Taylor, Jackie Onassis, Kate Middleton, Rosa Parks, Billie Holiday, Amy Winehouse and Pussy Riot.
Another important theme in her work is the recollection of childhood and she has produced a number of works inspired by her early years in Alnwick.
In 2004 Stella kindly donated three works to The Bailiffgate Museum:
"Belle" (2004)  is of Catherine Deneuve in Luis Buñuel'sfilm "Belle de Jour".
"Rumbling Kern" (2003) is a painting of the beach at Howick which she often visited with her mother.
In an interview with Ponystep magazine in 2014 she said this: "We were at the Rumbling Kern which is my favourite place in the world, on the Northumberland Coast. It's a sort of rock formation that rumbles when the sea comes in. I'm sure it doesn't impress people as much as it did me, but you know when you're 4, 5, 6 years old or whatever, you think it's the most wonderful place in the world".
"27, Clayport Gardens" (2004) is a painting of herself as a baby in a pram outside her Grandmother's house in Alnwick.
In 2006 she held an exhibition here entitled "Whatever Happened to Melissa Jane?" and donated the screen print, "Melissa Red Jacket" (2006) which is a self-portrait of her as a child.
Over the years she has produced a number of works for charity fundraising activities. Among the charities which have benefited are: Sport Relief; The Terence Higgins Trust; The MS Society; Spectrum (autism); Bethan's Fund (South Africa); Kids Company; Rainbow Collections Children's Foundation; Shelter; Maggie's Cancer Centres; Haworth Church (Bronte sisters' burial place).
In 2015 she presented seven more paintings to the museum. They further illustrate her explorations of fame and of her Northumberland childhood. These include "Katherine white blouse", a portrait of the actress Katherine Ross, who starred in "The Graduate" and "Butch Cassidy and the Sundance Kid"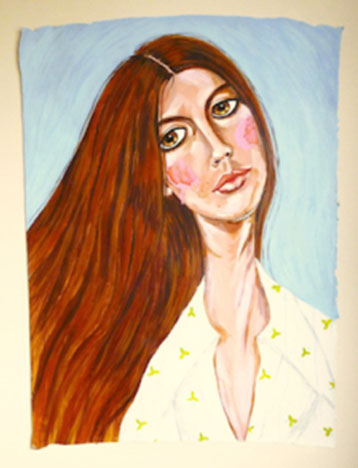 And "Things that really happened #3" (The day we went to see a whale on the beach in Northumberland)
You can find out much more about Stella Vine's work at     http://stellavine.com/
All works copyright S Vine