Number 5 Belvedere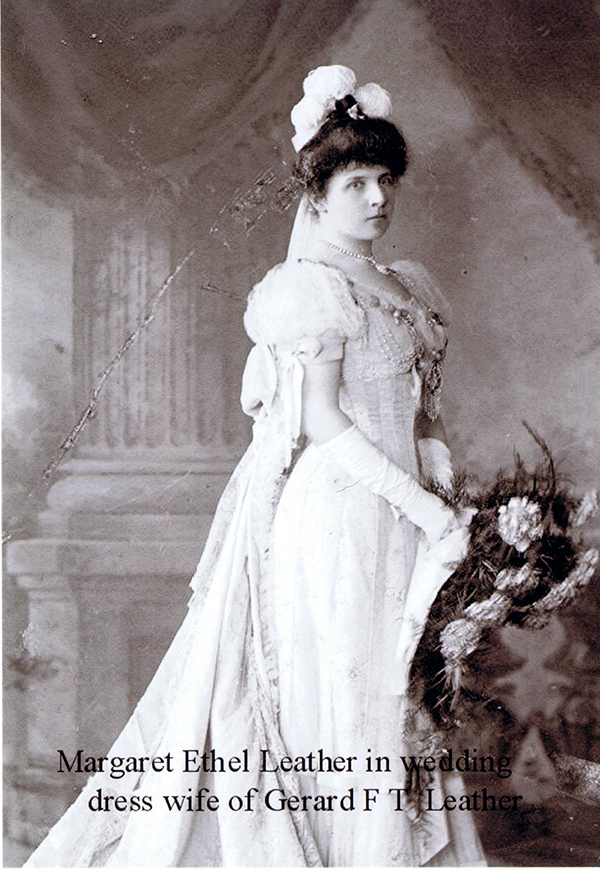 The first known residents of No 5 were William Forster and his wife Winifred who lived there for thirty six years. Both came from prominent local Roman Catholic Families. They married in 1838 as cousins and the marriage was childless.
William Forster was born in 1802 at Embelton and was a solicitor in Alnwick for fifty years. As a young solicitor he was an articled clerk to John Lambert in 1821. His family could trace themselves back to General Forster of Adderstone who had commanded the forces of the pretender in the 1715 rebellion and lost Bamburg Castle and Manor. William had also been Sheriff for many years. William's brother had been Captain John Forster who had taken part in the War of Independence under Lord Cochrane. Winifred was born into the Haggerstone family and her cousin was Lady M Stanley Haggerstone who lived at Haggerstone Mansion House with a large number of servants. On the census night in 1851 William and Winifred were staying with their cousin at the Mansion House.
In 1847 Whites Directory records William Forster as living at Belvedere and also in 1858.
The 1861 Census records William Forster, a solicitor, born in 1803 at Embelton, and Winifred Forster, his wife, born also in 1803 at St John Lee. They employed John Pringle as a groom, Elizabeth Grimes as a domestic/cook and Jane Patterson as a house maid.
In the 1871 Census Winifred is recorded as a solicitor's wife, whose husband is away from home on the night of the census.  He is in fact visiting George Dickinson, a widower, a retired officer in the Fusiliers living in Cornhill with his son Ambrose. The Forster's have three recorded servants; Jane   Pattison, a house maid, Jane Gridgley, a kitchen maid, and Thomas Gibson a groom.
1877 an advert appears in the Alnwick Mercury for the return of Winifred's lost dog Carlo,  a brown retriever.
William died in 1876. Probate records show he bequeathed Winifred £12,000. He is buried in the Roman Catholic section of Alnwick Cemetery.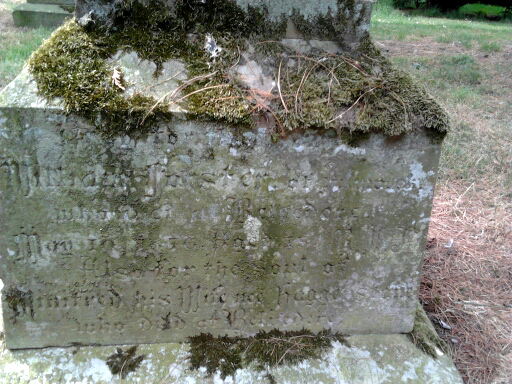 Grave of William Forster ( Alnwick Cemetary)
Winifred continues to live alone after the death of her husband. As seen in the 1881Census Winifred   is described as a widow. Living with her are three servants; Barbara Gibson, Fanny Gibson, and Margaret Therington  .
In 1883 Winifred dies and number 5 is sold. Winifred's estate at probate is valued at £4,635 9s 1d. The furniture and contents are sold at auction by Richard Archibold Auctioneer.
The next occupant of number 5 is Arthur Thew.
In the house records Arthur Thew is named as an occupier of number 5. Arthur was living at the house in 1883 as the Alnwick Mercury Family Notice section announces the birth of Norman V Thew as taking place at Belvedere. Arthur also writes to the Local Board of Health in 1883 to complain about a complete lack of water supply to the house which made using his boiler impossible (19/5/1883).This is reported in the local paper. An application was made to the Local Board of Health for alterations to the house in 1883.
Arthur Thew was the 12th of 16 children and the 6th son of Edward Thew (1802-1873) a successful local merchant. Arthur was born at Shortridge Hall in 1851 and married Alice Thompson, who was born in 1859 in Durham, in 1879 Edward Thew had branched out from the family farming/ butchery business into more general trade. Arthur was made a Freeman Butcher of Alnwick in 1873 the year his father died. They named the business Thew,Turnbull, and Thew, the other partners being  John Pringle Turnbull, who married Arthur's half- sister Elizabeth, and his brother Edward Thew . The partnership/business which covered general merchandise, tabacco, iron and seed was dissolved by mutual consent in 1891.
Arthur was a prominent member of Alnwick society. He attended the wedding celebrations of the Duke of York and Maria of Russia held in Alnwick in 1874.
In 1900 he was appointed by Morpeth to be their wool buyer.
In the 1891 Census Arthur Henry Thew is referred to as a corn merchant. Alice Thew, his wife, was born in 1859 in Durham. Their children are recorded as Norman V Thew, born in 1883 in Alnwick and Vivian G Thew, born in 1887, also in Alnwick. The servants living in the house are Catherine Taylor,   born in 1843, as cook, Maud Stephenson, a house maid, and Isabella Chamber a maid/ nurse.
In 1895 a fire destroys his warehouse in Alnwick where he is a seed merchant. The fire is fought by the Alnwick Volunteer Fire Brigade and the Duke's fire brigade.
By the 1901 Census Arthur Thew has moved to Gateshead and then in 1911 he moves to Jesmond, Newcastle. He dies in 1913 in Sussex aged 63.
Major Gerard F T Leather J.P. lived at Belvedere Terrace between 1898 and 1911.
He may have moved out before this date and rented out the property as he inherited Midddleton Hall in Belford. He was unable to move into Middleton Hall as it was rented out at the time.
One of ten children, comprising six brothers and four sisters, Gerard was born in 1865 at Crammond near Edinburgh and was educated at Rugby and Oxford Military Academy.  His father, Frederick John Leather JP,  was educated at Tonbridge school and St John's College Cambridge. He owned Middleton Hall, Belford, Leventhorpe Hall, Yorkshire and the Friary at Tickhill also in Yorkshire.
Gerard married Ethel Coates in 1893 of Lisburn, Ireland-see photo above- and they had three children; Ralph born 1892, Daphne born 1895 and Guy born in 1898. They are photographed at Belvedere in 1900 by J. Candish Ruddock a photographer who lived at 2 Belvedere Terrace .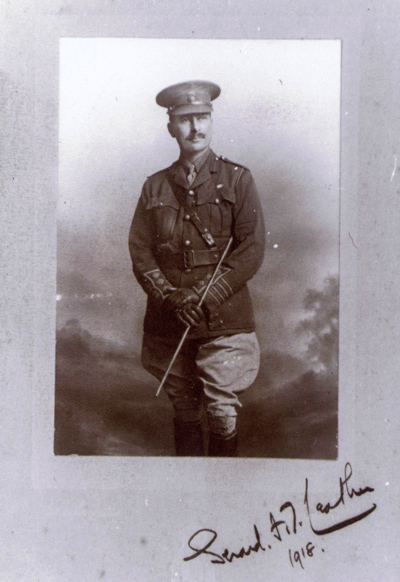 Gerard joined the 3rd Battalion of the Northumberland Fusiliers in 1882. In 1895 The St George Gazette reported that he had applied for four months leave to go to Somaliland and shoot lions.  He served with them in Gibraltar and Egypt until 1898 when he returned to Alnwick to be Adjutant of the 3rd Battalion. He was the only one of the six brothers not to serve in the Boer War, having been stationed in Malta.  He retired in 1903 and was a JP for Northumberland in 1905. In 1914 he was appointed to the East Lancashires although he always remained a Northumberland Fusilier. He served in France and was base commander and Colonel in Taranto Italy in 1917. Every one of the six Leather sons was involved in World War One and the family paid a typically high price. Three of his brothers were killed and two seriously wounded.
In 1890 Gerard inherited the Middleton Hall Estates from his father Frederick who had let them become very run down during his life time.  In improving the estates Gerard  spent too much money adding a new wing to the hall , a separate game larder and two ornamental lakes  below the house.  In addition to maintaining a lavish life style, he lost money on unwise property speculations in London.  As a result he was bankrupt when he died in 1941. His elder son Ralph Towlerton Leather sold the estate in 1945 to the Greenwich Hospital Trust.
Middleton Hall is now a luxury country house hotel which the present owners are gradually restoring to the vision of Gerard's grandfather.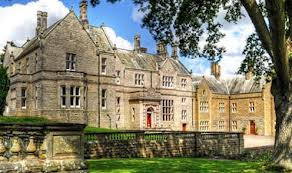 Middleton Hall – Northumberland