Organisations Taking Part
The Western Front Association (WFA) was formed with the aim of furthering interest in The Great War of 1914-1918.  We also aim to perpetuate the memory, courage & comradeship of all those on all sides who served their countries in France & Flanders & elsewhere during The Great War.
We do not seek to justify or glorify war nor are we a re-enactment society.  We are entirely non-political.  The object of the Association is to educate the public in the history of The Great War with particular reference to the Western Front.
If you are like minded or would like to learn more, please visit the WFA's website at www.westernfrontassociation.com.  Applications for membership are warmly welcomed.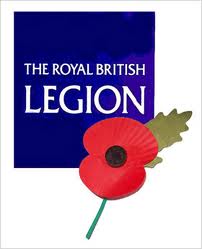 The Royal British Legion exists to provide welfare, comradeship, representation and Remembrance for the Armed Forces community.
The Legion has been the voice of the Armed Forces community for over 90 years.  Join us to help ensure our veterans, serving personnel and their families get the support they deserve.  Online membership is now available.  Visit  www.britishlegion.org.uk