Reflecting on completion of a successful project
Supported by grants from the Heritage Lottery Fund & Western Front Association (WFA), along with contributions from local branches of the WFA & Royal British Legion & others, during 2014 & 2015 Alnwick District WW1 Centenary Commemoration Project Group completed an ambitious project made up of five areas of activities.
These focused on schools & education; IT, including building a searchable database of casualties from the area; heritage; events in 2015 commemorating the Northumberland Fusiliers' Tyneside Scottish Brigade's time at & around Alnwick (these men were Kitchener Volunteers); & production of a WFA-sponsored DVD 'Alnwick 1915 - An Armed Camp' relating the story of the camp built on the pastures opposite Alnwick Castle where the Brigade carried out its initial training.
In addition, the Group contributed to publication of three books ('Alnwick in the Great War' by Ian Hall; 'Me, the RAF & 77 Squadron' by Bill Foote, DFC produced & edited by David Thompson; & a recently published work by Howick Heritage Group).
All bar two or over twenty deliverables were successfully delivered - the two exceptions were minor parts of the schools & education programme for which there was no demand for the help & support then available to schools.

The 'Northumberland Gazette' recently ran a series of two-page spreads in each of three editions, reflecting on the Group's activities, events, deliverables, & achievements. We can do no better than provide copies, as below:
21 January 2016 edition: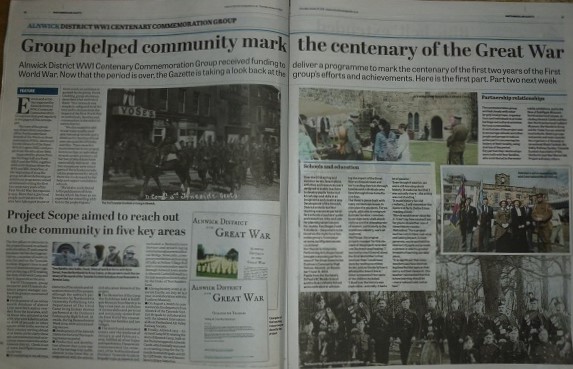 28 January 2016 edition: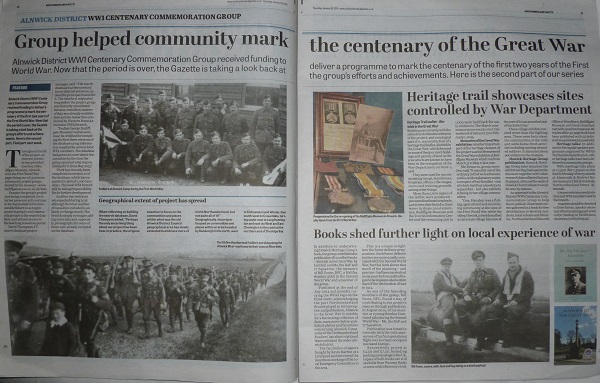 &, finally, the 4 February 2016 edition:
Although the project has effectively come to the end of its planned life, Northumberland Branch of the WFA will undertake further work on the search database & continue to maintain it on-line via these pages on Bailiffgate Museum's website. Similarly, the teaching resources portal & tools will still be available to schools & teachers, as they've been designed specifically for use throughout the centenary years of World War One.
The WFA can be contacted via ww1alnwickproject@yahoo.co.uk.